Canadian star Lionel Sanders has given an incredibly powerful and moving reaction to the news that Collin Chartier has tested positive for EPO and been suspended for three years.
In a statement released by Chartier, who won IRONMAN Mont Tremblant last August and the PTO US Open a month later, the American shared that he has no plans to ever return to professional racing and takes full responsibility for his actions. His early admission of guilt is the reason for a three-year, rather than the typical four-year, period of ineligibility.
In a post shared on Instagram immediately after the news broke, Chartier detailed what made him resort to the use of a performance enhancing drug, sharing he started using it "in November".
Sanders' accomplishments on the racetrack are legendary but he's also taken triathlon to a wider audience with his YouTube presence and engagement with fans.
And his latest video on Instagram arguably transcends all of that, with one of the most articulate and passionate condemnations of doping and cheating in any sport.
Everything brought into question
Sanders and Chartier trained together for a time in the middle of last year – and briefly shared the same coach in Mikal Iden, who has expressed his shock at the news – and the Canadian, who was reduced to tears at times in the straight-to-camera post, said: "The problem with when you cheat, this is a huge part of cheating, is it brings all of your integrity, everything you say, into question.
"And this is where [fellow athlete] Ben Hoffman [who strongly condemned Chartier and his statement] fired me up a bit. To use pressure and expectations, etcetera, as an excuse that you caved into them – we all have effing pressure and expectations.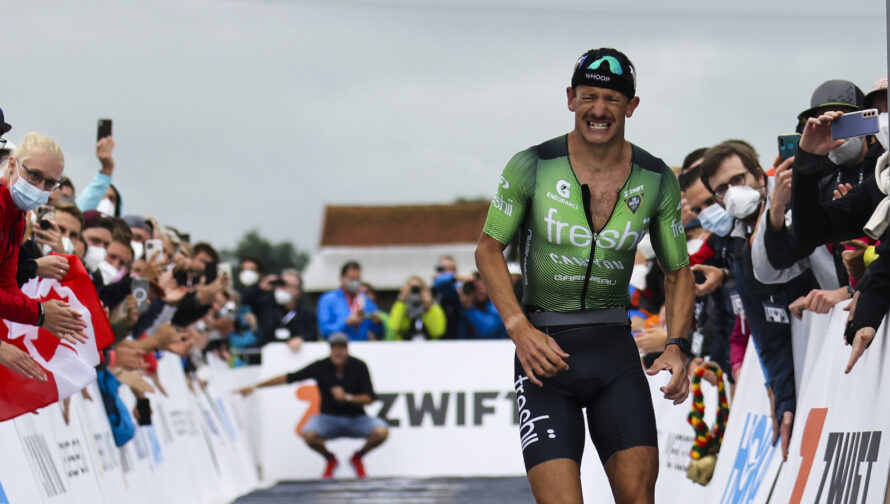 "I went to Kona in 2018, and I was the guy who led the race for 20 miles in 2017, before I got passed late in the race. I thought I was going to win. Most people thought I had a real shot to win. [Yet] I walked the f****** marathon. Do you know how horrible that felt?
"If winning is all that it's about, then we're all doomed. That's not what it's about. It's about giving it everything you have and f****** losing and feeling the breadth of the loss and the hardship and the emotional toll and coming through it on the other side. That is f****** sport. That is the social utility of sport.
'You are losing the point of the sport'
"Don't f****** put your self worth as if winning is the point. The point is to find out if you have what it takes. And if you don't have it, if you give it your all and you don't have it, you're f****** equal to the guy who won. You gave it your all and if was last or it was f****** first, it doesn't f****** matter.
"That is the f****** point of sports. If you say, oh, I can't win, therefore I have to cheat. No, that's not what sports is about. And this needs to f****** be talked about, that you are losing the point of the sport.
"And it's not just f****** you. What you've decided is you're saying it's all about me. Me winning… and me not feeling my insecurities is all that matters.
"There's no win here. There's never a win. You'd never win. You miss all the wonder. One dude gets the win. One dude. The rest of you lose, but you gain so much. And you take that all away when you cheat."