Heading into The Championship this weekend, Britain's Lucy Byram is head and shoulders above the rest at the top of the Challenge Family World Bonus, following back-to-back early season wins in Miami and Puerto Varas.
The 23 year old, who last year also won Challenge Wales, finished ninth at The Championship in 2022 but is one of the pre-race favourites for this year's competition.
As race day fast approaches in Slovakia, Byram shared her thoughts on the season so far, her hopes for Sunday and what the rest of the year holds.
"I'm excited to get out there"
After not finishing a fortnight ago at the PTO Tour European Open because of an illness, Byram is back to full strength and ready to race this weekend in Šamorín.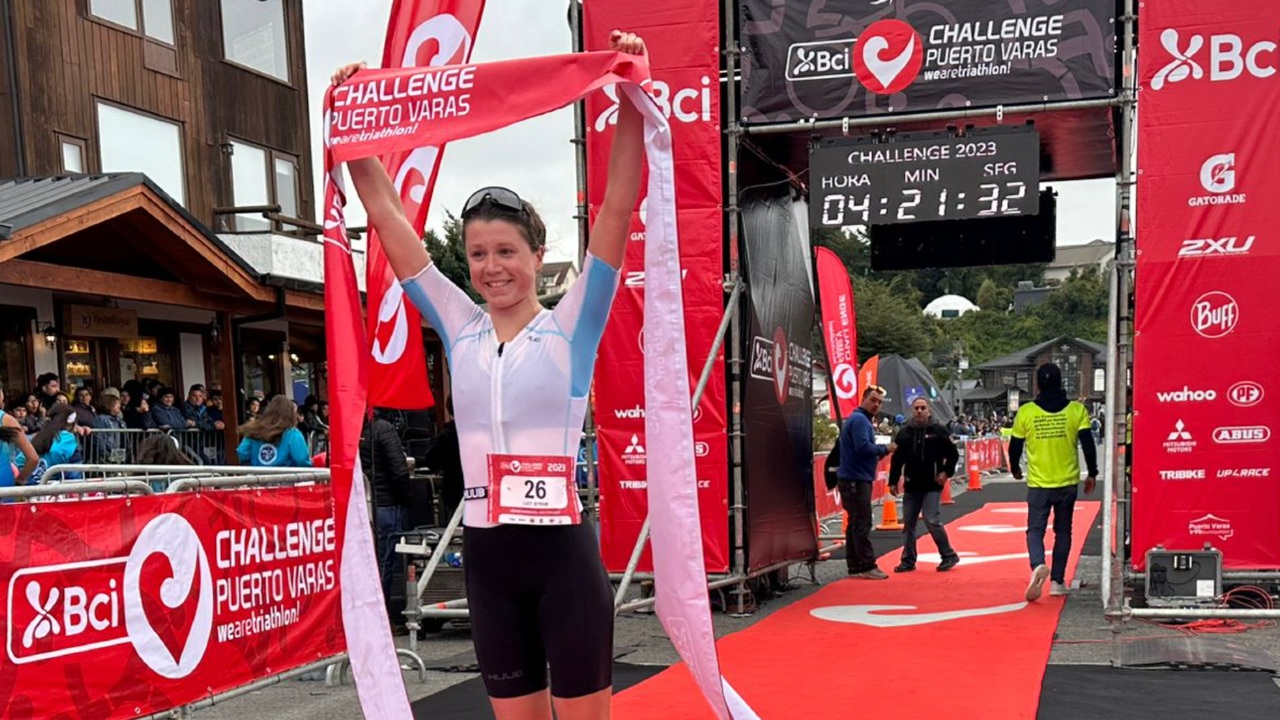 She told us: "I'm really excited to race, the weather has turned around so it should be nice for us tomorrow, the water is still a little chilly but I'm hoping we will get the full swim and I'm excited to get out there.
On the topic of the World Bonus, Byram said that she isn't feeling too weighed down by the pressure and is instead excited at the chance to possibly earn some extra points at The Championship.
"I'm feeling pretty good, we get more points for this race because it is The Championship so hopefully I can add some more to my score and stay at the top.
"The environment is such a chilled one at all the Challenge events, everyone is so friendly, all the volunteers are great and it's a good series to be in."
"It's all down to you"
With many younger athletes now foregoing the short course scene to jump straight into the world of longer distance racing, it was interesting to hear why Byram had also decided to follow this route.
"I like the longer distance, because it is all down to you instead of having to leave it down to the tactics of the race. There are still some tactics involved but it is primarily about what you can do on the day."
The Brit, whose DNF in Ibiza raised some question marks over her fitness for the race this Sunday, also revealed that she is back to full health and has a top five finish in her sights.
"I am back to full strength now, two weeks off has allowed me to recover and get back into a good place since Ibiza.
"My aim on Sunday is hopefully a top five. I finished ninth last year and I just want to improve on that, feel good, be able to push what I know I can push on the bike and then be ready to put together a hard run."
Next up? Defending the crown
After Slovakia, Byram plans to head back to Fishguard and defend her crown at Challenge Wales, before flying back out to the continent for Challenge Walschee.
"I have got Challenge Wales in three weeks after this, then Challenge Walschee three weeks after that. I hope to do the PTO races as well in August, with the PTO US and Asian Opens."
With no IRONMAN 70.3 Worlds and a season that could last well into November, Byram was tempted by an IRONMAN, but plans for her full-distance debut might have to wait a little longer.
"I am missing IRONMAN 70.3 Worlds this year because of a family wedding, but hopefully will get to race there next year. In terms of an IRONMAN, I was thinking about it, but maybe I'll leave it a few more years."