When Lucy Charles-Barclay scaled the top of the elite triathlon mountain earlier this month it was the result of months of planning from her small but elite team, and in 2021 that team has a new and significant member in coach Dan Lorang.
Having worked with modern-day greats Jan Frodeno and Anne Haug to name but two, Lorang is both highly respected and hugely sought after when it comes to moulding greatness across the three disciplines.
So when he reached out to the Charles-Barclay camp at the beginning of 2021, it is no surprise Lucy and her team were all ears.
"Dan actually reached out to us I think at the beginning of this year because he was just really intrigued with seeing how I wanted to balance doing the long distance with the Olympic distance," said Charles-Barclay.
"He'd heard me say it maybe in an interview or read it somewhere so he was just really interested in that idea.
"We had a Zoom call with him and we sort of said 'this is what I want to try and achieve', and actually If there's a man who could help us with this, it will definitely be Dan. He's worked with many athletes, he's obviously worked with Jan Frodeno and Jan has had success over the Olympic distance and then obviously so much success over the long course.
"We brought him into the team around the time that I was doing the Olympic swimming trials, which was another thing I was doing. He said 'okay, after you've done that, we'll start properly working together'."
Lorang integration super-smooth
Since then the rest is history. Red Bull athlete Lucy has been a dominant force in 2021, culminating in that epic victory at the IRONMAN 70.3 World Championship in St George. Lorang's integration into Team Charles-Barclay has been seamless, adding a new layer of expertise and meticulous preparation.
"It's been super-smooth; obviously Reece is still there, he's still the eyes that are seeing me every single day so he's still I would say my coach as well because on a day-to-day basis he can say. 'actually Lucy I know you can't do that today or you're gonna have to do it this way to achieve what you want.'
"Dan also flew out to Club La Santa when we were there a few months ago before the Collins Cup, just to kind of see me in person, see how I work, I was able to see how he works. It's just been super-smooth and obviously I feel like two sets of eyes looking at me is better than one and Reece and I have never ever proclaimed to know everything, we're always open to learn. And actually if you can learn from the best in the sport it's only going to help us."
Lorang's approach has been a big benefit in multiple ways since he came on board.
"I think one of the best things is that I just have a plan there to follow – sometimes I would maybe wake up before and I'd be 'oh, what shall we do today?' Whereas I've just found it so straightforward to follow the plan, try and stick with it.
"Again he totally gets that we should adapt on a day-to-day basis if I don't feel like I can hit a session for whatever reason."
The appliance of science
Lucy and Reece have always been keen to implement sports science in their approach, and the addition of Lorang to the team has taken that to a new level.
"We've also done maybe, not more lab testing but we've done some lab testing, and he's able to look at that in a different way maybe to we had before. So we were able to take more from it than we would have done previously.
"We did some lab testing, I think it may have been after Leeds. And the lab testing basically just confirmed that the way that my body works, I will be successful at short distance as well as long distance. But I guess Leeds had kind of confirmed that anyway for us. But it was nice to have scientific backup to say actually the way my body works in terms of its energy system, it would be able to be trained to be very successful at short distance.
"I think we will do more lab testing and adding some more science to our approach. Reece's background is in sports science so we've always been quite scientific, but we'll probably draw upon that even more as we go forward."
Aiming high – literally – pays off
Another key factor in Lucy's World Championship success was that near three-week preparation at altitude in Utah ahead of race day in St George. A calculated gamble yes, and one which in the end appeared to pay off handsomely.
Lucy explained: "It was gonna be a gamble when the 70.3 Worlds became the 'A' race when Kona got postponed.
"It was definitely more for Kona when we booked everything up and we were looking at it. There's different ways altitude can work. It can be like you drop in and race or it's more for long-term effect say for Kona which was gonna be a month away.
"We weren't sure how it was gonna play out but we always knew that at some point in my career I wanted to try it. There was no better time than now to really give it a go.
"I think it would have been super-smooth had I not been off the back of an illness from the Collins Cup which definitely made things difficult.
"Trying to run at 3000 metres of altitude with a stomach bug maybe too early into the trip obviously didn't go as well as I'd have liked. Unfortunately Reece and I both picked up a cold as well, so we were trying to get over a cold while being at altitude for the first time, which we managed."
One moment early in that build-up to go time in St George told Lucy and Reece all they needed to know about the benefits of their choice of base.
"Quite early on into being there we felt like it would work. We had probably been there over a week and then we decided to go and swim at St George which is at 1000 metres of altitude. So we dropped nearly 1600m to swim and I honestly just felt like Superwoman swimming in the pool.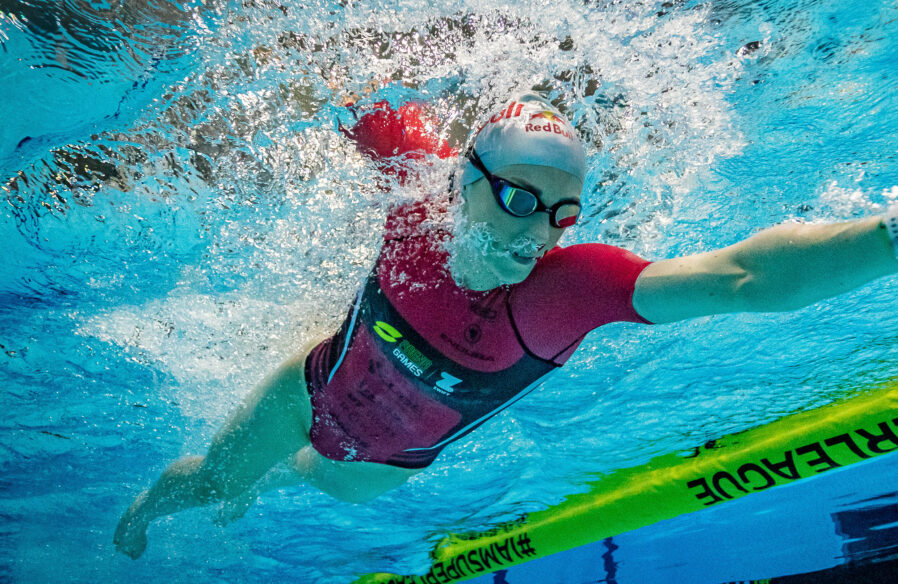 "I was like 'I think this is gonna work, but I've only been here a week so maybe it's like a false feeling because we've obviously got more oxygen down there'.
"But yeah I think the gamble definitely paid off! I've never ever felt that good in a race, so I would say that I'm definitely a responder to altitude. I almost wish we'd done it before, but it's good to know that it definitely does work for me and we'll probably use it again at some stage."