Lucy Charles to ride Specialized Shiv Tri at IRONMAN European Champs
It has been one of the mysteries of the season so far.
Imagine the situation of a fast-improving, elite triathlete who has been winning (multiple) major international races in only her second season as a professional athlete (Challenge Lisboa, IRONMAN Lanzarote, The Championship).
Then consider that this athlete is – pretty much – guaranteed to be at the front of every triathlon she ever does on the bike, such is her swim dominance. Imagine if she had also proven she can ride a bike, on a tough course (IRONMAN Lanzarote bike course record). Did I mention she can run, too?!
It would likely help too if she was at the beginning of her career with, quite possibly, a full decade or more ahead of her.
It would probably not be a hindrance either if she was young, attractive and seemingly showing few signs of being at her peak yet…
Well, that is Great Britain's Lucy Charles, who – so far at least – has raced the 2017 season without a bike sponsor, with Boardman Bikes having seemingly walked away from all triathlete sponsorship (including the Brownlee brothers).
Well, it would appear that Specialized have spotted the seemingly obvious, and look set to make the 'no one trick pony' the latest edition to their international line up.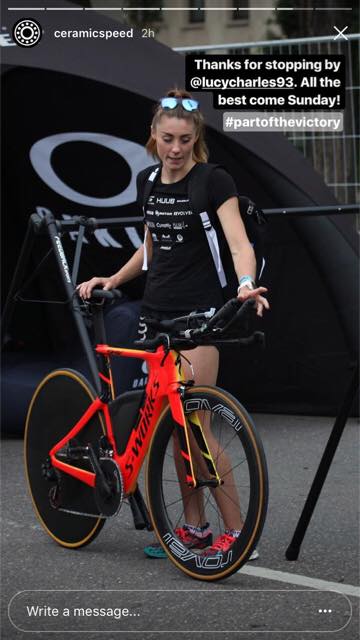 Thank you @CeramicSpeed for pimping my ride ready for Sunday's #IMEuroChamps #pimpmyride 😍🚴🏼‍♀️💨 pic.twitter.com/f6Zc9uUSmc

— Lucy Charles-Barclay (@LucyAnneCharles) July 6, 2017
We contacted Richard Melik, Lucy's Manager, to find out more, who confirmed that he had recently fitted Lucy on the bike and that she would be testing out the Shiv this weekend in Germany.