American long course athlete and PTO World Ranked #17 Matt Hanson explained the details on the crash that ended his race at IRONMAN Texas, whilst also giving his opinion on the Collin Chartier doping scandal, in his most recent YouTube video.
Hanson, one of America's most consistent long course athletes over the past decade, was a pre-race favourite in Texas, but was involved in a collision late on the bike course which knocked him out of the race.
"It hits pretty close to home"
Opening up the video with his thoughts on the Chartier doping scandal, Hanson shares that as a professional in the sport it hit him hard for two reasons in particular.
"It hits pretty close to home for a number of reasons. It costs a number of other professional athletes an opportunity to make money, it takes that away from them, but it also sheds doubt on the clean performances that are out there.
"Integrity has always been something that is really important to me. I came to this sport to ask myself if I could be a World Champion or not, and I'd rather that answer be no than do it in a way that wasn't with full integrity or was by cheating in any way, shape or form."
Hanson, going into further detail, added that moving forward the news provided two main difficulties for him, which primarily stem from the fact that he can no longer trust that he's competing on an even playing field.
"The two things that most frustrate me is first, anytime another athlete has a great performance, it's going to have a shadow of doubt behind it whether that was clean or not.
"The other part of it is I have to get up every morning and feel like I'm on a level playing field with everyone, it's me against them and I have to figure out how to be better than them and beat them by whatever margin on race day when it matters.
"It's mentally all in the back of my mind that I have to wake up and believe the sport is clean in order to really be able to get the most out of myself when I'm training. I hope it's an isolated incident but I don't know if I can believe that at the moment and that frustrates me, because I want to wake up every morning and feel like if I do the work I have a chance to be the best."
A mix of sadness and gratitude after Texas crash
Moving on to his unfortunate incident in Texas, Hanson shared that in the aftermath of the crash, he has found himself changing between gratitude and sadness when looking back on it.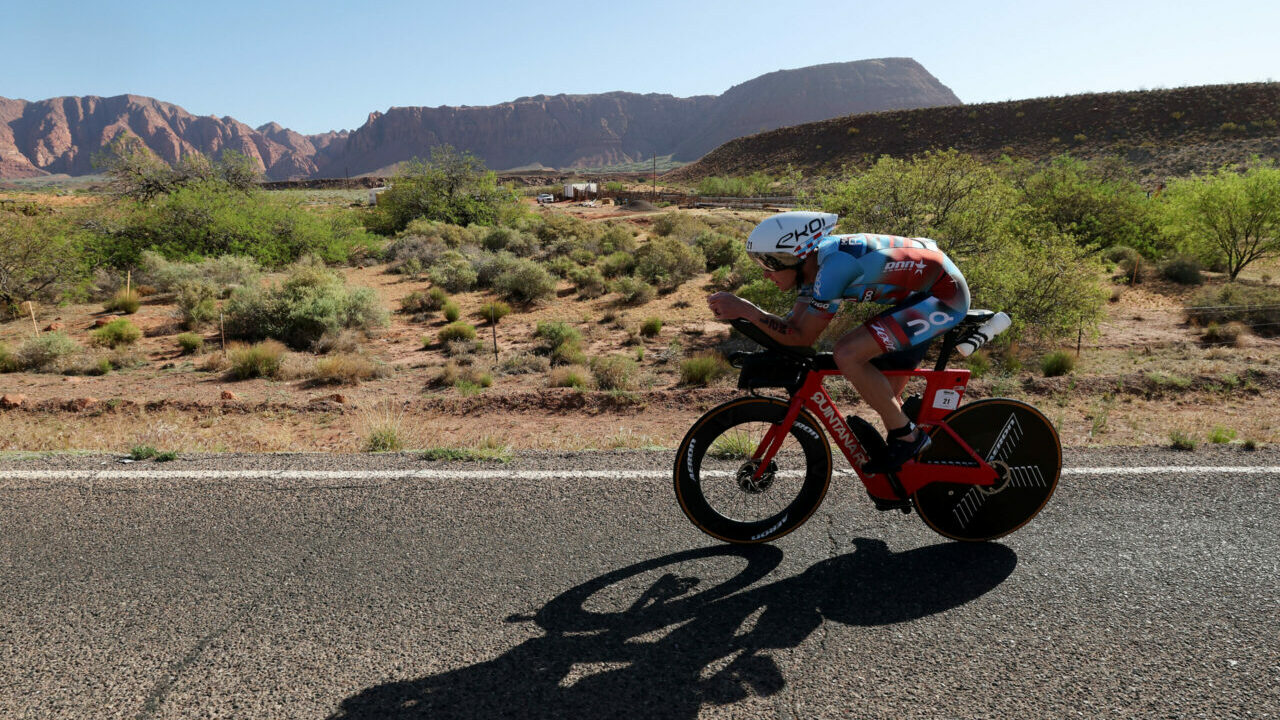 "I've been going from feeling lucky that things weren't worst to going to feeling upset that an opportunity was taken away from me.
"I ended up going through the aid station at mile 73, I got through it fine and clean, got back on the bars, then 10 seconds later an age grouper ahead of me, I assume was fiddling with his water bottle, and ended up losing control of his bike and veered straight in front of me and took me out.
"I didn't have time to react, I just went straight over and the first thing that hit the road was the back of my helmet and I ended flat on my back. The helmet did its job."
Hanson, fortunately, walked away from the incident with some road rash and a small injury to his lower back, which he said is becoming more manageable as time passes. If all goes to plan, he hopes to be on the start line at IRONMAN 70.3 St George.
"I did land pretty hard on my bike and my shoulder and lower back is quite upset with me. As long as this issue with my lower back gets back to normal hopefully I can get back to my regular schedule. I really want to race St George so if the progress goes well I'll race but if not I won't rush it."