America's Rudy von Berg claimed a thrilling win over Poland's Robert Wilkowiecki and IRONMAN debutant Matthew Marquardt (USA) as the three of them finished within 22 seconds after nearly eight hours of racing at Memorial Hermann IRONMAN Texas – The Americas Championship.
Last year saw a sprint finish between Ben Hoffman and Magnus Ditlev and the drama matched it 12 months on.
Von Berg and Wilkowiecki had swapped the lead on the marathon but behind them Marquardt was demonstrating why he's a rookie to keep a very close eye on.
The overall age-group winner at Kona last year after only starting the sport in 2021, this was his first ever IRONMAN race as a pro and he closed dramatically late on as Wilkowiecki looked set for the win.
But von Berg was always within range and he pounced just as the Pole started to struggle inside the final mile.
There was drama of an unwanted kind for the two big pre-race favourites – three-time Texas winner Matt Hanson's chances disappeared after an age-grouper apparently crashed in front of him while Joe Skipper was reported to have taken on a wrong turn on the bike to scupper his hopes.
Swim – Horsfall-Turner to the fore
Almost perfect conditions greeted the athletes and it meant speed suits rather than wetsuits were the order of the day for the 2.4-mile, point-to-point swim in Lake Woodlands.
And it wasn't a big surprise to see last year's #1-ranked swimmer Andrew Horsfall-Turner (GBR) set the pace in the water.
But he didn't have things all his own way – he headed a group of four at the halfway point, with Wilkowiecki on his feet, closely followed by von Berg and Marquardt.
And that was how it stayed heading into T1 as Horsfall-Turner clocked 48:50, with Marquardt rounding out the leaders as he underlined his swim prowess.
That quartet had over two minutes and more on the rest.
Of the big favourites, Hanson was 10th out of the water at +3:38. And Skipper followed his pre-race promise of "a decent swim and sitting on the best feet I can" as he too was in that same pack.
Heading onto the bike, von Berg lost a bit of time in T1 which left a leading trio out in front as the likes of Skipper and Hanson set about trying to hunt them down.
Bike – von Berg turns on the power
All eyes were on Skipper early on the bike and the promised 'new Dad watts' looked to be forthcoming as he started to cut through the field.
His deficit on the leaders was down to 2:10 at 40 miles but the dynamic of the race started to change after that.
For the leading four of von Berg, Wilkowiecki, Marquardt and Horsfall-Turner were working well together and they gradually started to put time between themselves and the rest.
By now Skipper, with an interesting set-up in terms of his bottles (see below), was now alongside Arnaud Guilloux (FRA) at over five minutes behind.
Unfortunately an age-group athlete apparently crashed in front of Hanson on the looped bike course and left him with nowhere to go and out of contention.
So heading into T2 it was von Berg and Wilkowiecki who had moved clear, with each of them clocking best-of-the-day 4:05 bike splits.
It was just the fourth IRONMAN of von Berg's career and his performance was a nod to coach Mikal Iden, with whom he's worked since the latter part of 2022.
Speaking in the build up, von Berg had said his goal here was "the podium or better" and that was very much on the cards.
Wilkowiecki was the only one who could match him and starting the run there were just 23 seconds between them.
Marquardt was at +2:48, Horsfall-Turner +5:42 and Guilloux +7:02 while Skipper dropped right down the standings in the last few miles of the bike section, with the live broadcast reporting he'd taken a wrong turn – all of which meant he began the marathon over 20 minutes back on the leaders.
Run – in the balance throughout
It was fascinating up front as von Berg and Wilkowiecki swapped the lead early on.
Both looked strong but Marquardt was charging in the second half and taking chunks of time back on both of them.
No fewer than five IRONMAN World Championship slots in Nice were up for grabs and the trio were miles clear of their rivals and guaranteed a place barring a huge mishap.
It was Wilkowiecki who appeared to be holding strongest but he suddenly started to send out distress signals going into the final mile and von Berg had timed his challenge perfectly. Just 12 seconds separated them on the line and Marquardt was only 21 seconds adrift on a phenomenal pro debut.
It was nearly 10 minutes back to Guilloux in fourth, with Cody Beals taking the final Nice slot in fifth.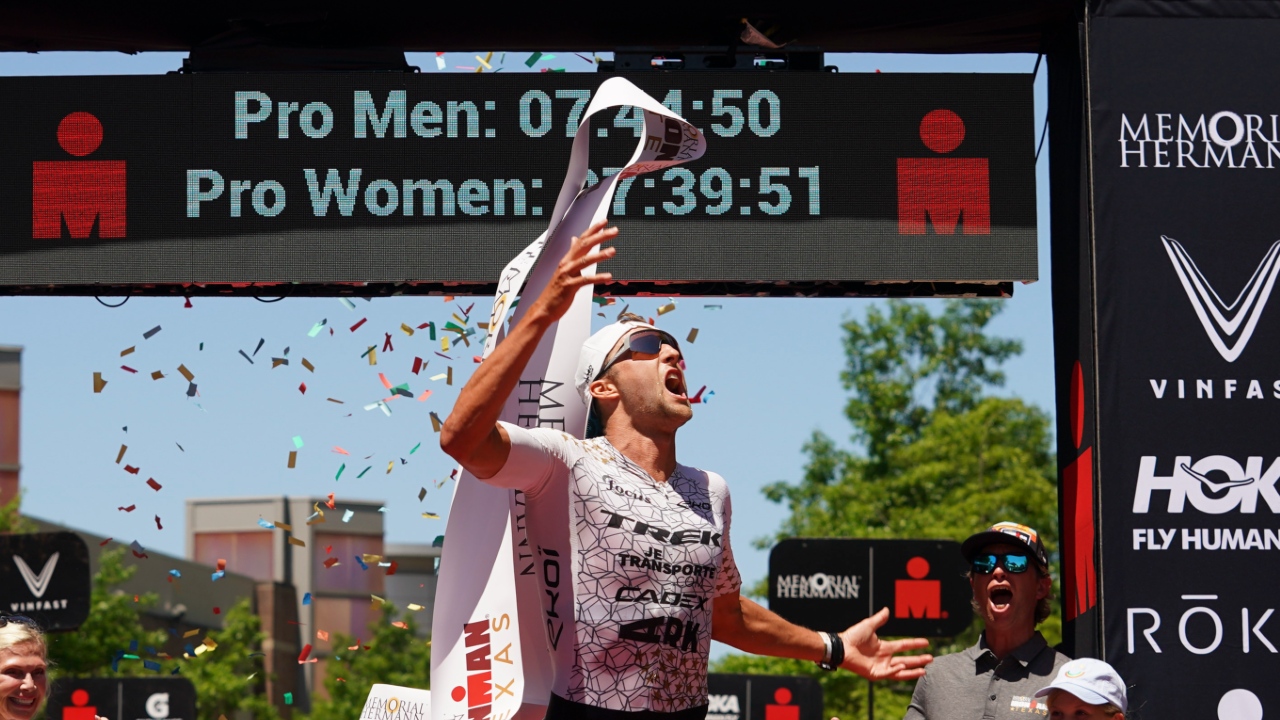 IRONMAN Texas – The Americas Championship 2023 Results
Saturday April 22, 2022 – 3.8km / 180km / 42.2km
PRO Men
1. Rudy von Berg (USA) – 7:44:51
2. Robert Wilkowiecki (POL) – 7:45:04
3. Matthew Marquardt (USA) – 7:45:12
4. Arnaud Guilloux (FRA) – 7:54:21
5. Cody Beals (CAN) – 7:57:18
6. Ivan Tutukin (KAZ) – 8:01:40
7. David Plese (SLO) – 8:03:58
8. Thomas Davis (GBR) – 8:05:33
9. Adam Feigh (USA) – 8:06:04
10. Michael Weiss (AUT) – 8:06:12