21-year-old German Mika Noodt took top honours at Anfi Challenge Mogán-Gran Canaria on Saturday afternoon with a breathtaking display across all three disciplines.
In the the lead group from start to finish, Noodt took victory by 80 seconds from his nearest rival, Clement Mignon of France, courtesy of a stunning late surge on the run.
"The race went perfect from the start," Noodt explained after the race, I was right on Jonny's [Brownlee] feet on the swim.
"I wasn't really expecting it, but I felt super comfortable – I actually led it on the second loop for a short time then I let Jonny do a bit more work, and then Andreas [Salivsberg] had a spell.
"The pace was on, but I felt pretty comfortable."
Decisive move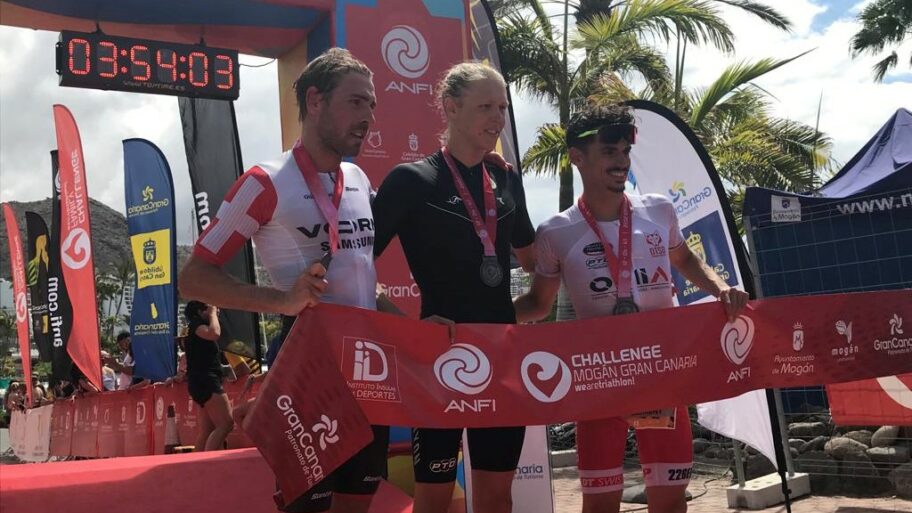 Noodt, who competed in just his fourth race as a professional over the middle distance in Gran Canaria – having previously won on debut at IRONMAN 70.3 Les Sables D'Olonne in 2021 – was in the lead quartet of riders at the start of the bike including Brownlee, Salvisberg and Mignon.
"I was behind Jonny in third place for the first 5k and then I really struggled with the group dynamics because I came close to others – once when the climb started – and I was like yeah, let's just not risk a penalty and overtake them.
"So I went to the front after 5k and stayed there the whole race – I led the whole bike, I didn't care about the others too much, I just tried to focus on navigating through the age groupers and the motorbikes – sometimes it was a bit close but I expected it to be a lot worse."
Noodt entered T2 first and managed to head onto the five-loop run course ahead of his rivals.
"I felt decent, I managed to take on a decent amount of nutrition, but after the first half lap I really felt the heat, and I was hopeful it doesn't get too hot."
All out on the fourth loop
A worry for Noodt was the fast running Frenchman behind, as Mignon appeared to be closing on the German at a steady rate, reducing the deficit to just five metres on the third loop.
"I had 15 seconds to Clement, and I quickly realised that Jonny and Andrea would not be contenders today and it was like 15 seconds after the first loop, 10 seconds after the second, and just five seconds after the third loop.
"I was like oh man, I think it's going to be sprint finish just like the one we saw at Oceanside, but then I went all out in the first half of the fourth loop and suddenly I had 15 seconds so I was so happy because I could back off a tiny bit, knowing I had more in the tank if he challenged again."