"I didn't really know I could go that deep"
Philip Graves reports on another second place finish at IRONMAN Wales
I managed to grab a few minutes with Philip Graves after IRONMAN Wales on Sunday (see that video HERE). Now, in long form, is Phil's own report from his day in Tenby, in which he admits, "I went deep – I didn't really know I could go that deep – but it happened and I'm still here to tell the tale".
A great read on an eventful day as part of a very memorable race.
---
Second again. I could just end it there, but I won't!
I have really enjoyed reading everyone's war stories from Sunday's character building Ironman Wales, so here is mine…
Firstly, in hindsight, trying to go for a competition record at 100 miles isn't probably the best thing to do the weekend before the toughest Ironman in the world. I thought riding the BDCA 100-mile TT on a super fast course would be great prep. I would just cruise round and get a good training ride in… but I just couldn't help myself. Perfect conditions = why not go for something special?! I was on track to ride 3h 15min for 100 miles just before half way… and then BOOM. The second 50 miles took about 15 minutes longer than the first 50, and I ended up with 3.34.
All this explained why I really didn't feel great at the start of Ironman race week, but Tenby is a special place and once I got down to South Wales on Friday I was ready to go and feeling a bit better. I knew the forecast was for wind and rain, but even I didn't expect it to be as bad as it was. I rode a set of 75mm wheels but should have used a 50 front and that would still have been too deep!
Anyway, Sunday morning came soon enough. The buzz of an Ironman start simply cannot be compared to anything, especially in Tenby; it really is as good as everyone says! I think the severity of the course means that no one wants to take on the swim at Tenby so there was quite a relaxed start. By the first buoy everyone had sorted themselves out and it was a bit of a stalemate all the way round, I think everyone was looking at each other. Once out of the water though, all hell breaks loose and the long 1km run though town to T1 certainly splits things up.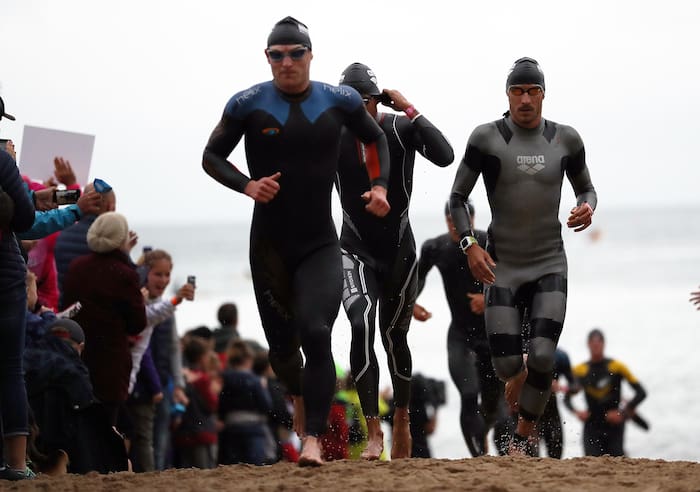 Once out on the bikes and the wind wasn't so bad at first. I bombed it out of town, up the first little climb, into the lead and put my head down. The km's clicked by and I couldn't see anyone behind me so I thought I must have been going ok.
By 30km and out onto the Loop around Angle, the wind started to pick up. The descents were technical. I even had a near 'off' when I completely missed the corner and had to go down a side road off the course to save myself. Out onto the most exposed parts and the wind was truly horrific. I struggled to stay upright and thought of the 2,000 plus others behind who would have to ride through that… poor souls!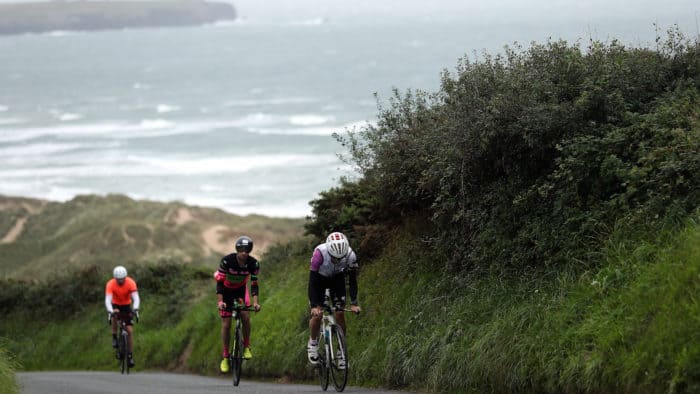 Nearly at Angle, I saw Cameron Wurf just behind me. I saw him exit the swim with us so I wondered what on earth he had been doing. He came past me like a steam train, I got on the back for about 1km and then he cleared off. Bye, bye! Once he was up the road I just tried to ride controlled on the climbs and glide the best I could on the downhill and flat sections. I saw Romaine Guillaume behind me gaining on some climbs, but about half way round the bike I started to get a bit cold and knew that if I was cold, he must be freezing. Sure enough, I was dropping him on the descents until BANG, down I went.
I had ridden the Wiseman's Bridge and Saundersfoot sections of the course twice on Friday, so I knew that part of the course really well. I even knew this one 90-degree corner was slightly banked, so I could take it at speed in the dry but having nearly crashed earlier, I was taking no chances. Still, before I knew it I was sliding down the road on my back wondering how on earth I had binned it?! Once I had stopped sliding, I picked myself back up and noticed what I can only describe as some grainy, sandy substance I can only compare to the greasy fat balls you put in a bird feeder. Clearly, someone had put something purposefully on the road and I think with the rain it had melted the fine fatty substance and made the surface of the road like ice. It took me a few km to get back into my riding and an unexpected course change was onto the second lap (apparently, this oily substance had been put on the most dangerous and technical downhill part of the course too, so Ironman decided to change the bike to loop around it, thankfully).
I had been getting splits of around two minutes to Cameron, so I rode the second lap of the bike to try and keep him in check. I utterly failed at this and coming off the bike I was nine minutes behind. I lost a lot of time last year on the second lap too. Passing hundreds and hundreds of age group athletes on the short narrow welsh roads, especially in awful weather conditions, clearly needs a skill I don't have.
So, nine minutes, normally that would be impossible for a non-runner like me, BUT, Ironman Wales is a one-off course. It's so hard and anything can happen. It was head down and off I went.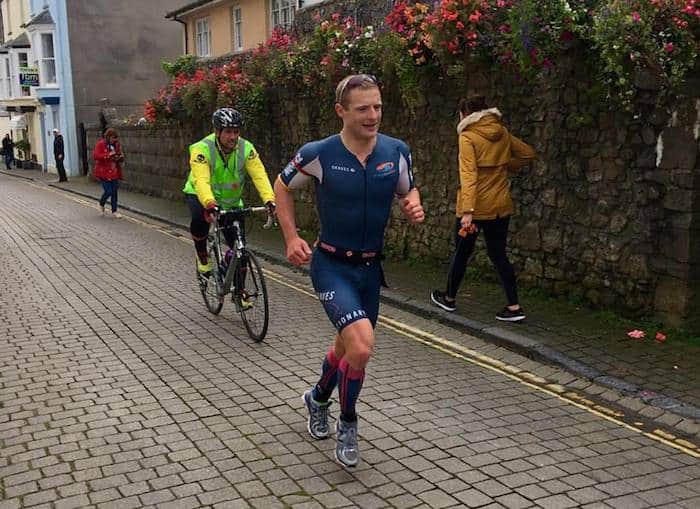 Now, I'm not a fast runner, but I can chug it out. First lap I felt horrific, got passed and ended up running in third. Second lap I started to come round a bit and actually didn't feel half bad, I was taking time back on Cameron, but was still in third. By now it was getting ugly. Third lap and it was survival but I was determined not to walk and to embrace the suffering. By now second place was struggling too and I had everyone shouting at me that the time was coming down.
One lap to do and it was now or never. I just accepted it was going to hurt and told myself why not enjoy all that pain rather than hate it. I somehow tricked my body into some sort of trance like run state, and I was still putting one foot in front of another. With 7km to go, literally within 500 meters of where I got passed last year for the lead, I took second place back.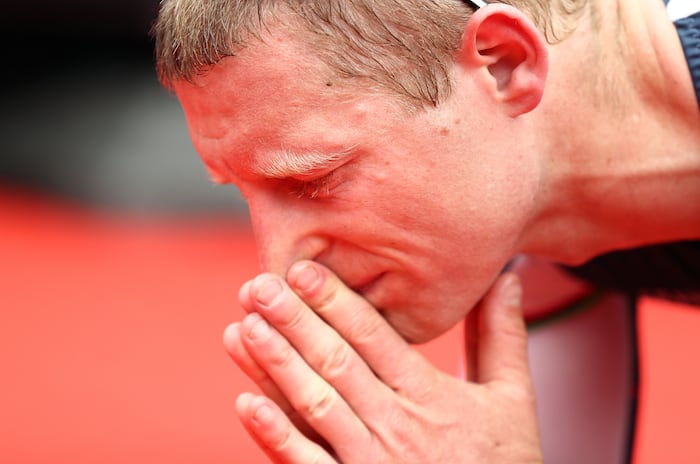 So the last 7km, I went deep – I didn't really know I could go that deep – but it happened and I'm still here to tell the tale. I had managed to get the gap down to Cameron to about two minutes but that's all I could do. It was second again, and the tank was empty.
Obviously, I was a little disappointed with second. I want to win every race I do, but I had told myself I just wanted a solid swim bike RUN race, and I think I achieved that. I had the fastest run of everyone on the podium and I don't think anyone would have expected that, so it's on to Ironman Barcelona a happy boy I go!