A round-up of fast riding (with a triathlon connection) from the past weekend
Bigham, Allan, Halksworth, Skipper, Fogarty, and more…
Over the last couple of months I've been trying to keep an eye open for triathletes (past and present – well, and maybe future too), who have been performing rather well in what seems to be a booming domestic cycle time trial scene.
While the village hall / turbo warm-up by your car / tea and cake(s) has changed little over several decades, the discipline in the UK is genuinely proving to be a testing ground for the very latest in aerodynamic developments in terms of understanding and products. Genuinely, much of what you see worn and ridden by the very best at IRONMAN World Championships, Tour de France and Hour Record attempts, quite likely has its roots among a group of very talented British developers and thinkers. Aerodynamics is coming to the masses – lots of it proven in events you can enter for less than £10!
National 10-Mile Time Trial Championship
Sunday's '10' Champs was the last (and shortest) of the distance championships for the 2017 season, following the 100-mile, 50-mile and 25-mile events earlier in the season, held in Cumbria on the L1021 course.
The men's championship was won by Daniel Bigham (Brother NRG Wattshop), to add to his wins in the 25 and 50 (reported HERE), alongside earlier track championship Gold in the Kilo and Individual Pursuit. A former winner of the Dambuster Duathlon and Great Britian Age-Group team representative several times, Dan has quite clearly found the right home for his physical talents. He also runs Wattshop (www.shopforwatts.co.uk), and so is one of those UK-based experts who are pushing forward the understanding of aerodynamics, bike positioning and technology.
.@DanBiggles22 @NEProCycling wins the men's National 10-mile Championship: Report and interview: https://t.co/S3vGSKC6eb pic.twitter.com/FH4ML5EeSV

— Cycling Time Trials (@Cycling_T_T) September 3, 2017
A little further down the results list, 14th place for Daniel Halksworth could be a career-defining ride. The two-time IRONMAN UK Champion represented Jersey at the Commonwealth Games in Glasgow, and is seeking selection – in the time trial – for the Gold Coast next year. Recently announced as a wild card entry for the upcoming Super League Triathlon Jersey, Dan needed a top 15 finish for consideration – and did that with 14th. His fate is now at the discretion of the selectors.
Ride of the day @Hawky1 looks like a trip to the commonwealth games is coming. Triathlete to cyclist. Super proud. #GotItAllOut #National10 pic.twitter.com/CcXj2YiCba

— Matthew Bottrill (@BottrillMatthew) September 3, 2017
The women's event was won for the fourth consecutive year by Hayley Simmonds, who like Bigham also won the 25 and 50-mile championships. Third place went to multiple ETU Middle Distance Triathlon European Championship medalist, Kate Allan (who I interviewed earlier in the season). Kate's 2017 season has seen her finish with Gold (50-miles), Silver (100-miles), Bronze (10-miles) and fourth (25-miles).
So happy with 3rd place at @Cycling_T_T 10mile TT considering the build up to race day. Time for a break. https://t.co/2Yqauhp10J pic.twitter.com/MhQ0v4oLYW

— Kate Allan (@KateAllan16) September 3, 2017
RTTC National 10-mile Time Trial Championship – Sunday 3rd September 2017
MEN – FULL RESULTS
1st – Daniel Bigham (Brother NRG Wattshop) – 19:01
2nd – Ryan Perry (Team Raleigh GAC) – 19:13
3rd – Matt Langworthy (Mid Devon CC) – 19:33
14th – Daniel Halksworth (Team Bottrill / HSS Hire) – 20:21
WOMEN – FULL RESULTS
1st – Hayley Simmonds (Team WNT Pro Cycling) – 20:57
2nd – Alice Lethbridge (DRAG2ZERO) – 21:40
3rd – Kate Allan (DRAG2ZERO) – 22:00
BDCA (Burton and District Cycling Alliance) 100-mile Time Trial
Brian Fogarty – the first Age-Grup athlete at IRONMAN UK – rode a 3:28:26 as part of his Kona preparations.
A week ahead of IRONMAN Wales, Philip Graves – who was second in Tenby – took off at competition record pace, went through 50-mile in under 1:40… but then had a rather painful second half to finish with a still mighty swift 3:34:41. That said, I couldn't maintain his 'blow up' pace for a 10-mile TT, even when fresh!
Happy with another sub 1.40 50mile TT, just a shame today was a 100 mile TT and spent the second 50miles grovelling round in 1.55 #Weak

— Philip Graves (@PhilipEGraves) September 2, 2017
I aslo spotted Age-Group triathlete, Paul Lunn, finished with an impressive 3:40:11 on his first attempt at the distance.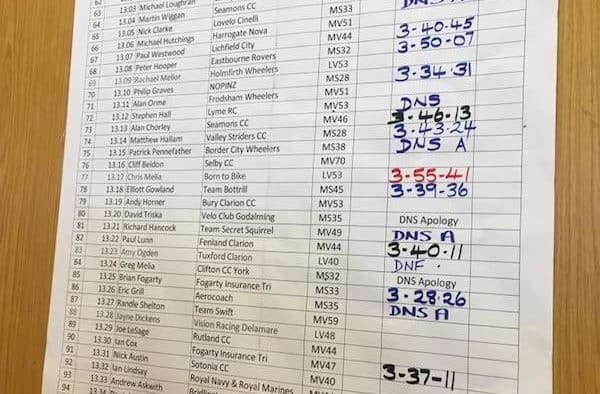 CC Breckland 50 – Saturday 2nd September 2017
Joe Skipper proved that his final preparations for this weekend's ETU Long Distance Triathlon European Championships at Challenge Almere are well on track with a course record 1:40:31 over 50-miles on Saturday. It was all part of triathlon training day too:
In the morning I ran a solo 15.36 5k and then in the afternoon I did my final brick session which consisted of a 50 mile time trial where I managed to take former best all around time trial champion Adam Tophams course record, my power was also my best ever over that duration 349w for 1h40 minutes, then a 10k in 35.55. Great preparation and I'm going into this race confident of doing a very good performance.
Joe Skipper broke the course record as he won the CC Breckland 50 in Norfolk on Saturday. Report, result and photos: https://t.co/od1BY8T9bI pic.twitter.com/Xp3TSBFiED

— Cycling Time Trials (@Cycling_T_T) September 4, 2017