Kate Allan reports on her race in South Wales
As any athlete knows, not everything can go smoothly before a race. On Saturday Kate Allan was among several 'triathlete' names (more HERE) racing in a very competitive National 25-mile Time Trial Championship. With medals already this year in the '50' (Gold) and '25' (Silver), could she add another one? Not quite… but she did win the team award and was part of a new Team Competition Record.
Read how Kate ended up both "gutted" with fourth… and yet still regards it as one of her greatest achievements.
(Read more about Kate's transition from triathlete to time triallist HERE and HERE)
---
CTT National 25-mile Championships Race Report – 4th Place
Preparation leading up to a big race is rarely ideal. Curveballs often get flung into the mix, and uncontrollables present themselves when you need them least. It's normally just a case of managing them the very best you can, and keeping focus on the task at hand.
The National 25-mile Championships presented me with the biggest challenges of my 'cycling career' so far. That's putting it gently.
Tuesday afternoon (with a Saturday race day), and we had to rush into hospital as Finlay had developed a bad cough and wheeze, and was very agitated. Being prone to bronchiolitis, we didn't want to sit on it, and so headed over to A&E to get him looked at.
We were seen immediately, and with an oxygen saturation of between 91% and 92% even after administration of a nebuliser (95/96%+ is the ideal) they hurried us over to the paediatric assessment unit.
Fortunately I had my friend Nicki with me, as we had spent the afternoon working together, but once I realised it was looking to be a little bit more serious, I phoned Rob so that he could come and join us.
Several nebulisers later, and Finlay was not improving, so we were moved down to the 'High Dependency Unit'. I found this really difficult, the machines, beeps and general environment was akin to the rooms of the SCBU ward in which we had spent four weeks on when Finn was born.
The first night was especially challenging and we didn't get a wink of sleep. Finlay had to be hooked up an IV, but it took four attempts to find a vein, which caused a lot of upset for us all. He would not settle, and was struggling for most breaths, with deep chest recession, as he pulled in all the air he could. Early on the Wednesday morning they did a chest x-ray and this determined that he had a chest infection so they decided to get him started on antibiotics immediately, with a nebuliser every two hours, and constant IV fluids to keep his hydration and energy levels up.
It was at this point, three days out from race day, and on no sleep that I realised that I might not be able to make the start line. I never like to go into anything I do at anything less than 100%; emotional, tired and with more important priorities away from getting on my bike, I resorted myself to the fact that I was best taking the pressure off myself. I had more important things to worry about after all.
Two long days followed on the ward, Finlay made steady improvements, and we were finally discharged late on the Thursday evening. We got home feeling pretty battered, having not slept much and with the strain of emotion and fatigue on our shoulders.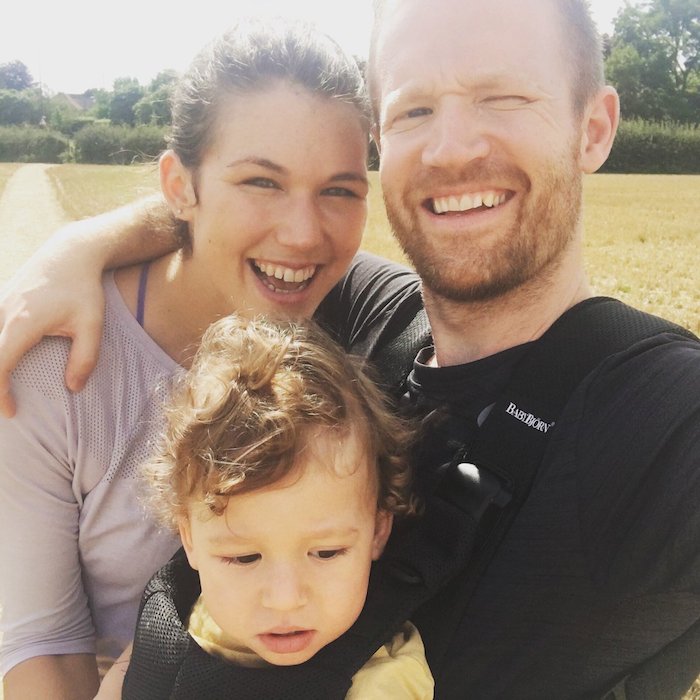 Going into Friday, and after a decent night's sleep I decided that I was going to give the race a shot. The team at Drummond Clinic were fabulous and booked me in for the afternoon, at which point it was determined that my shoulder was 'jammed' following six hours lying in one position on the Wednesday night as Finlay slept on me. They taped me up, and gave it some gentle release work, which helped wonders.
Thanks to Arran @drummondclinic for sorting out a stressed, tired shoulder. Best in the business! @sporttape #alltapedup pic.twitter.com/3PExkzMNgL

— Kate Allan (@KateAllan16) August 4, 2017
The team at Drag2Zero were also a great help, sending me out a new pair of calf guards last minute (as I misplaced one of mine earlier in the week), and Simon at Athlete Service in Henley gave my bike a good old check to make sure it was ready to go. I never like to rush my race preparation, this support made things much easier as I hurried around making up for lost time.
Race Day – was smooth on all counts. We left early in the day, arrived with plenty of time to spare, and had an uneventful warm up.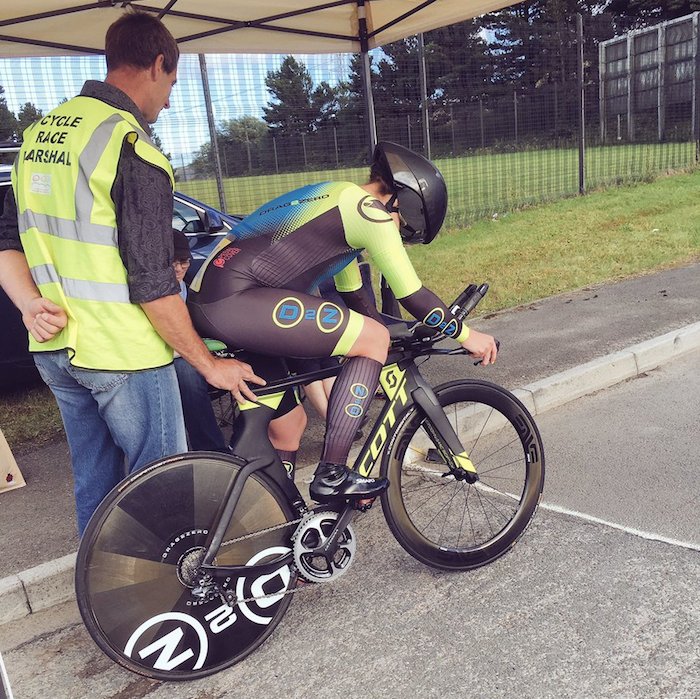 The race itself – I actually felt good. Perhaps missing that extra gear I've had in other races, but nevertheless in strong form – confident, controlled and with good focus.
The conditions were pretty tough, an unrelenting headwind meant that the outward leg was really hard work, and I reached the turnaround point approximately two minutes down on my ride on the same course a fortnight back. I had a little bit of discomfort in my shoulder and back, owing to general tightness, but this seemed to improve as the race went on, perhaps as I properly warmed up, and stopped thinking about it quite so much.
The return leg was significantly faster, and I found that I was able to make up for quite a bit of the lost time, maintaining a very similar speed to the outward leg, which is unusual for this course, given the ski slope descent in the first miles.
Approaching the finish straight I gave it everything I could, putting my foot down, wanting to end the race feeling as if I'd emptied my tank, and then some. My finish time was 51:50, down on my PB, but I was pleased with this given the windy conditions on the day.
I was to later find out that this was tantalisingly close to a podium position, with only seven seconds separating me from a silver medal.
So this report doesn't really offer much insight into my race – other than I had the best race I could on the day. Could I have gone faster without this lead up? Who knows? My power was significantly better than it had been on the same course a fortnight ago, and I worked hard to keep optimum position, always keen to do my spot on the Drag2Zero team justice! I was mentally and physically drained yes, but in a way, this gave me heightened gusto and drive, to really work hard and leave everything I had out there.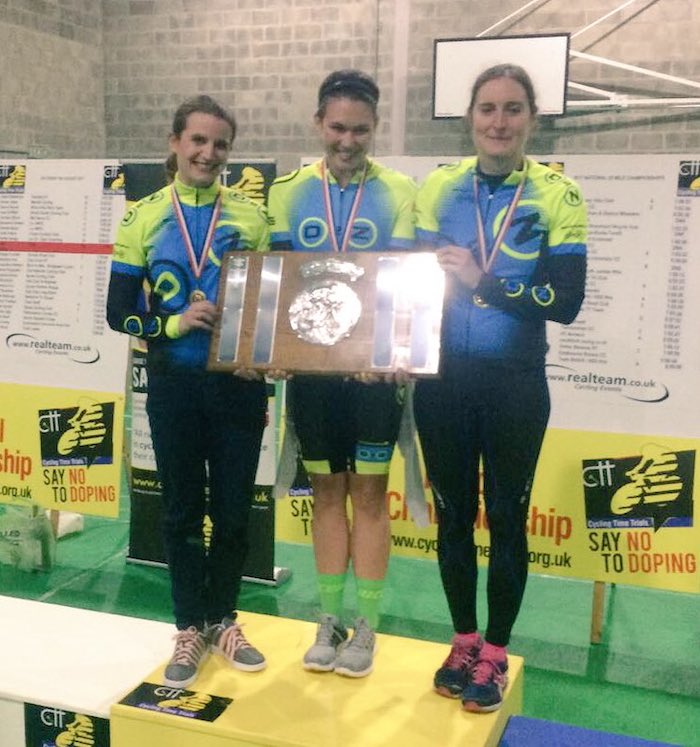 So although I'm gutted with 4th, this is no doubt one of the greatest achievements for me in a roundabout way. I could have crumbled, but I didn't. I chose to go out there fighting, and I really surprised myself with how I was able to handle everything.
Finlay is now close to a full recovery thankfully, as he nears the end of his course of antibiotics and following three days in the comfort of home. I am now preparing for my first experience of the speedy V718 course up in Hull this Saturday (12th August). Here's to lots of sleep, rest and recuperation!
RTTC Women's National 25-mile Time Trial Championships
Saturday 5th August 2017 – R25/3H Course
1st – Hayley Simmonds (Team WNT Pro Cycling) – 50:10
2nd – Rachael Elliott (DRAG2ZERO) – 51:43
3rd – Anna Turvey (Tyneside Vagabonds CC) – 51:45
4th – Kate Allan (DRAG2ZERO) – 51:50