"IRONMAN Wales genuinely lives up to the hype"
Great Britain's Philip Graves finished second at IRONMAN Wales on Sunday. He also finished second last year (and wrote about it HERE). And in 2016? He was second then too – and again, wrote about that experience for us HERE. Given all that, it seemed quite appropriate to find out how this year went too.
It's a great read and provides a fascinating insight into what has been a difficult year for Philip. He's worked through that however, and now finds himself inspired – again – by the "utterly amazing experience" of racing in Tenby.
---
2018 has been a super tough year. There were times that I wondered if I would ever even race an IRONMAN again. Second places in 2016 and 2017 at IRONMAN Wales were highlights, during a sparse couple of years.
Following IRONMAN Wales 2017 I began to feel I was swimming against an ever-incoming tide. After a puncture at Ironman Arizona, I came home and just never got going again. I went to a training camp in Lanzarote and got ill, then I came home to the worst winter I've ever known up here in York. I started racing some TT races through the spring and got absolutely destroyed. It was frankly embarrassing, but reflective of both my mental and physiological fitness level.
I went to race Outlaw Half (a great race, everyone should go do it), and ended up fourth. It felt like a nail in the coffin. I had no sponsors, no races planned and was racing like a donkey. Coupled with next to no motivation and an exciting opportunity of a well-paid job in triathlon media, it seemed like the perfect storm which would result in me packing things in. My mind seemed a dark, triathlon-free abyss, but if I looked hard I could see a faint candle flickering in there, ever so distantly.
It was around the end of June that I started to do any meaningful training, but I soon found that I was destroying myself. A perfect example: riding the 200km York to Keswick on a Friday, running up Skiddaw on the Saturday then riding back to York on the Sunday. I'd do crazy training, then have a week of doing very little, laying in a coma on the couch surrounded by chocolate. By the end of July however I finally had some consistency and, more importantly than anything, was just enjoying riding my bike again. There was only one thing to do, enter IRONMAN Wales.
I had about seven weeks of consistent training for Wales but I wasn't coming from nothing, thankfully. Those seven weeks went as good as they could have, but with zero base I could do about five days of good sessions then blow up, have to have a super easy day, then repeat. I did a 100-mile TT eight days out from Wales and went 3.34.10, so I knew I was riding ok. Swimming was average and my run, well, it wasn't awful despite being 3kg heavier than I was for Wales last year.
Roll on Wales 2018. The third year in a row for me so it's almost a second home and easy to fall into the pre-race routine. I know there is so much marketing hype these days about races being the 'best in the world', but IRONMAN Wales genuinely lives up to the hype. The whole weekend is just an absolute pleasure and an amazing experience. This year the Pro field was not very deep, but I felt stacked with talent. Matt Trautman, Victor Del Coral, Trevor Wurtele along with an ever-growing number of top British guys including Henry Irvine, Matt Leeman and the ever-youthful Brian Fogarty.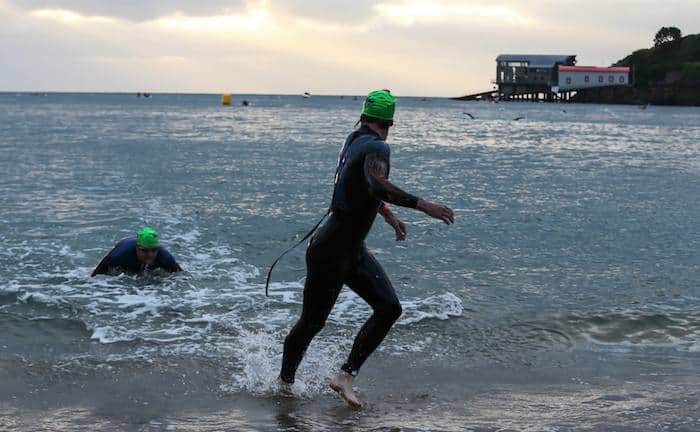 The swim start in Wales really is special, however there is never long enough to take it all in. 6:55 a.m. and boom, straight into the Bristol Channel. I soon found Matt Leeman's feet and that was that for the swim really, incident free. We had already got a bit of a gap after the first lap and I think we came out with a 2/3 minute lead on the rest of the field.
Now, I'm not a runner, but the 1km run from swim exit to T1 at Ironman Wales is my favourite km to run of the entire year. Nothing prepares you for the crowds and the noise; its unparalleled in triathlon.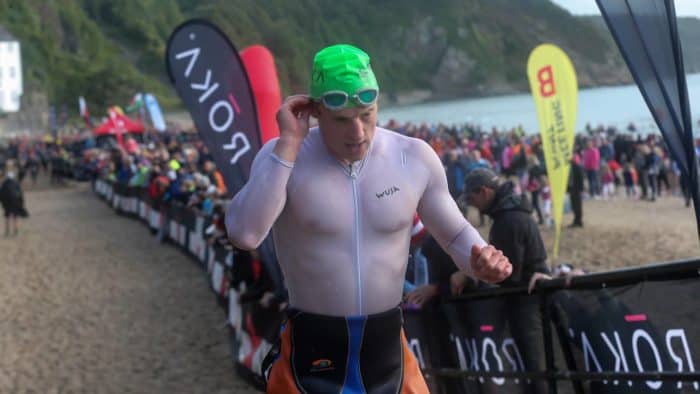 Through T1 and out onto the bikes and the long first 40km stretch to Angle into a solid headwind. I tried to ride controlled but aero and thought I was doing ok until Matt Trautman flew past me at 35k. In the space of a minute I got passed for the lead AND got stung by a wasp. Not the greatest minute of the day but I settled in to following Matt for as long as possible. He was going like an absolute steam train but I managed to stay with him and even pull a turn.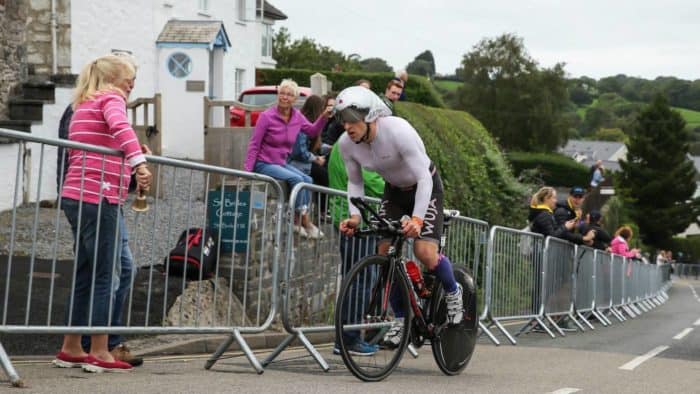 Going down into Wisemans Bridge there is a very technical descent which I had ridden twice on the Friday, so I took a few risks and managed to get a gap. From then I pressed on for the next 20km, I think I got a maximum of 30 seconds but there wasn't much point in leaving Matt and destroying myself, especially since he was miles stronger than me, so I rode steady, waited for him and we rode the rest of the bike together.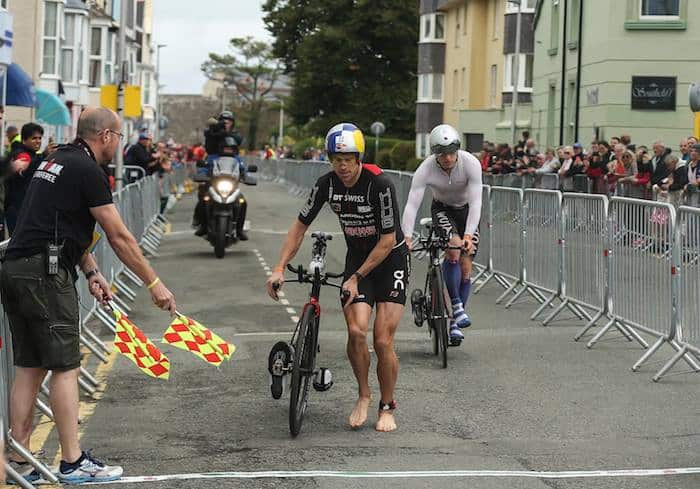 The run, god the run! Matt gapped me through transition and that was about that. IRONMAN Wales is four laps, four laps of pure agony.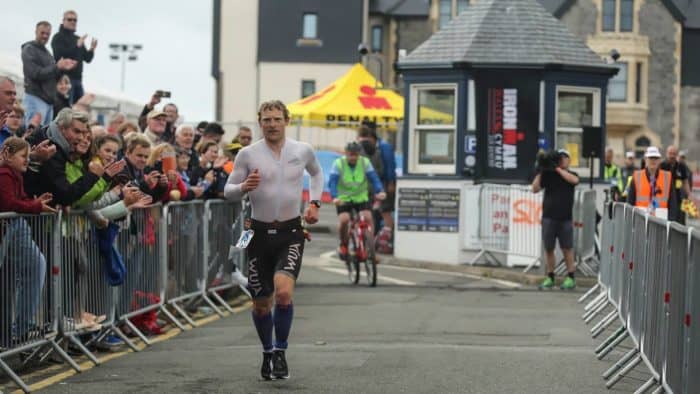 I got around the first lap ok but then hit a bad patch starting lap two. Then I saw my saviour of the day, Lucy Gossage. She was just starting her first lap as I was starting my second and I could see her 100 meters up the road. I set my sights on her and despite feeling awful, I somehow clawed my way up to her. It took me a good 5km to close that 100 meters, but I did it. We had a little chat and I told her under no circumstances was she to let me stop running. All I wanted to do was collapse on the side of the road, but she was to force me to keep going. We worked together and I kept telling myself it was just a Sunday training run. That was until I collected my special needs (a bottle of flat coke and a bottle of water), where I had to stop for all of three seconds, which then took me another 10 minutes of running to catch back up with her. Without her, I honestly don't know if I'd have got round, so thank you Lucy. I'm so happy she won, totally deserved.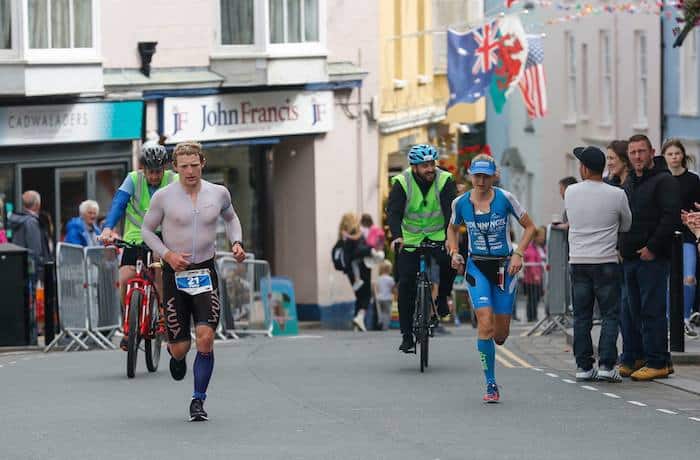 Somehow, at half way I started to come back round again and I dropped Lucy (I felt awfully guilty and would have loved to have run the entire way with her if could, mainly because every single person shouted her name and I felt famous simply by association!). Between 25-30km was the best I felt for the whole marathon before the lights started to go out for the last 10k. It was the usual case of grinding it out, using the support of the amazing crowd and the cheers from the other athletes to get me round.
So that was that, second again. Seemingly forever the bridesmaid at IRONMAN Wales, but a day I will never forget…again. The crowds get more and more crazy every year and it's always an utterly amazing experience to race there. I'll be back, for sure!