Australia's Ashleigh Gentle claimed a superb victory in the inaugural PTO Canadian Open in Edmonton on Saturday.
When Gentle exited the three-lap swim just 24 seconds back on Vittoria Lopes, one of the best triathlon swimmers in the world, it was perhaps a sign of things to come. It was a dream start and it set up a memorable day for Ashleigh.
A well-paced bike ride followed, and the addition of a killer run resulted in $100k first prize courtesy of a comprehensive victory in the debut event of the 2022 PTO Tour. With a wedding coming up, it was quite timely! Gentle delivered in some style.
Swim – Lopes leads the way
Brazilian short-course specialist and middle distance debutant Lopes, said goodbye to the rest of the field inside the first few minutes of the three-lap, 2km swim at Hawrelak Park.
With the field including Lauren Brandon (USA) and Sara Perez Sala (ESP), among the top-ranked swimmers from the PTO's number-crunching, that was an impressive start. Given that she exited the swim at Tokyo 2020 on the feet of Jess Learmonth in a very select group at the Olympic Games, perhaps not surprising – but still very impressive.
Brandon and Perez Sala were in the small chase group along with Julie Derron (SUI) and Gentle. That represented a fantastic start for the Australian, who had been a minute down on Perez Sala in the opening discipline (over a shorter distance), at CLASH Miami. If she could maintain that to the swim exit in Edmonton, a great start to her day.
Lopes did lead into T1, but Brandon was only 12 seconds back after a strong third loop, with Derron, Perez Sala and Gentle a further 10 seconds down. Unfortunately for Lopes, going the wrong side of one of the swim buoys would cost her a 30-second penalty later in the race.
Among the pre-race favourites chasing were Holly Lawrence (GBR), Paula Findlay (CAN), Ellie Salthouse (AUS) and Nicola Spirig (SUI) – all around 1:10 down, but not the best start for Emma Pallant-Browne (GBR) or Laura Philipp (GER) in relative terms. The Brit was 3:35 down, with Laura a few seconds further back. The German had four athletes behind her, and 27 ahead… time to go to work.
Bike – fast Findlay takes control
The bike course in Edmonton comprised of four laps of 20km. As the race started to take shape going into lap two, Lopes – on her standard WTCS road bike – was still holding strong at the front but home favourite Findlay was now only 10 seconds back in second place, having made up 1:15 on the bike.
Gentle, Salthouse, Spirig (road bike, of course!) and Derron followed, just over 30 seconds down.
India Lee was seemingly having a great day (9th at this stage, +1:46) and riding just in front of Lawrence. Philipp had moved up to 16th (+2:57) and was riding quicker then everyone except Findlay.
Pallant-Browne's day looked as though it was all but over however. From riding with Philipp, she dropped from the timings suddenly, with news subsequently confirmed that she had suffered a front wheel flat. Very frustrating, and with $1million on the line and the last chance to display Collins Cup form, potentially very costly too.
The end of lap two represented the halfway mark of the ride, by which point Findlay's charge had seen her take the lead and continue to set the fastest splits on two wheels.
Findlay crossed the 40km time split with an advantage of just over a minute on a quartet of Gentle, Salthouse, Spirig and Lopes. Jocelyn McCauley was sixth, 2:08 back. Philipp was now in seventh, 2:40 back and continuing to gain ground.
Another lap on and the Findlay lead had grown to 1:34, with the chasing quartet of Gentle, Salthouse, Spirig and Lopes together. McCauley was still having a great race, 2:16 back in sixth, with Philipp holding pace to Findlay, but still 2:42 back in seventh. She would be hoping to reduce that a touch ahead of the upcoming 18km run.
Completing the top 10 at the 60km mark on the bike were Skye Moench (USA), Jacqui Hering (USA) and Lawrence (GBR), four minutes behind the hometown leader.
McCauley's progress continued through the final lap, which saw Findlay start the 18km run with a significant lead. Following on the four-lap course were Gentle (+2:04), Salthouse (+2:14), McCauley (+2:19), Philipp (+2:32) and Spirig (+2:42). After taking that penalty incurred in the swim, Lopes started the run in seventh (+3:32).
Run – Gentle takes control
Gentle looked brilliant from the start of the run and immediately started gaining on the 2020 PTO Champion Findlay, reducing a 2:04 deficit to 1:35 within the first 2.5km. Philipp had moved into third and was also gaining on Paula – but most significantly she was losing time to Gentle, the 2018 ITU Grand Final winner.
At the end of lap one of four, Findlay's lead was down to just one minute over a flowing Gentle, but Philipp's charge from 28th exiting the water was perhaps coming to a stall. Still in third, she remained 2:30 back and was matching, but not catching, the pace of Paula. Unless anything changed, this was all pointing towards an Australian winner.
The inevitable pass came around the 7.5km mark, and by the midpoint of the run (9km), she was already 23 seconds up, with Philipp now three minutes back in third. Making rapid progress and now up to fourth was Chelsea Sodaro, who had finished a distant second to Philipp at IRONMAN Hamburg. The tables looked set to be turned here, unless the German could raise her pace over the closing kilometres.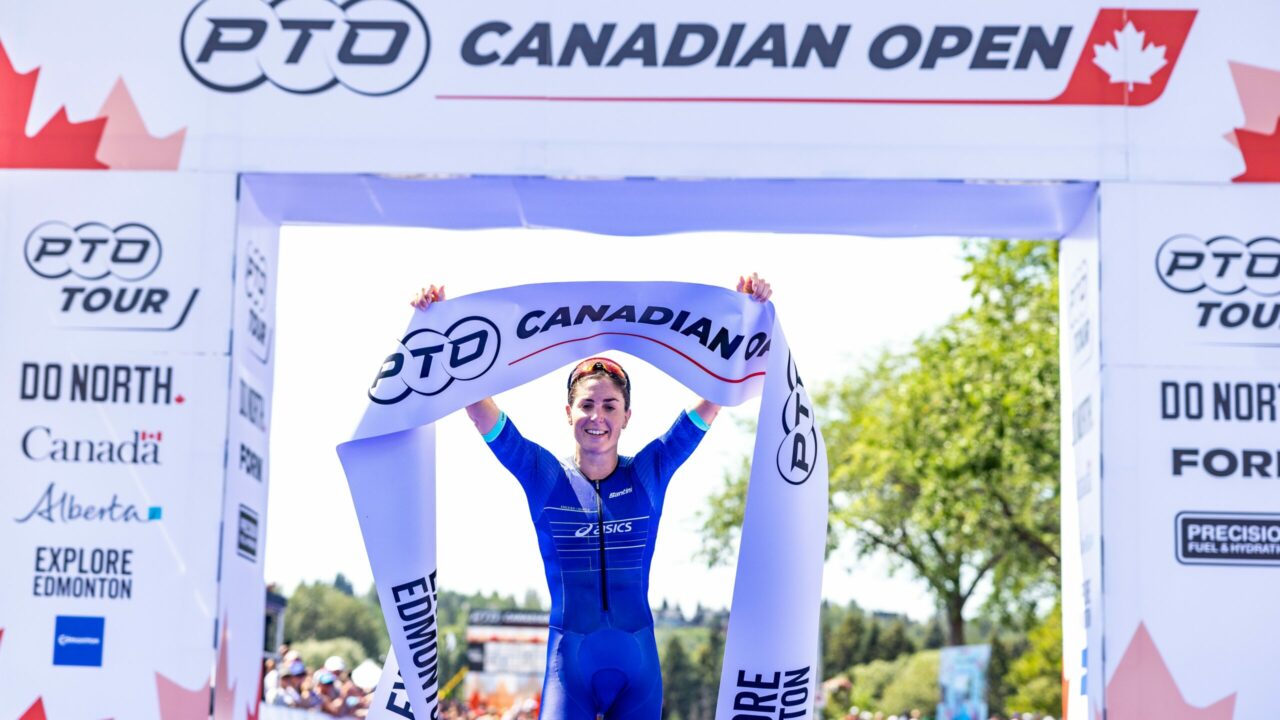 While she didn't get the win, a very happy Findlay held strong for second place and a $70k pay cheque.
The battle to complete the podium went to the final few hundred metres, when Sodaro hit the afterburners and left Philipp unable to respond.
PTO Canadian Open 2022 Results – Pro Women
Saturday July 23, 2022 – 2km / 80km / 18km – Edmonton
1. Ashleigh Gentle (AUS) – 3:30:54
2. Paula Findlay (CAN) – 3:33:16
3. Chelsea Sodaro (USA) – 3:34:56
4. Laura Philipp (GER) – 3:35:10
5. Julie Derron (SUI) – 3:36:18
6. Holly Lawrence (GBR) – 3:37:43
7. Vittoria Lopes (BRA) – 3:38:14
8. Ellie Salthouse (AUS) – 3:38:34
9. Sophie Watts (USA) – 3:39:28
10. Nicola Spirig (SUI) – 3:39:50
17. India Lee (GBR) – 3:45:04
19. Nikki Bartlett (GBR) – 3:46:15
23. Laura Siddall (GBR) – 3:49:06
DNF. Fenella Langridge (GBR)
DNF. Emma Pallant-Browne (GBR)