Close racing in Elsinore, Denmark at IRONMAN 70.3 European Championship
Held for many years in Wiesbaden, Germany, the 2017 IRONMAN 70.3 European Championship event moved to Elsinore, Denmark. If you are confused, you are probably not alone, given that the ETU held their Middle Distance European Championship, also in Denmark, last weekend…
Just to confuse thing a little further for the casual observer (!), the European Championship for Elite women was won by Annabel Luxford (AUS), who performed so well when finishing a close second to Great Britain's Lucy Charles at 'The Championship' in Samorin, Slovakia two weeks ago. Yes, more 'championship' action in Europe 🙂
The men's race in Denmark was a German podium sweep, with Michael Raelert (third in Samorin), taking the title).
(Race report below courtesy local IRONMAN race media)
---
RAELERT AND LUXFORD CLAIM IRONMAN 70.3 EUROPEAN TITLES IN STUNNING CONDITIONS IN DENMARK
One couldn't have asked for a more perfect day for the 2017 KMD IRONMAN® 70.3® European Championship. Clear blue sky, light winds and a stunning setting in front of Kronborg Castle field with thousands of spectators as some of the best professional athletes in the world and 2,500 age group athletes took on this year's championship race.
After the 1.9km swim in the Elsinore harbour the men's race was led by Germans, Michael Raelert and Nils Frommhold closly followed by Belgian, Pieter Heemeryck. Raelert and Frommhold looked strong and gained a small lead before heading into the more technical section of the Continental Bike Course. At 39km the top three positions were occupied by Frommhold, Raelert and a strong Andi Boecherer coming up from behind.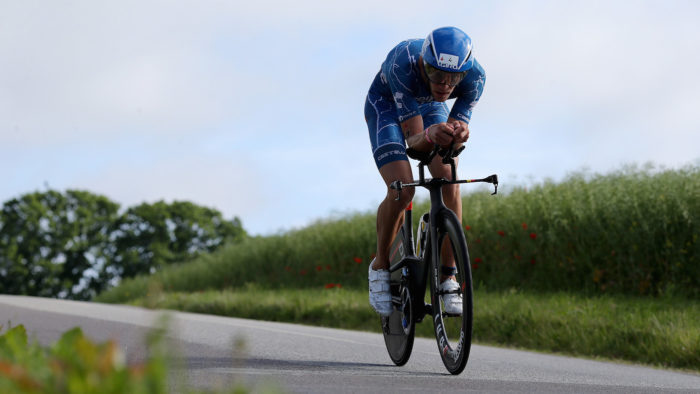 Despite the lead three looking good, there were still strong athletes in the field making their title bids. At the 59km mark defending champion, Andi Dreitz was only 34 seconds behind the leading three and a further minute down to Patrick Dirkmeier and Swiss athlete, Ruedi Wild. Dreitz, chasing hard, looked to have expended quite a bit of energy trying to catch up. By the 77km he dropped to 01:23 behind his countrymen. Entering T2, Boecherer and Raelert had a 10 second lead over Frommhold.
Raelert exited T2 ahead of Boecherer with Frommhold close, in third. Raelert recorded the fastest bike split affording him a 35 second cushion to work with starting the run. Raelert pushed hard adding precious seconds to his lead with each split. Raelert's strong finish saw him crowned IRONMAN 70.3 European champion with Andi Boecherer in second and Nils Frommhold in third.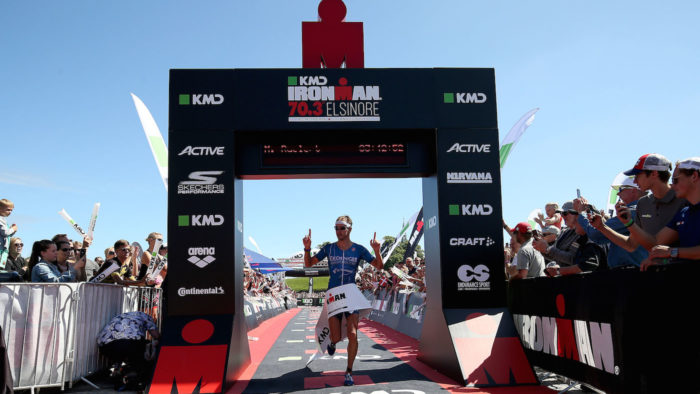 "Such a nice race and crowd. I was really nervous that Andi would come up strong from behind, so I pushed on. It feels so good to be back on top in a Championship as tough as this one, with so many strong athletes today," said Michael Raelert.
"I enjoyed it really much. The bike course was not easy and that suited me well, I think I "killed" Nils by pushing hard on the bike. With my injury in February, claiming silver in a championship such as this one, makes me really proud," added Andi Bocherer.
"It was a roller coaster out there and Michael and Andi were pushing hard on the bike. It was not what I hoped for as I was here to win. But still, third with these guys is a good result for me. What a great crowd, so many people on the bike course and in the city," said Nils Frommhold.
Aussie on top in Denmark
In the women's race expectations from local favorites, Helle Frederiksen and Camilla Pedersen, were high with the strong Australian, Annabel Luxford the biggest challenger to the Danes.
Positions after the swim were very predictable with Luxford, Pedersen and Frederiksen in the first three positions. An intriguing battle emerged between the three on the bike, but none managed an early break away. At the 39km mark the leaders were within second of each other with Finland's Kaisa Sali a minute back but working hard to cut the deficit. At the 59km mark Sali was still within striking distance 01:43 back with 30km of cycling and a run to go. Approaching T2 at 77km the Danes and the Australian remained close with Sali still holding on.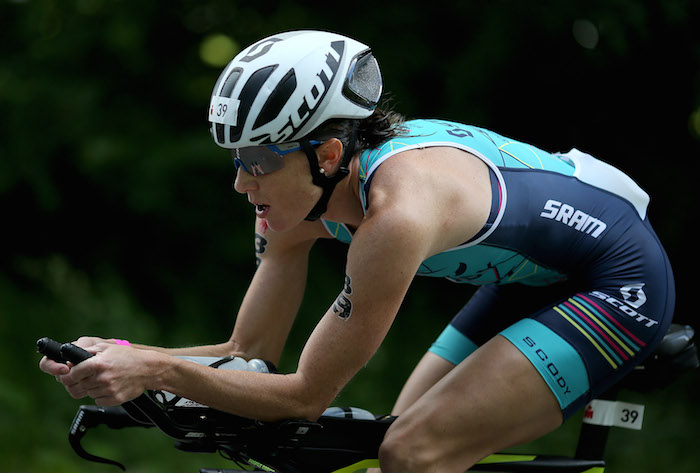 With the top three all into T2, it was Pedersen who pushed the speed on the bike but it would be Frederiksen who would start the run first. Still the gap between the three was negligible with 21km of running to come.
With the sun out and temperatures of over 20 degrees, the run turned into a rather warm affair. Whether or not the conditions played a part, the Australian chased Frederiksen and went past her, taking an early 11 second lead which she extended to nearly a minute. Sali meanwhile made up good time on the run to move within 30 seconds of Pedersen. The race really heated up at this point, with Luxford looking good for her lead, but Frederiksen, bleeding from her foot, had to fend off the challenges from the chasing Pedersen and Sali. At the halfway point on the run Sali went past Pedersen into third place.
In the end though, Luxford proved to be the strongest on the day finishing on top and earning the title of European Champion. A very emotional Helle Frederiksen finished second, 02:35 back with a strong performance in her first race on home soil in seven years. Kaisa Sali rounded out the top three 03:28 back.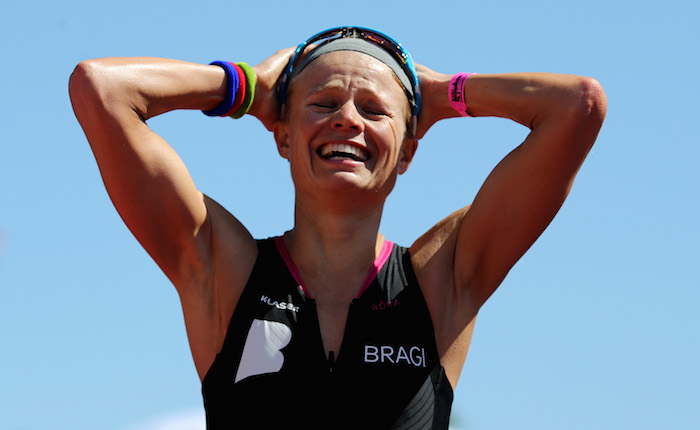 "I am so happy, I almost ended in a Danish sandwich. In this race I decided not to try to race safe, and just go all in and it worked, even though it was hard out there with Camilla pushing so hard on the bike," said Annabel Luxford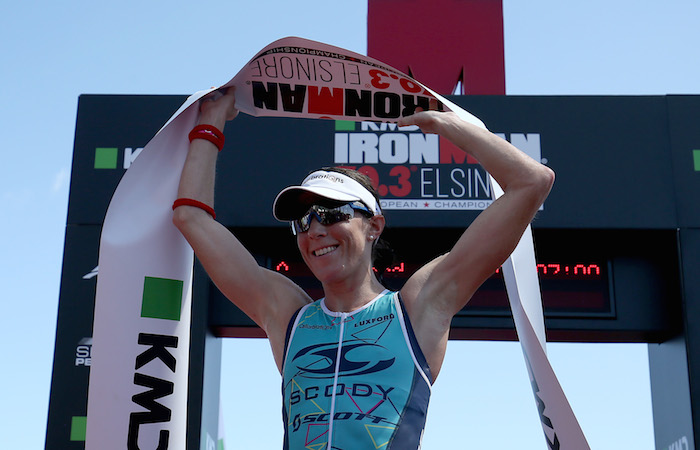 "It was so hard, but I'm extremely happy. I wanted to prove myself back in Europe and I really think I did. It hurt really much at the end, but I just let the crowd carry me across the finish line," added Helle Frederiksen.
IRONMAN 70.3 Europoean Championship, Elsinore, Denmark – Sunday 18th June 2017
1.9km / 90km / 21.1km – PRO RESULTS
MEN
1st – Michael Raelert (GER) – 3:42:52
2nd – Andi Boecherer (GER) – 3:44:26
3rd – Nils Frommhold (GER) – 3:45:25
4th – Pieter Heemeryck (BEL) – 3:46:47
5th – Rodolphe Van Berg (USA) – 3:47:00
16th – Richard Westover (GBR) – 4:08:19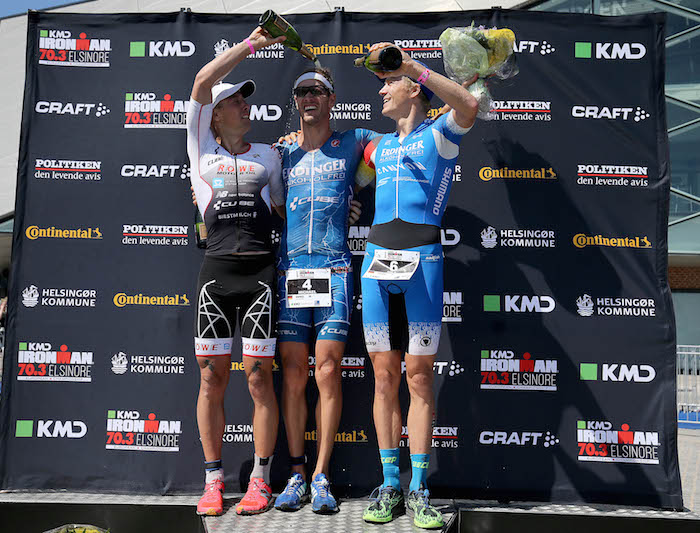 WOMEN
1st – Annabel Luxford (AUS) – 4:07:00
2nd – Helle Frederiksen (DEN) – 4:09:34
3rd – Kaisa Sali (FIN) – 4:10:28
4th – Camilla Pedersen (DEN) – 4:11:24
5th – Agniezska Jerzyk (POL) – 4:17:02
6th – Sarah Lewis (GBR) – 4:18:22
7th – Natalie Seymour (GBR) – 4:20:32