This week on 'The Road To St George' I had the opportunity to speak with the four-time IRONMAN World Champion and five-time IRONMAN 70.3 World Champion, the great Daniela Ryf, as she prepared for her 2022 season debut in Dubai.
It's fair to say 2021 was not a great year for Daniela Ryf as she battled health problems while slipping from the lofty standards which made her the most feared competitor in women's long-distance racing.
We spoke ahead of her seasonal debut at IRONMAN 70.3 Dubai, which saw her finish second to Germany's Laura Philipp. The great thing is Daniela is clearly feeling refreshed and back to something like her normal self after a break at the end of 2021.
2021 a major struggle for Ryf
She told me: "Definitely 2021 was a hard year for me. I felt really good until May in St George. Then I started to get problems with my health and my immune system. I tried to somehow get through the season, but it was a real struggle all year.
"I do think the break at the end of the year helped me a lot. My immune system and my body was not really good any more. So I changed a few things, I'm really focused on being as healthy as I can.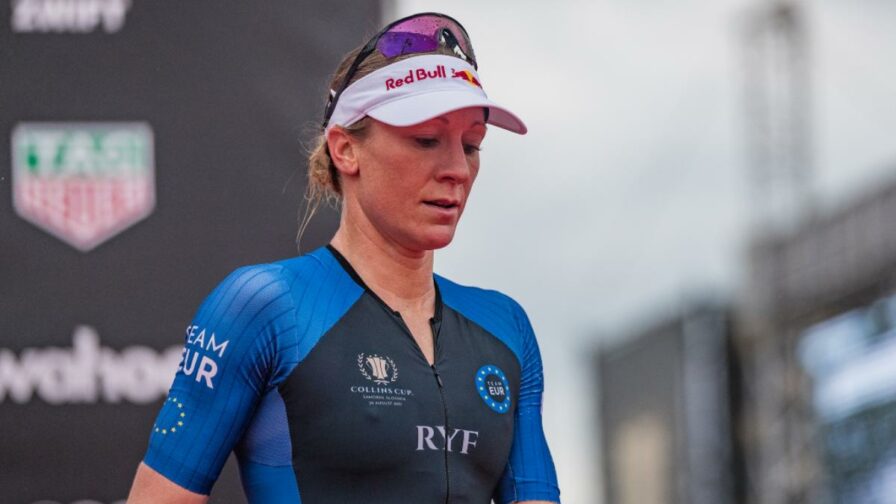 "It's the first time in a few months that I feel like my heart and lungs are back to being normal, and that's a really good feeling. I like to push hard and to race as hard as possible.
"To be able to do that and be able to train again, and not feel out of breath all the time, is definitely a good feeling."
Now, with Dubai in the rear view mirror, Daniela can look forward to the huge challenge of regaining her IRONMAN World Championship title in St George in May.
While it's clear she has a special affinity for Kona (why wouldn't she having won there four times), she also has great respect for St George, and like many other athletes is delighted we are getting a World Championship at all.
Kona the one and only
"I'm very happy we have the chance to have the World Championship that we couldn't have last year. Of course Hawaii is hard to replace, the course in Kona is for me also the one and only.
"But still I think the course in St George is very challenging and definitely worthy of a World Championship. The biking is going to be a lot of climbing, and the running is tough too.
"It doesn't really matter what we think about it, for us as athletes, it's a good chance to have a World Championship, and now it's our job to prepare to be ready for that race."
The strategy for 2022
The fact we have two IRONMAN World Championships in 2022 presents a unique challenge for elite athletes. Instead of the one long road to Kona, there are two major milestones to prepare for.
"It's an early World Championship so that will definitely change a few things," Daniela told me.
"I had a very solid build-up during the last three months and now we still have two months to go until the World Championship in May. I try my best to be ready by then, and then we have to see how we approach the second part of the season.
"I see it as a bit of a two-part season. One part is the build-up to St George in May and then there will be another build-up to Kona and I think it's definitely possible and I'm super-motivated and happy that these races are on."
Dethroning Haug?
You have to look back to 2019 to find the last time an IRONMAN World Champion was crowned – Anne Haug has now held that title for almost three years. It's pretty clear Daniela would love to remove that moniker in St George in May.
She explained: "I'm very keen to race and of course it's a great opportunity because we do need a new IRONMAN World Champion. It's been great for Anne Haug – for two years she's been the IRONMAN World Champion – but I'm pretty sure she's also happy to race again, so we can battle it out."
It's terrific to hear Daniela speaking with such positivity about her health now after the problems which ruined the second half of her 2021. To have her back at peak form is something the sport needs, and only adds to an intoxicating mix for St George.
You can watch the whole of my interview with Daniela by clicking on the embed below.