Sam Laidlow has just over a month to solve the stomach issues which caused him to DNF at IRONMAN Lanzarote last weekend, with a showdown against a world-class field at Challenge Roth fast approaching.
The 24 year old, who is currently the PTO World #5, was a late withdrawal from the European Open three weeks ago and now faces a race against the clock to iron out any issues ahead of his next race.
On his YouTube channel, the Frenchman released a video explaining his poor performance in Lanzarote, underlining what he and his team thinks it will take to get back into the form that saw him finish second in Kona last year.
"When it comes to Ironman, there are so many parameters"
Reflecting on the race, Laidlow shared his disappointment with the result, agreeing wholeheartedly with PTO World #1 Kristian Blummenfelt's sentiment that "it hurts more to lose".
"One day after my DNF in IRONMAN Lanzarote and it doesn't feel too good. I think Kristian Blummenfelt said that it hurts more to lose and it's definitely true.
"When it comes to Ironman, there are so many parameters, it's such a long day and so many things count. I'm generally excited about an Ironman, because you never know what you're in for.
"You can be the fittest athlete and have something terrible happen to you, and that's what happened to me."
Laidlow goes from joy to despair
Diving a little deeper into the race, Laidlow explained that after an average swim, the bike started off really well, as he quickly started extending his lead over the rest of the field, including professional cyclist Cameron Wurf.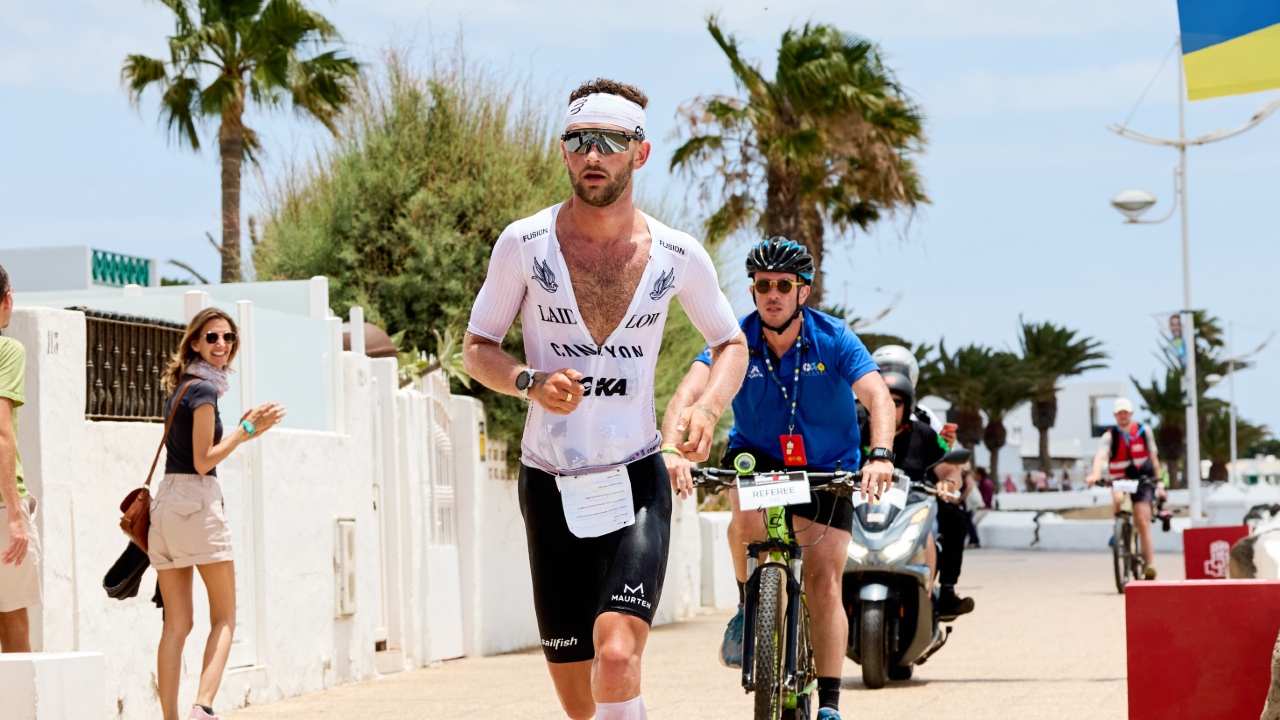 "By around 80km I had about five minutes over Cam, and then close to 10 minutes over Arthur [Horseau] who ended up winning."
However, after making such great progress through the first half of the bike leg, Laidlow made the mistake that would eventually come back to bite him later on in the day.
"I'm so stupid because in my head, instead of thinking I could slow it down a bit and run a good marathon, I kept pushing and after 2.5 hours suddenly everything was gone. I don't know if it was partly a pacing mistake or partly me thinking that on a good day I could've held those power numbers.
"Cam came past me and it looked like I'd never been on a bike before. I'm proud of myself for just carrying on to be honest and even finishing the bike, because I felt like stopping a million times and it was a real mental battle to stay on the bike.
"In transition I was in such a state, I was cramping but trying not to show people how bad it was, but the last thing I felt like doing was going to run a marathon. In racing, you always have these mental battles, where you just want to go a little bit further or do a little more, so I thought I'd try and run at least one kilometre."
After pushing through the first few kilometres, Laidlow seemed to have got his legs back underneath him, as he caught Wurf and regained the lead, before things quickly came tumbling down again just after the halfway mark.
"During that period [passing Wurf], I was thinking bloody hell if I can turn this around and win this, it'll be the biggest mental victory if my life. As soon as I turned around though and was running into first, I was in a real bad state and running on empty and I am really surprised I managed to run 22km at the pace I wanted to."
"It made me question if I should do triathlon or switch to snooker"
After getting pulled off the course by his team as his condition continued to deteriorate, Laidlow revealed some of the less glamorous side effects of long-distance racing.
"After coming off the course, I went back home and just shivered for three hours in bed and p****d myself. It made me question if I should do triathlon or switch to snooker or darts or something because it seems that would be much easier."
"After finishing Ironmans, you don't know what your body wants. I think a lot of age groupers can relate to that feeling, you're just in such a bad state."
Breaking down what he and his team think caused the capitulation, Laidlow said that he found out a few years ago he suffers from an existing gut issue, a problem that he now intends to get back on top of.
"We found out two or three years ago, that I have a fragile gut, like leaky gut syndrome, which can be caused be either stress of training, or heat exhaustion. We managed to get on top of it last year, which explains my great races like Kona, but for me my stomach is my achilles heel and we saw that in the Collins Cup."
"As soon as my stomach isn't right I can't perform, and that was yesterdays issue, so it's just reminded me we need to be more serious about it. It's just something I need to be more aware of, that's the reason my coach thinks I had such a poor performance, so we'll try and figure it out, go to Roth and have a better day."