When Sara Svensk produced a stunning performance to win IRONMAN Cozumel earlier this month, it was a result which had not seemed possible just a few short months earlier.
The Swedish star set the fastest time ever by a woman in an IRONMAN race and the fourth fastest in any race over full distance. Amazingly, she did so on the back of a year ravaged by COVID-19 and subsequent heart problems.
During the summer of 2021 Svensk was not even able to train as she struggled to get to the bottom of issues which arose after she contracted COVID.
She told TRI247: "Besides being a professional triathlete, I work as a medical doctor at a health care centre. When the pandemic broke out it was an easy choice for me to focus more on my work as a doctor instead of my career as a professional triathlete.
"When you work at a health care centre you meet a lot of people and even if you are very cautious and follow every hygiene rule, you still put yourself at risk. I don't know if I got COVID-19 through my work, but I most likely did."
Catching COVID
The first hint that something was wrong came in May, after Sara had finished a block of base training for her first long-distance event of 2021.
"I was feeling exhausted, but maybe I was fooled because of all the training I had done and maybe I didn't see the red flags, but one day I woke up with a sore throat.
"I went directly to the test centre and the day after I got a positive COVID-19 result. I didn't have any fever or any other symptoms – just a sore throat and I actually felt okay."
Sara, being acutely aware of the risk of heart complications such as Myocarditis, started training again slowly, but after a couple of days she noticed worrying problems.
Heart concerns
"I started to feel a squeezing pain in my chest while training, and I would also wake up during the night feeling the same chest pain. After a few days I realised that something was wrong.
"I thought the pain probably was something muscular and maybe an inflammation in the rib cage, but the symptoms I experienced didn't match my theory."
Sara decided to have a resting ECG to try to find out what was wrong, but it provided only more questions.
"Unfortunately when I looked at the ECG there were some deviations which couldn't be explained by just having an athlete's heart (athletes – especially endurance athletes – have a bigger heart and a slightly rotated heart which you can see signs on when you do an ECG, and it's normal for athletes).
"So, I called my colleagues for advice and all of them recommended that I go straight to the emergency department, just in case there was an ongoing acute heart problem – worst case scenario myocarditis, which can potentially be fatal."
Subsequent tests proved inconclusive, and Sara now had to undergo an ultrasound of the heart and an exercise ECG. The UCG was fine, but the exercise ECG again raised concerns.
"During an exercise ECG you bike and at the same time the cardiologist controls the heart and measures your blood pressure. When I was biking at 100w, the cardiologist stopped the test and told me to go straight to the emergency department because there was something going on with my heart.
"So I did one more visit to the emergency but they still couldn't figure out what was wrong. According to the doctors at the emergency everything looked good. They had ruled out myocarditis, pericarditis, a blood clot in the lung or any other lung problems.
Searching for answers
"For a normal person, you would probably stop the investigation there. But since I'm an elite athlete who uses my body as a tool for performance, I needed to find out what was wrong. So the next step was to do a stress MRI (CMRI) of the heart. This means that you stress the heart with a chemical and at the same time take MRI pictures of the heart while measuring the blood supply of the heart.
"The CMRI showed that there was one segment of the heart which didn't get enough blood supply during stress, like during training. The medical team said they have seen this with COVID patients, and in most cases it is temporary and goes away with time. I was advised not to do any hard training, just walks, and if I felt anything abnormal I should stop immediately. If I pushed through the pain there would be a risk of chronic damage to the heart."
The long road back
For six weeks Sara was limited to walks and yoga – she was "devastated" with her immediate future in doubt and her 2021 season slipping away. Her medical training told her though that there was no quick fix, no easy way out.
"I knew that this is not something you can stress or rehab your way out of. I just needed to relax and take each day step-by-step. Slowly but surely, I was able to increase my training without setbacks. I did a check-up with my cardiologist and I was all clear to go again. My fitness was at rock bottom, but mentally I was so relieved and hungry to go out there and start building form again.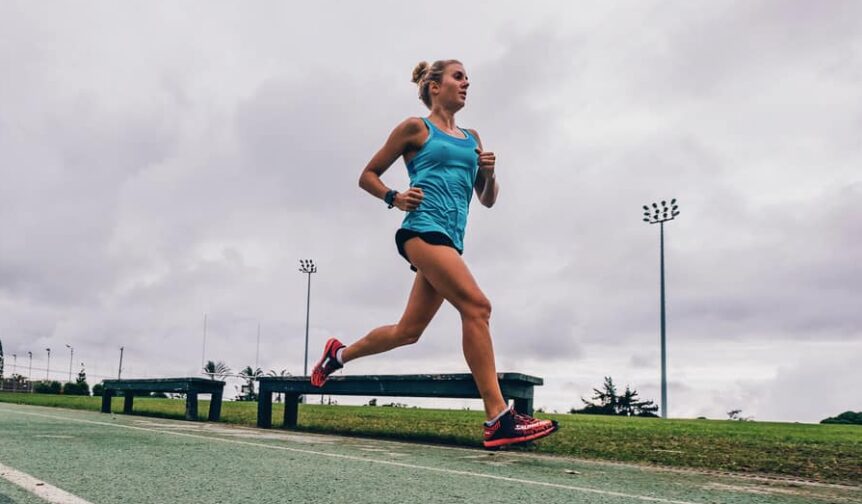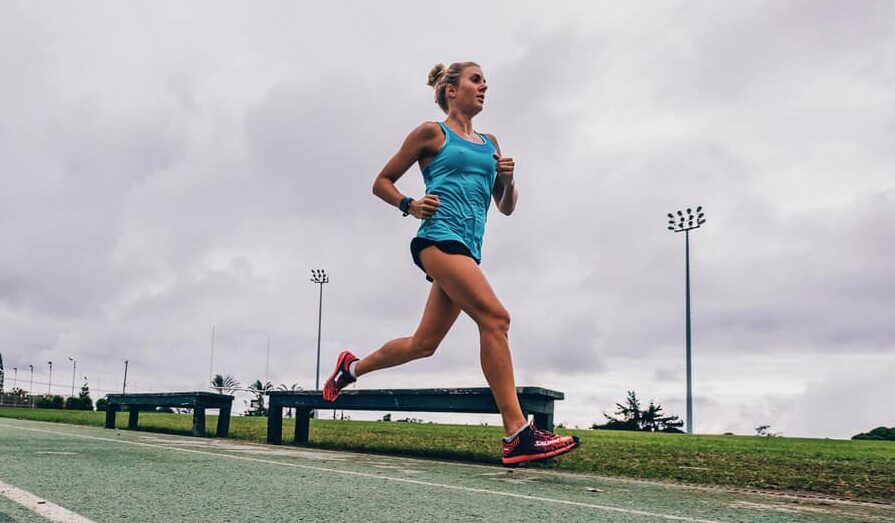 "When you go from 'I might never be able to train again' to 'you are good to go' it is such a relief and a complete explosion of feelings. I love being active, and everything I do involves some kind of activity – so just being able to enjoy an active lifestyle again was incredible."
Mallorca blip
Sara returned to full training and prepared for IRONMAN Mallorca, but there were further bumps in the road as she began vomiting during the bike leg and was unable to keep in energy. After a DNF, she learned post-race she had contracted a bug.
This might have been the signal for some athletes to shut it down for 2021, but Svensk was determined to finish her year on a high. She decided it was on to Cozumel.
She said: "I lost a little fitness after the sickness but not too much and it was easy to get back in shape again. On the other hand, I had some personal problems that made the lead-up to the race really hard.
"I was hungry to race and my numbers both on the bike and for my run showed that I was in great shape, but mentally I was concerned my build-up would influence the race. I decided to trust my physical fitness, trust the numbers and believe in what my body should be capable of doing."
Even with that current-assisted swim boosting times for all athletes, the results for Sara were an affirmation of her refusal to quit.
Back with a bang in Cozumel
"It started out quite well, not my best swim but not my worst. I got information that I was about 3:30 off the leader. During the first lap on the bike I passed some competitors and found myself in 4th position. I was gaining time on 2nd and 3rd but not on the leader Dede Griesbauer. I decided to maintain my pace and instead of trying to catch her on the bike, I would let my run do the work."
It was a plan which would work to perfection.
"Out on the run I felt fierce, I tried to hold back as much as possible and make the run feel easy," said Sara.
"On my second lap I had overtaken the two women in front of me and I felt confident that I would cross the finish line as the first woman if I only kept it together and did my own race. Ironman is long and anything can happen, but on this day I believed it was my day and I wouldn't let go of that.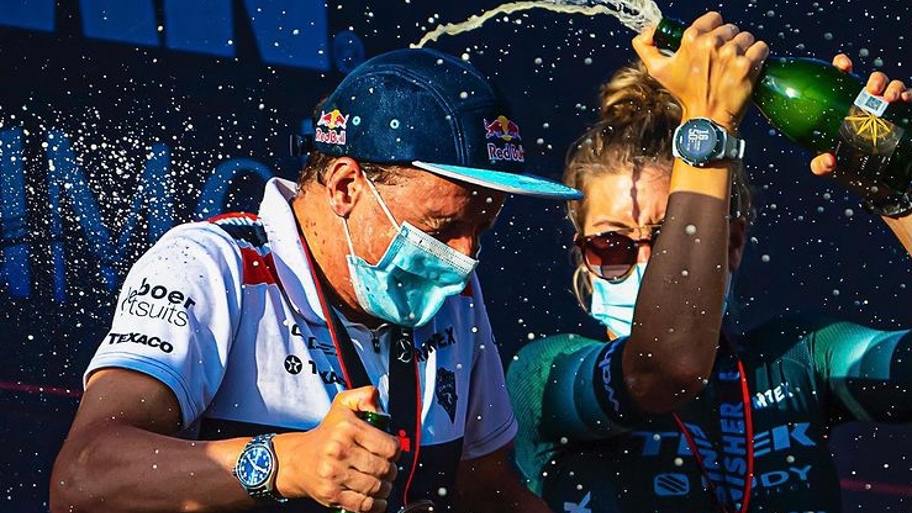 "When I finally reached the finish line I wasn't just happy, I was also relieved. During the last few months I have been full of self-doubt, asking questions whether my capacity is comparable to that of the top women. Wondering if the COVID infection would have a greater impact on me in the long term.
"Even when I saw the numbers in training – knowing they were good – I still was a little worried. Cozumel was the recipe I needed to convince myself that I belong among the best."
With those months of worry hopefully now very much in the rear mirror, Sara can look ahead to next year with significant and very real goals to chase.
"Hopefully 2022 will consist of more races. I am qualified for both St George and Kona so they will be my A-races. I will probably do some 70.3 and maybe another full Ironman."
If the form she showed in Cozumel is anything to go by, Sara will be one to watch when those major championships roll round in a few months' time.