Lucy and Mark Buckingham have joined us throughout the Super League Championship Series and were glued to their screens during the finale in Neom.
Looking back at the women's race, Lucy had no doubt who the star performer was – Sophie Coldwell, who was runner-up to Georgia Taylor-Brown.
Lucy said: It was a really exciting finish and I have to hand the props to Sophie Coldwell who I thought raced that amazingly.
"She was tactically really smart – she got herself to the front of the bike group which included the likes of GTB, Beth Potter, Taylor Spivey and Nicole Van Der Kay. So I think she did an absolutely cracking job of giving herself the best possible chance against some really stellar runners – herself included in that."
Mark also pointed out just how important the fine margins are, saying: "I spotted Sophie get her right foot out of the shoe exactly a minute before the dismount line just to get that jump into T2. That was brilliant. Having the short chute helped too but she was literally trying to find every second and that's what Super League brings, it's absolutely brilliant, frantic racing."
GTB 'pretty much flawless'
And Lucy added: "I think another standout performance was Nicole Van Der Kaay, saying: She's always had the potential of being in the mix with those girls, finishing top 10 at the Commonwealth Games and getting herself podiums in World Series as well, so it was really great to see that she's come into form, especially with the Abu Dhabi World Series in sight now.
Both were in full agreement it was a great race to round off the series – and that Taylor-Brown was a deserving winner.
Mark summed it up by saying: "It was really tactical in the last swim / bike / run of the Enduro and came down to five girls.
"On the bike they were all lined out and I think Taylor Spivey was really crafty, she pinned it to the right hand side of the road so that the other athletes couldn't draft in the crosswind which was clever and I'm not sure why Beth [Potter] didn't take that same opportunity.  
"I think the Series overall was brilliant, it was good to see the battle between Georgia and Taylor. I know I discounted Taylor a few times so for me she's been the standout performer of the overall Series but the final word needs to go to Georgia Taylor-Brown who, other than the crash in Malibu, has pretty much been flawless."
Jonny so good
The prizes – first in the race and the overall title – went to Matt Hauser and Hayden Wilde respectively but the Buckos were both delighted to see a great display from Neom runner-up Jonny Brownlee, who dictated most of the race.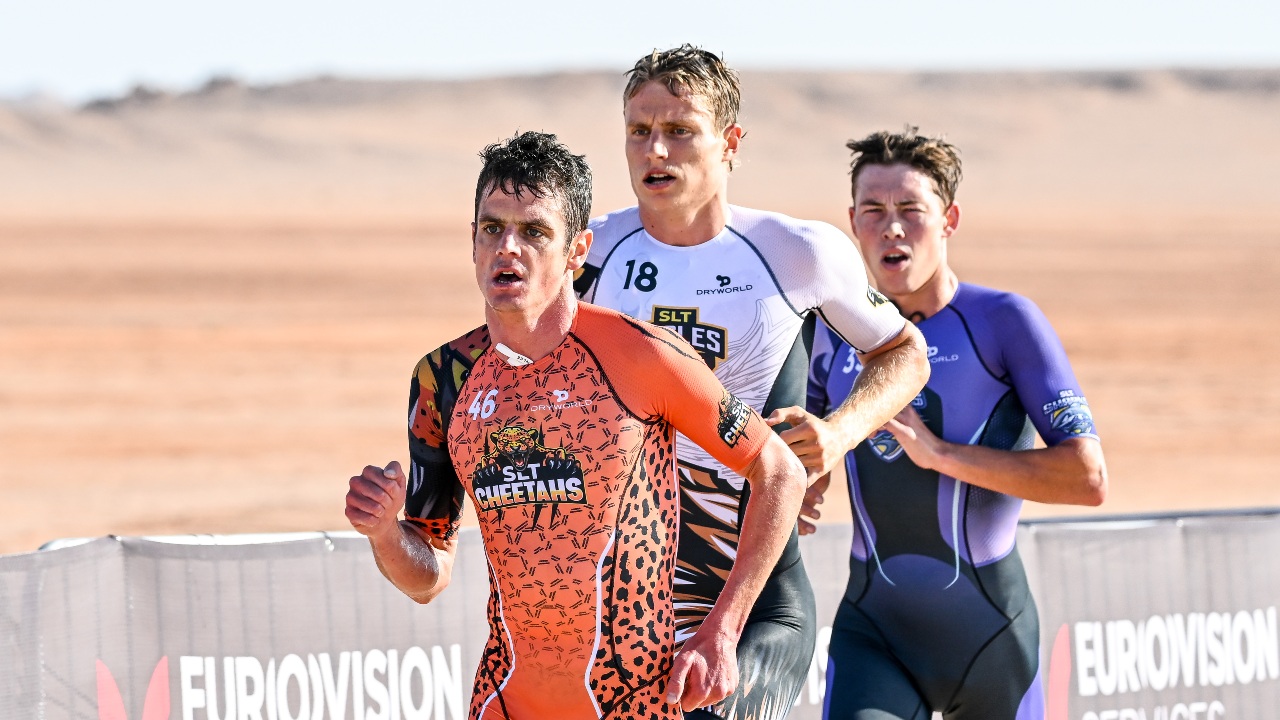 Lucy said: "It was great to see Matt Hauser win after all the bad luck he's had this season and great to see Jonny Brownlee back to his best too as the crash in Leeds had really set him back for the season.
"And I think Jonny was a massive game-changer in the race, he was always pushing on and making sure the pace was on; he's really good at this Enduro format and played it to his advantage.
"But you've got to say that Hayden Wilde has been so resilient this season. It's really tough to race back-to-back and be on form throughout the season but he's done that so massive props to him, it's a very well deserved Championship."
That was echoed by Mark: "Jonny looked his old self, wanting to get in the break – and trying to instigate the break constantly – and it made for some interesting racing.
"But Hayden was a deserving overall winner – it wasn't his best day today but he held on for dear life in that final swim. And he just put himself in the right position on the bike, missed a few turns as he obviously wasn't feeling great but full credit to him."
Skill levels continue to rise
Looking at the series as a whole, Mark has floated the idea of a team relay in the future: "I've really enjoyed the Series and think it's worked really, really well. For the team scores to come down to just two points and the Scorpions to take it on the last race made it exciting so that's been a success.
"And just seeing new skills in the sport and how quick the transitions have got – the race craft and thought processes of the athletes during the race in terms of tactics has definitely gone up a level because of Super League. I think a good addition would be a relay – maybe we'll see something like that in the future."
Support Jonny & Beth in London
Support the best of the Brits like Jonny Brownlee and Beth Potter battling it out against the world's best triathletes including Gustav Iden and Cassandre Beaugrand in The Arena Games Triathlon grand finale at London's Olympic Park.
Use code AGTLDN_TRI247 for 20% off tickets.