There was an all British podium today at the inaugural Super League Triathlon Neom in Saudi Arabia, the Grand Finale of the 2022 SLT Championship season.
Heading into the event the equation was pretty simple – whoever crossed the line first between Georgia Taylor-Brown and Taylor Spivey, would take the title. It all came down to the final run, which would see GTB defend her title in race-winning style, leading home a trio of British athletes.
The Enduro format sees three back-to-back triathlons (all in swim-bike-run order), with no breaks in between and here's how it all panned out…
[CLICK HERE FOR THE MEN'S REPORT FROM NEOM]
Stage 1 – Advantage Coldwell. Just…
Australia's Emma Jeffcoat, followed by Sophie Coldwell and Cassandre Beugrand, was first to exit the opening swim and then onto the bike, to earn the first short chute for Team Scorpions. Third was also more than enough for Beaugrand to wrap up the swim leader series title – and with it, a $15,000 prize cheque.
Unusually for Super League, the 4km bike course was a one-lap affair in the desert of Neom, and while a group of 8/9 seemed more focussed on watching each other in the cross-winds, Sophie Coldwell took the opportunity to build upon her excellent swim start to break clear. The sight of both tarmac and gravel provided additional challenges.
Sophie was first into T2 and out onto the run (securing the second short chute for Team Cheetahs), but an advantage of around six seconds was not going to be decisive, at least yet. Coldwell was running well on the gravel, and it was Beth Potter and Georgia Taylor-Brown the primary chasers from behind. For GTB, her key opposition today in series terms, Taylor Spivey, wasn't far behind.
With Coldwell also first through transition and into the swim, that also blocked Potter (Team Sharks) from claiming the final short chute, leaving those advantages residing with the Scorpions and Cheetahs. That, surely, was a big advantage to the prospects of defending champion, Georgia Taylor-Brown.
Stage 2 – And then there were five
Out of the second swim there was little between Coldwell, Potter, Taylor-Brown, Taylor Spivey and Nicole Van Der Kaay, and it was still all to play for with four disciplines done and five more to come in the Enduro.
Following the script from the first stage, we had a solo leader with a small advantage on the bike, but this time it was Beth Potter. After an excellent season, the Scot has been slightly below par across the Super League Triathlon Championship Series. Was this her time to shine?
The chasing quartet were working well together, and as a result, Potter's chances of gaining more than a few seconds advantage was all but eliminated. As they moved through the bike to run transition for the second time, the leading five were separated by just seven seconds. Tied on points after the first four rounds, Taylor-Brown and Taylor Spivey were still shoulder-to-shoulder. This was the type of Grand Finale that the organisers would have hoped for.
Despite her run pedigree, Potter couldn't break clear – indeed, she was caught, leaving five athletes together at the end of 'triathlon 2'.
The biggest story? Team Scorpions decided NOT to award that short chute to Georgia Taylor-Brown. Answers on a postcard for that decision, please… Sophie Coldwell however, would receive the short chute on stage three that she earned earlier.
Stage 3 – GTB leads GB podium sweep
Five into the water together and five out, with Verena Steinhauser and Miriam Cassilas Garcia chasing, just 10 seconds back. So near, yet so far.
With a short chute to take too, Sophie Coldwell was the only one of the leading quintet with that advantage. She would have a potential first SLT race win on her mind, while it was still GTB vs. Spivey for Championship Series honours. It was all going to be decided on the final run of the final race, with nobody willing to go all-in on the bike.
Out of transition for the eighth and final time of the day, Coldwell took the short chute, with Potter, Spivey, GTB and Van Der Kaay chasing hard. Despite the – strange, at best – decision from Team Scorpions not to defend the interests of Taylor-Brown, the Olympic Mixed Relay gold medallist was doing enough under her own steam to pull clear of Taylor Spivey, but she now had Sophie Coldwell to catch.
And that, with just a few hundred metres remaining, she did to earn both the race win and Championship Series title for a second straight year.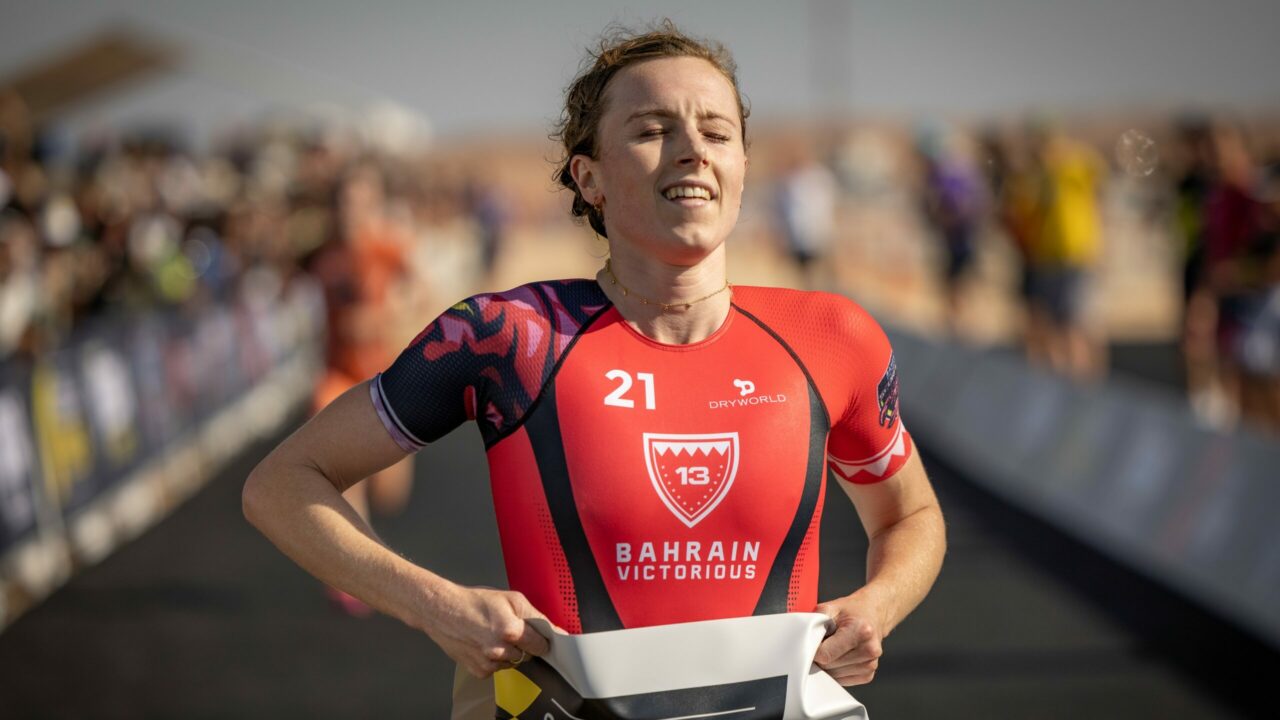 Super League Triathlon Neom 2022 results
Saturday 29 October 2022 – Enduro – Elite Women
1. Georgia Taylor-Brown (GBR)
2. Sophie Coldwell (GBR)
3. Beth Potter (GBR)
4. Taylor Spivey (USA)
5. Nicole Van Der Kaay (NZL)
6. Miriam Casillas Garcia (ESP)
7. Verena Steinhauser (ITA)
8. Cassandre Beaugrand (FRA)
9. Jeanne Lehair (FRA)
10. Kate Waugh (GBR)
[CLICK HERE FOR THE MEN'S REPORT FROM NEOM]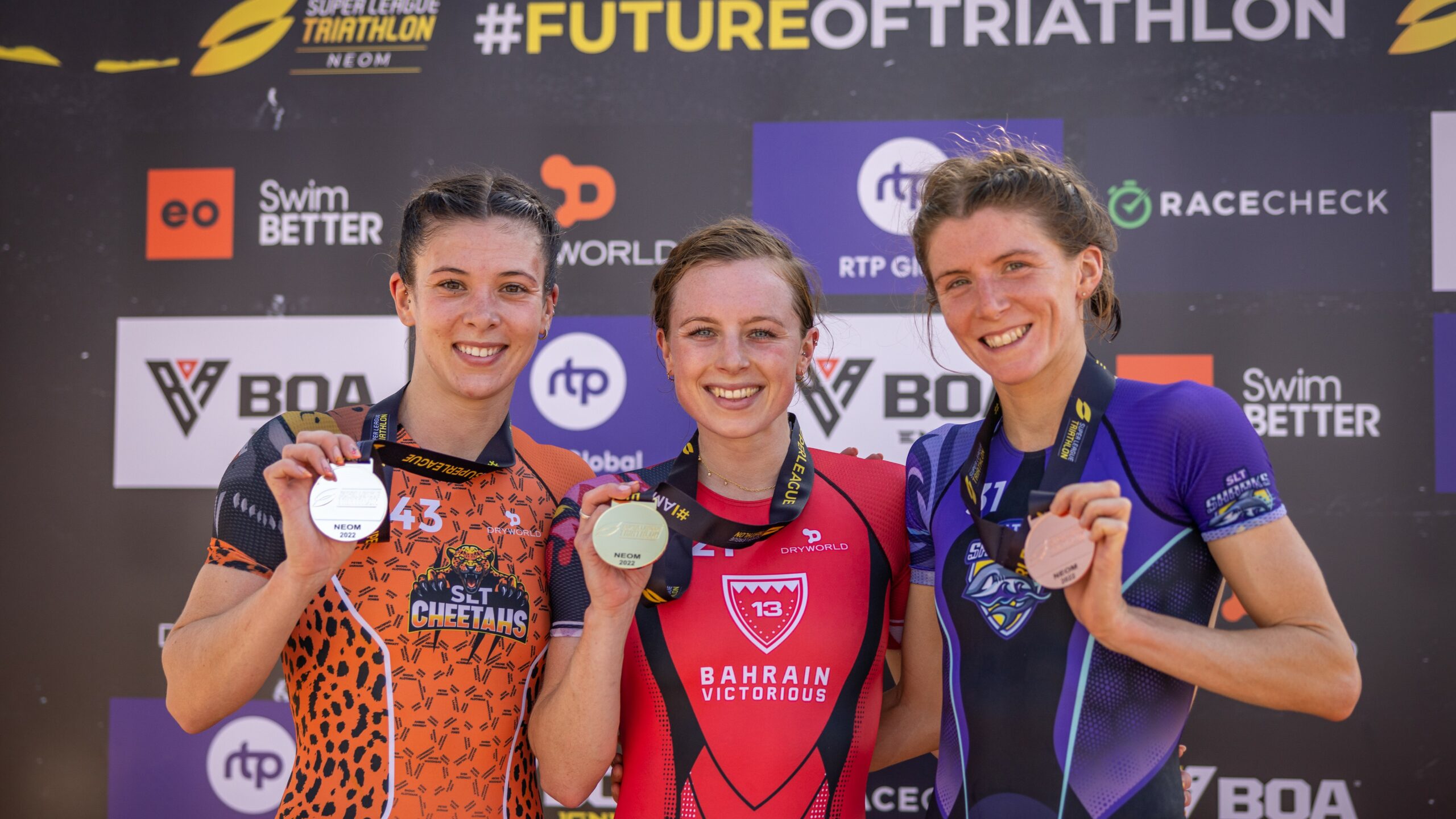 Final standings after Neom (round five of five)
1. Georgia Taylor-Brown (GBR) – 76
2. Taylor Spivey (USA) – 70
3. Sophie Coldwell (GBR) – 57
4. Beth Potter (GBR) – 52
5. Verena Steinhauser (ITA) – 44
6. Miriam Cassilas (ESP) – 42
7. Jeanne Lehair (FRA) – 41
8. Cassandre Beaugrand (FRA) – 36
9. Nicole Van Der Kaay (NZL) – 33
10. Kate Waugh (GBR) – 30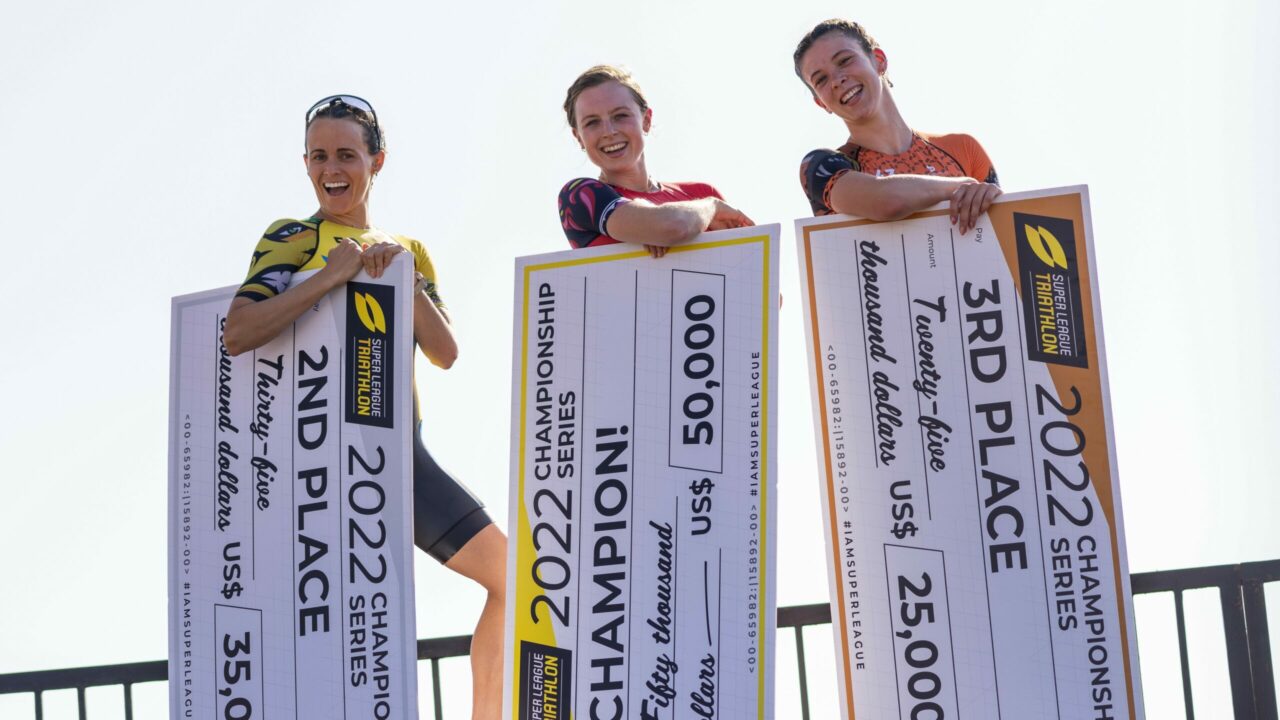 Final team standings after Neom
1. Scorpions – 385
2. Sharks – 383
3. Cheetahs – 358
4. Eagles – 314
5. Rhinos – 304
Series Discipline winners
Swim – Cassandre Beaugrand
Bike – Georgia Taylor-Brown
Run – Cassandre Beaugrand