Team manager Michelle Dillon has assembled a star-studded British team for the RTP Sharks ahead of the 2023 Super League Triathlon Championship Series, which will kick off in London at the end of the month.
Olympic medalists Alex Yee and Jonny Brownlee, along with WTCS winners Beth Potter and Sophie Coldwell make up the spine of the team, with some bright young stars also down on the team sheet.
Chasing success across the four race championship series in London, Toulouse, Malibu and Neom, can the unity that will come with an all British team prove to be the winning formula? It won't be easy with a galaxy of stars up against them – including the Kristian Blummenfelt-led Santara Tech Eagles and the Chris McCormack-managed Bahrain Victorious Scorpions.
Meet the team
Led by two-time Olympian Dillon, who by now is as experienced as they come in the intricacies of the Super League Championship Series, the RTP Sharks have some serious firepower at their disposal.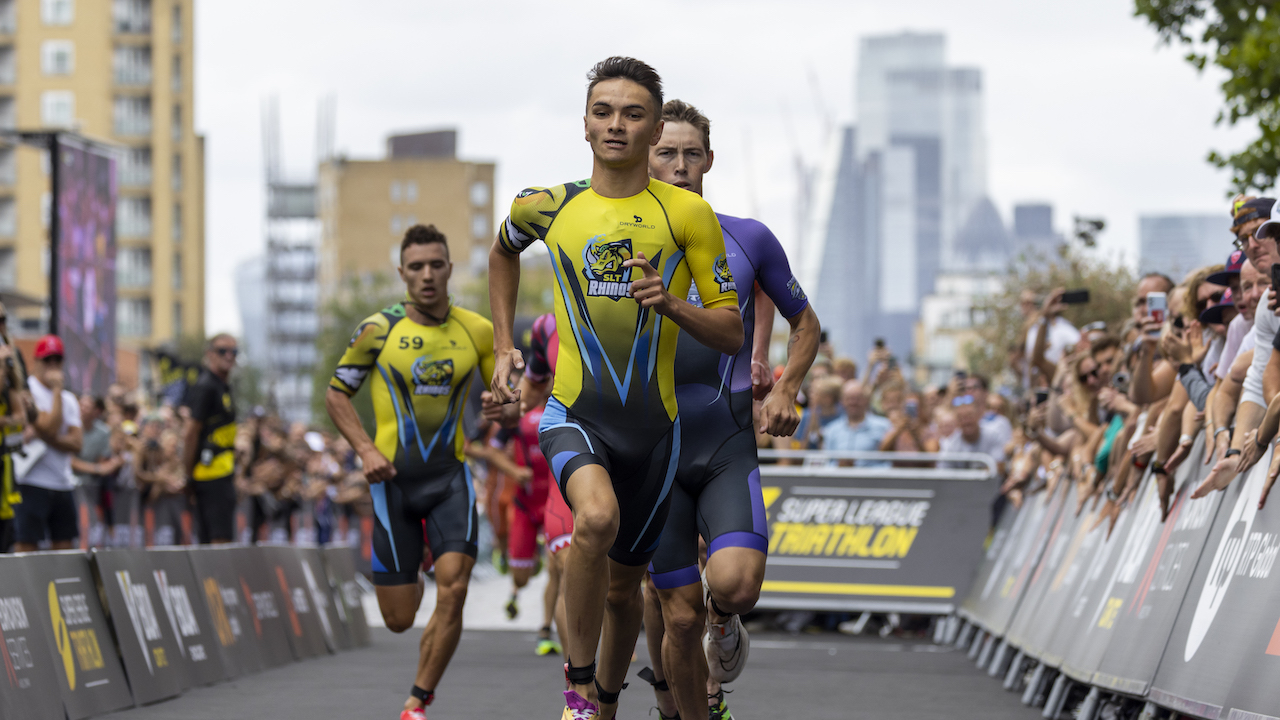 On the men's side, Brownlee and Yee lead the way and will likely prove to be valuable mentors to their younger teammates, with the pair well versed in racing at the highest level for the biggest prizes.
"We're going to win!" Brownlee promised TRI247. "We all love Super League racing – it's absolutely brilliant, it's hard but good fun to race and usually the best all-round athlete wins it. I'm looking forward to racing as part of a British team too, I think that gives it something extra this year."
A trio of youngsters, Max Stapley, Dan Dixon and Sergio Baxter Cabrera make up the rest of the men's side, with all three experienced Super League athletes who have the capacity to challenge for the top spots on their day.
'Honorary Yorkshireman'
Whilst Baxter Cabrera is a Spaniard, he is an honorary Yorkshireman and will fit in well with the all British side.
And he goes into the series boosted by a couple of strong performances after a spell out with injury. He was runner-up on his comeback at the World Triathlon Cup Tiszaujvaros and then 13th in Sunderland in his first WTCS event since Abu Dhabi last year.
That latest display was all the more impressive as he had to serve a penalty and he followed it up with fifth in the Mixed Team Relay the following day.
He told us: "I was super happy with that, it was tough and the penalty made it harder still but it's my best result yet at a World Series race and I'm glad to be back on the blue carpet."
Looking ahead to the next few weeks, he added: "I think Super League is going to be a lot of fun this year and I'll just be balancing it out with the ITU races."
With quality across all three disciplines, look out for the RTP Sharks to be picking up short chutes and fastest legs left, right and centre.
On the women's side, Potter and Coldwell, similarly to Yee and Brownlee, bring the experience needed to balance out a youthful team, with both familiar with the fast and furious style of racing Super League provides.
Kate Waugh, Olivia Mathias and Jess Fullagar stand to learn a lot from their older peers, but will also be keen to prove their worth and fight for team points and individual honours. Waugh, the World U23 Champion last year, is one to watch and could really cement her place as an established senior athlete in the series this year.
Mathias bagged an impressive second place at Arena Games Sursee earlier this year and told us: "I found the Arena Games a bit of a shock to the system but I'm really excited to race Super League and to be on a team with these guys is really cool."
Team Manager: Michelle Dillon
Men's Team: Alex Yee, Jonny Brownlee, Dan Dixon, Max Stapley and Sergio Baxter Cabrera.
Women's Team: Beth Potter, Sophie Coldwell, Kate Waugh, Olivia Mathis and Jess Fullagar.