Vincent Luis, Cassandre Beaugrand win Day Two Enduro in Singapore
Jonathan Brownlee, Cassandre Beaugrand take Super League Singapore overall victories
Despite his puncture on Day One in the Eliminator at Super League Triathlon Singapore – the Grand Final of the 2018/19 SLT season – that flat tyre, fortunately, didn't prove to be the most expensive in triathlon history for Vincent Luis of France. But it was close.
What wasn't particularly close was the result of the Enduro on Day two, where the dominant athlete of men's Super League Triathlon so far, started the race both motivated and angry, but also fresh (having only raced once on Saturday as he was eliminated), and he combined that with his undoubted talent to win the Enduro (swim / bike / run x3), from Day One winner, Jonathan Brownlee and Commonwealth Games champion, Henri Schoeman.
After a disastrous day yesterday, Vincent Luis finishes strong with a dominant performance in the Men's Enduro. Has the Frenchman done enough to secure the championship victory though? 🤔#IAMSUPERLEAGUE #SLTSingapore #Championship #Finale pic.twitter.com/LAy2nlTabB

— Super League Triathlon (@SuperLeagueTri) February 24, 2019
First and second over the two days was more than enough for Jonathan Brownlee to secure the $20,000 purse for the Singapore win, while also lifting him to third in the series. So yes, Jonathan Brownlee did finish 1st (Eliminator), 2nd (Enduro), 1st (Singapore, overall) and 3rd (Series, overall) all in one weekend. It can get a little confusing!
Having finish 17th (and collected only one point) in the Eliminator, Luis didn't make the Singapore podium overall – but by finishing tied on 26 points with Ben Kanute (USA) across the two days in Singapore, and the final day taking priority, fourth place in Singapore was his finishing position. Even with the double points on offer, that proved crucial. With Schoeman finishing second (42 points) and Luis fourth (32 points), his 12 point lead from the first three rounds proved just enough to take the overall title.
With first prize being $100,000 and second $50,000, that was quite significant. Given his performances in Jersey, Malta, Mallorca and Singapore, I don't think anyone can doubt that the best man took the biggest cheque.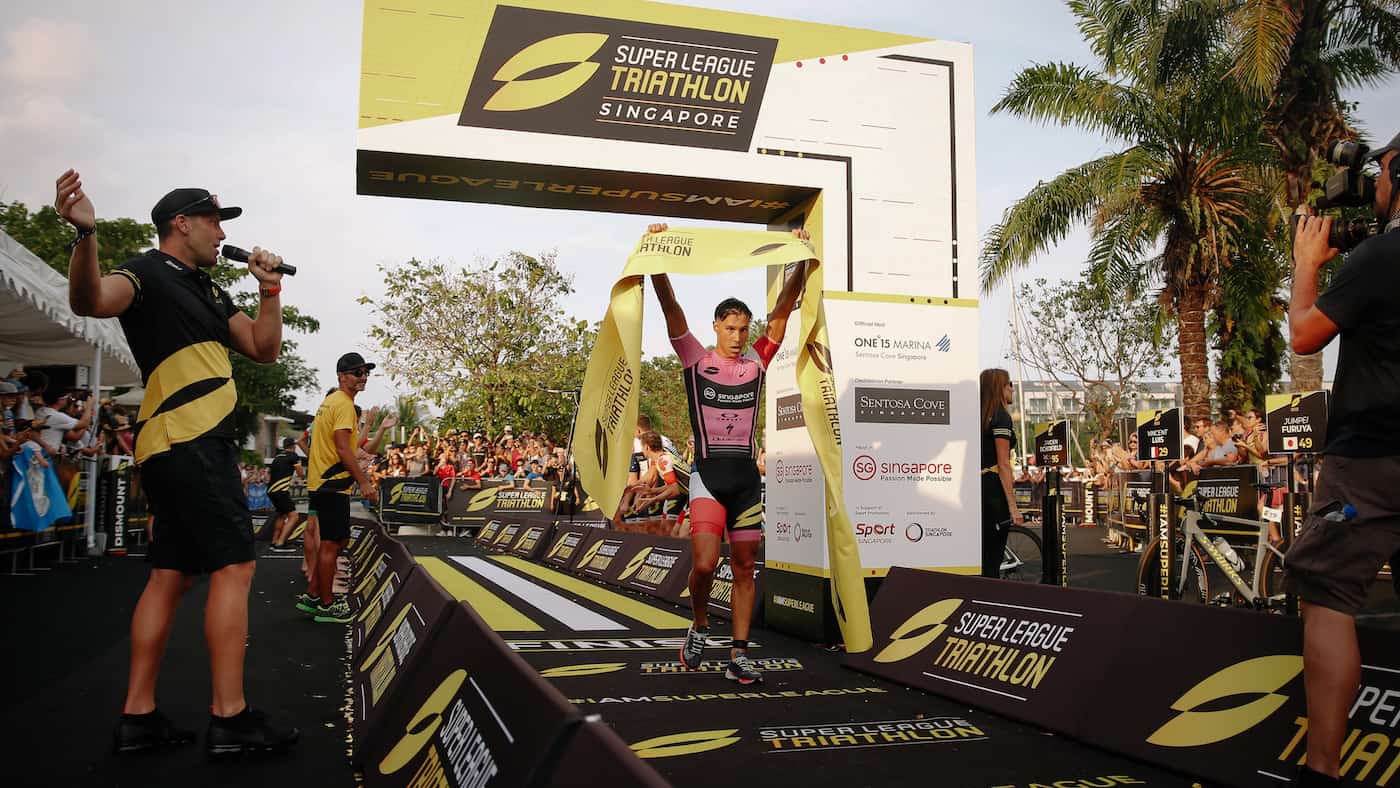 "Since the start today, I knew I had to be hard and smart. I could not hope for a better result. I didn't want to lead today, I just wanted to keep with as many people as possible – pure tactics. I wanted to save myself until the last run. I knew I was fresher as I didn't race as much as them yesterday, so I was waiting for the last run. I saw that Henri wasn't at his best, so I tried to keep with Jonny as much as possible. I was so down after yesterday, I didn't know if I wanted to race this Sunday. I still can't believe it I've won. You never know – anything can happen."
As for Jonathan Brownlee, after describing his 2019 season as "terrible", Singapore proved to be a very productive weekend (and not just because he won $20,000 for the round and a further $25,000 for third place in the series):
"It means a lot to come here and perform well in the heat. It's always been a weakness of mine and I think I was one of the fittest athletes out there. If I'm honest, I've doubted myself this year – so this gives me a lot of confidence. That was a big performance for me – it shows what I can do.
"This format is all about not wasting efficiency and survival. Everyone will make small mistakes and Super League is about how you overcome them. And I've proved I can overcome them and that my fitness is there. If I was more clinical, I could have won today. It means more than most races I've done in my career. This has proved that I can come back to my best."
Women
Just as Luis had been the dominant male athlete, Katie Zaferes was clearly the Super League Queen – and having won on Saturday, and starting the event with a significant lead in the point standings, she looked set to take the big cheque.
⚠ Sprint Finish⚠
Cassandre Beaugrand and @KZaferes6 crash through the finish line together, but in the end, there can only be one winner! #IAMSUPERLEAGUE #SLTSingapore #Championship #Finale pic.twitter.com/TCvTkEPKXj

— Super League Triathlon (@SuperLeagueTri) February 24, 2019
She did just that – but what a finish it was. Zaferes and Cassandre Beaugrand were battling for the Enduro win, Zaferes pulled away a few metres as they approach the finish line, Beaugrand battled back and as the hit the tape… who won? Given the same time (in seconds), the verdict went to the young French athlete. With Day Two acting as the tie-breaker, that meant that Beaugrand wins the round ($20,000) ahead of Zaferes ($15,000). The big cheque of $100,000 for the series however goes to a very deserving Katie Zaferes, who has been so consistent in every event across all four venues.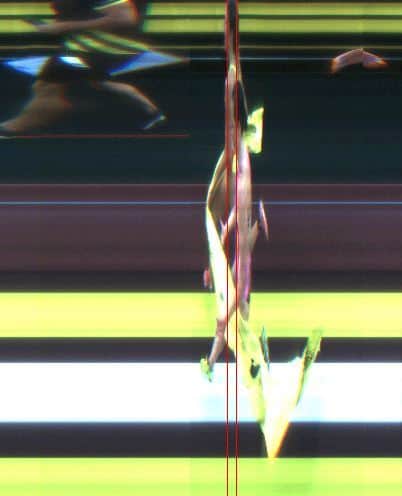 On that finish, and of the Super League Triathlon experience, Zaferes said:
"I am really happy and a little disappointed because it was so close. I gave it everything I had and it's always nice to come out on top. It's been a great series. Super League makes you better all-round. You have to work on every little thing – both physically and mentally, and even emotionally. It's high pressure coming into this race, and I knew I had to perform well. I think it sets me up well for the rest of the season. I'm really happy with where I am."
Super League Triathlon Singapore, Day Two – Sunday 24th February 2019
The Enduro
WOMEN
1st – Cassandre Beaugrand (FRA) – 1:04:24
2nd – Katie Zaferes (USA) – 1:04:24
3rd – Rachel Klamer (NED) – 1:04:30
4th – Leonie Periault (FRA) – 1:04:35
5th – Taylor Spivey (USA) – 1:04:55
6th – Summer Rappaport (USA) – 1:05:15
MEN
1st – Vincent Luis (FRA) – 59:19
2nd – Jonathan Brownlee (GBR) – 59:27
3rd – Henri Schoeman (RSA) – 59:34
4th – Leo Bergere (FRA) – 59:48
5th – Ben Kanute (USA) – 1:00:03
6th – Jonas Schomburg (GER) – 1:00:12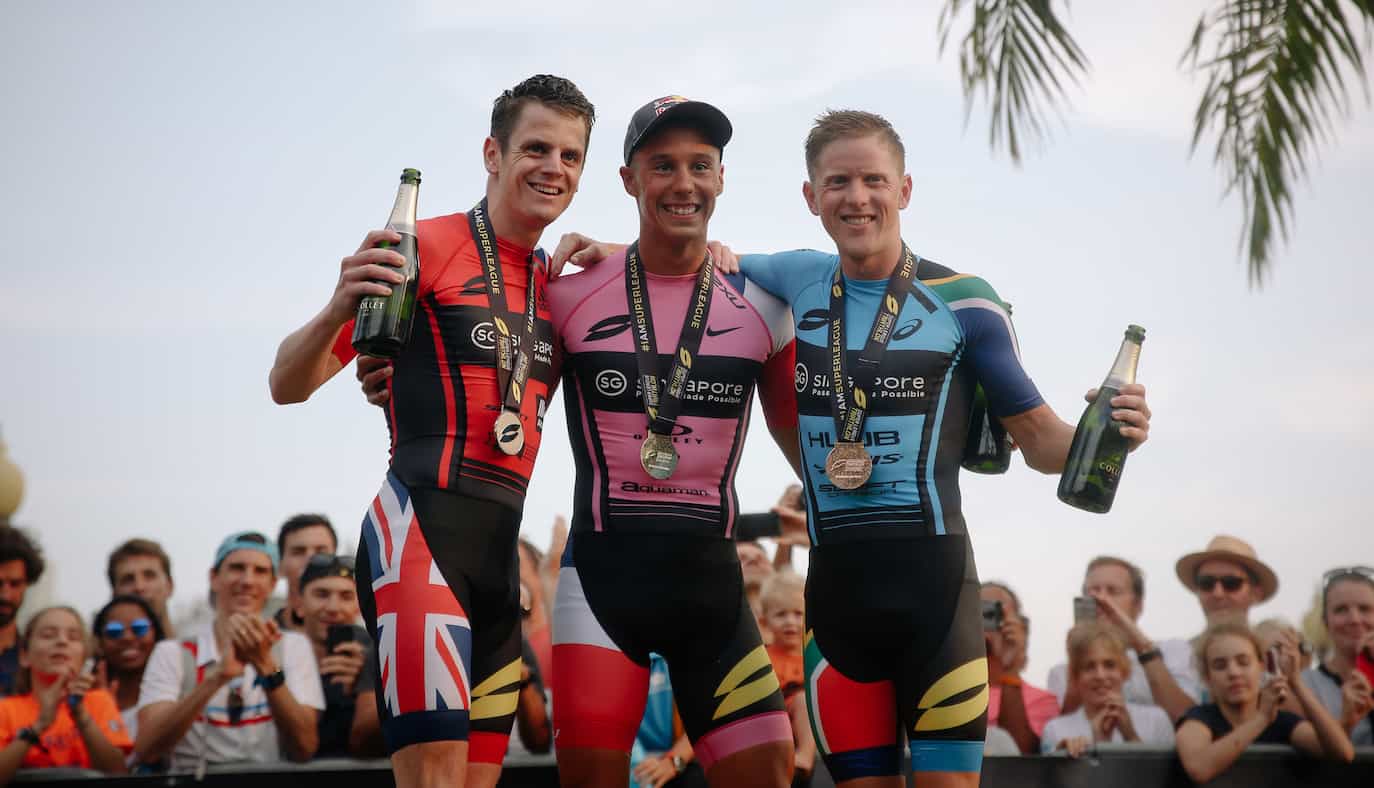 Overall Super League Triathlon Singapore Results
WOMEN
1st – Cassandre Beaugrand (FRA) – 46 event points >>> 50 round points
2nd – Katie Zaferes (USA) – 46 event points >>> 42 round points
3rd- Rachel Klamer (NED) – 32 event points >>> 36 round points
MEN
1st – Jonathan Brownlee (GBR) – 46 event points >>> 50 round points
2nd – Henri Schoeman (RSA) – 34 event points >>> 42 round points
3rd – Tyler Mislawchuk (CAN) – 31 event points >>> 36 round points
4th – Vincent Luis (FRA) – 26 event points >>> 32 round points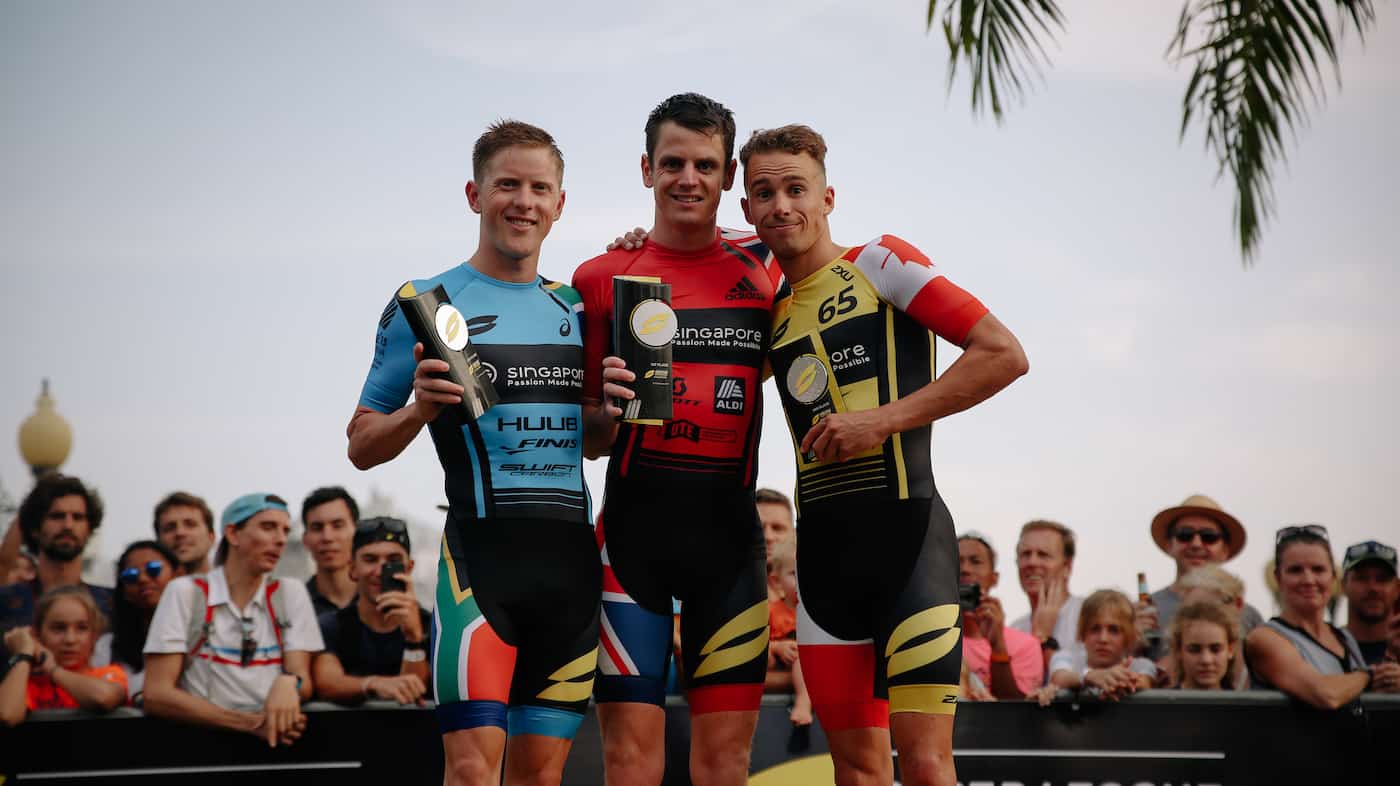 Overall Super League Championship Results 2018/19 Series
WOMEN
1st – Katie Zaferes (USA) – 113 points
2nd -Rachel Klamer (NED) – 76 points
3rd – Cassandre Beaugrand (FRA) – 65 points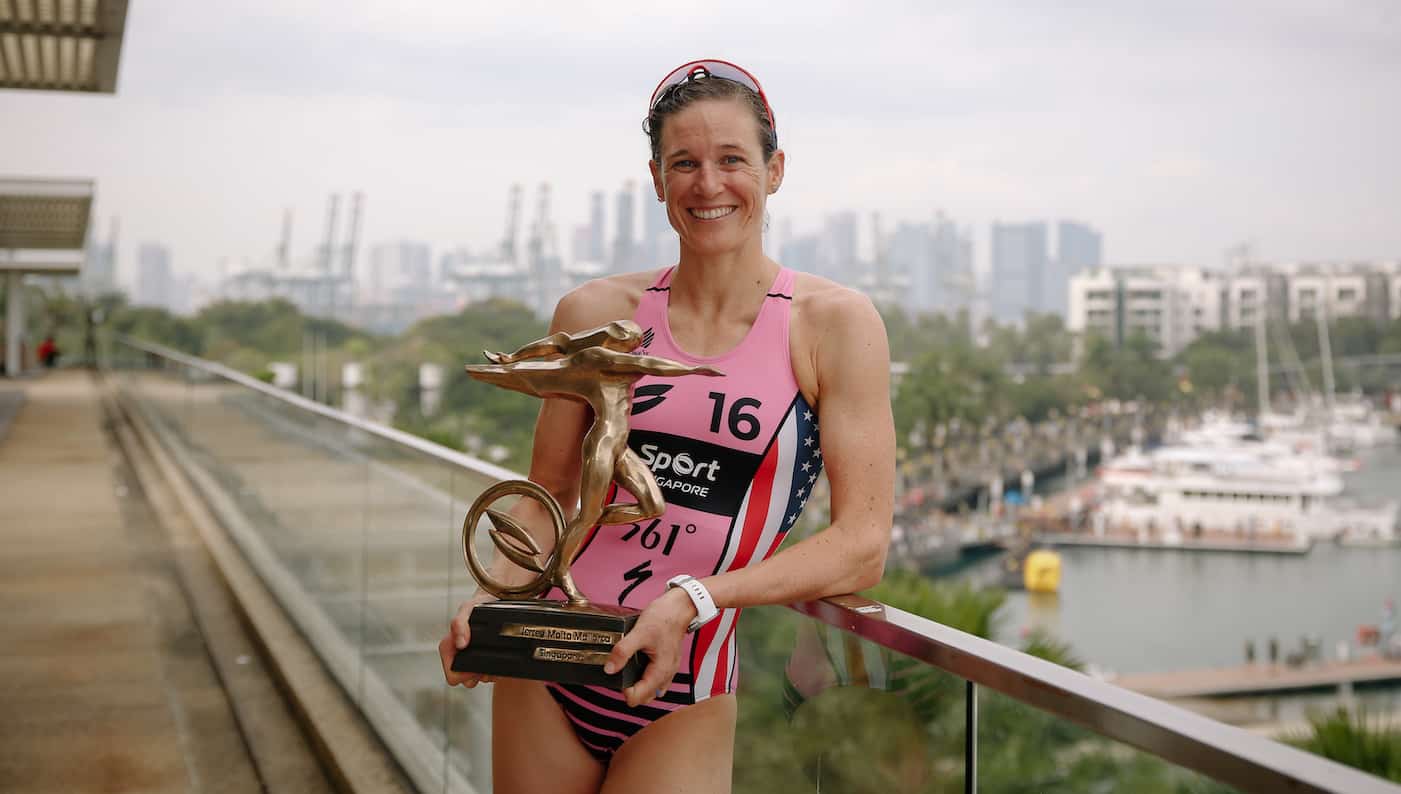 MEN
1st – Vincent Luis (FRA) – 107 points
2nd – Henri Schoeman (RSA) – 105 points
3rd – Jonathan Brownlee (GBR) – 96 points