Fast, furious and you never quite know what's going to happen. That's the SLT narrative, and once again that came to the fore today in the Elite Men's race at Super League Triathlon Toulouse.
Heading into the final swim/run elements of Stage 3 of the Triple Mix, it looked like a head-to-head between the returning Hayden Wilde and World Triathlon champion, Leo Bergere. With memories of Vincent Luis' and Leeds 2022 however, there was confusion and Wilde powered through to start a (not needed) fifth bike lap, while Bergere realised that was not necessary.
That left Bergere to hold off Jonny Brownlee and Henri Schoeman for top honours, and while Wilde ran his way back to fourth, the air was certainly blue in the finish area post-race. The minutiae of that scenario will be review and discussed for a while yet.
Here's how it played out.
Triple Mix Stage 1 – Swim, Bike, Run
As they did in the Elite Women's race, the Warriors lead the way in the swim, filling the top three positions as they ran into T1. It was Chase McQueen leading the US squad, but behind there weren't too many seconds separating the majority of the top stars, including Hayden Wilde, Leo Bergere, Kristian Blummenfelt, Jonny Brownlee and Matt Hauser.
With the top 15 athletes within as many seconds after 4km of cycling, the four lap bike course on Stage 1 didn't massively split the field either. Out onto the run – just 1km for the first two stages – and it was Leo Bergere just getting to the finish ahead of Jonny Brownlee, and they were four seconds quicker than Blummenfelt and Wilde.
The big news however was Matt Hauser, who on his return post-COVID would not have been expecting to start his day by losing 28 seconds in the first Stage.
Triple Mix Stage 2 – Run, Bike, Swim
Reese Vannerson (RTS Warriors) buried himself on the opening run to pick up some bonus points, but while he would not factor overall, Hayden Wilde would. We've seen several times this season how he has excelled in transition and he did that right out of T1 and powered to the front solo. This was a big move from the reigning Super League Triathlon Champion.
Unfortunately for Wilde's fellow Scorpion, Tayler Reid, he crashed out at high speed on a corner. There would be no repeat of his London podium today.
Wilde continued his efforts at the front, meanwhile 10-seconds behind it was Leo Bergere leading the chase, alongside Brownlee, Blummenfelt, Nener, Rider, Schoeman, Dixon, Stapley, Sanchez and Hauser.
Finishing in the water, Wilde's transition advantage was six seconds over Bergere, with the big pack in contention 14 seconds back. No surprise to the see the reigning World Triathlon champion, Leo Bergere, close in on the New Zealander and with the likes of swim speedsters Stapley and Rider behind, it was all starting to come back together on the final leg of Stage 2.
Seth Rider reached dry land first, and held that on the short run to the finish, just ahead of Wilde. With the top eight finishing within seven seconds of each other, the pursuit start gaps for Stage 3 would be incredibly close.
It would be all to play for over bike / swim / run format.
Triple Mix Stage 3 – Bike, Swim, Run (pursuit start)
Home crowd favourite, Leo Bergere, would start first, but with seventh placed Blummenfelt only 14 seconds back there really was little in it. After such a great effort in Stage 2, Seth Rider's prospects were all but done within a minute of the start with a crash on the bike.
One lap in on the bike, it was Bergere and Wilde together at the front, with Jonny Brownlee and Henri Schoeman chasing hard, just a couple of seconds back. Could they bridge that gap? With the front two absolutely full gas, it would not be easy. That gap grew to 10 seconds as the bell went for the final 1km bike lap, with the swim (300m) and run (2km) still to come.
Unbelievably, Wilde then got his laps wrong and rode through transition to start a fifth lap…. the Scorpions' day was going from bad to worse as confusion reigned. That left Bergere alone at the front, but he was now being chased in the water by the swim power of Olympic medallists, Henri Schoeman and Jonny Brownlee. Bergere however had the short chute advantage to take on the final 2km run.
Chasing the Frenchman, a resurgent Jonny Brownlee has moved past Schoeman into second place, but it looked a big ask to prevent a home victory today. Bergere looked in great form and with 1km remaining, held a clear lead of eight seconds over the Brit. Back-to-back second place finishes for the triple Olympic medallist, who now tops the standings.
A frustrated Hayden Wilde was powering through the run and moved himself back up to fourth, but a podium a step too far after that bike dismount issue. Plenty to discuss, and no shortage of action.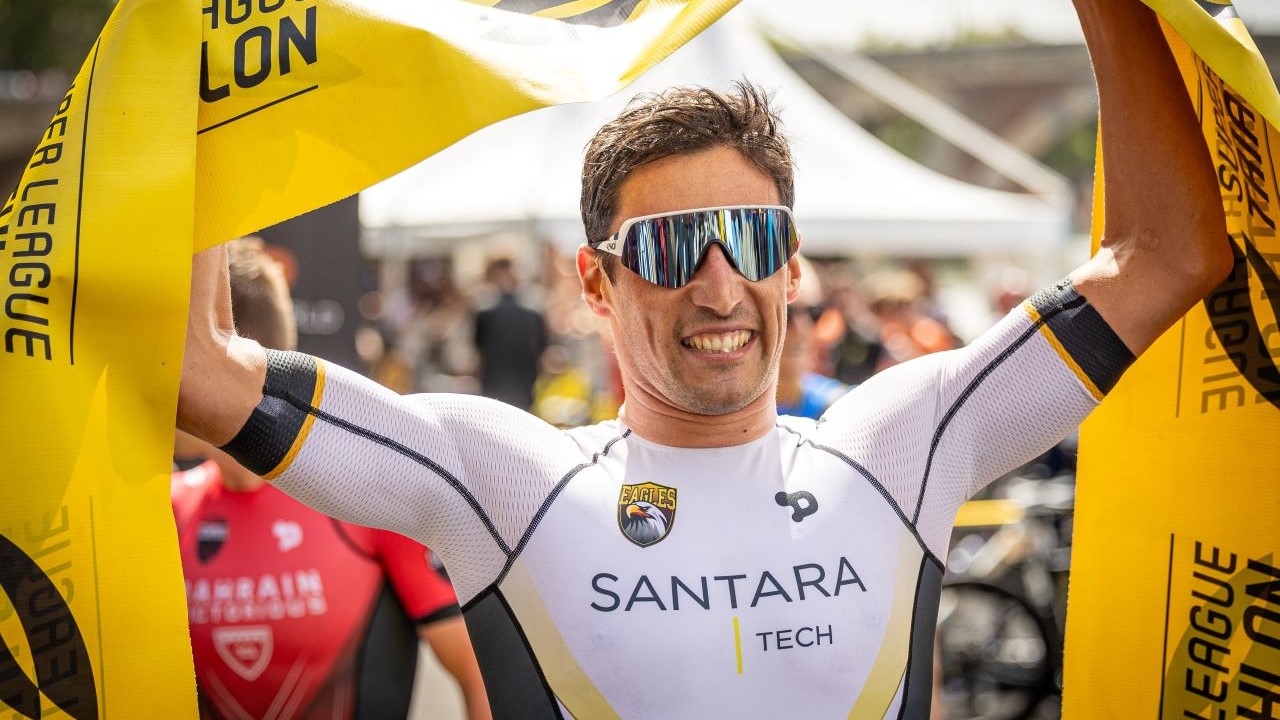 Super League Triathlon Toulouse 2023 results
Sunday 3 September 2023 – Triple Mix – Elite Men
1. Leo Bergere (FRA)
2. Jonathan Brownlee (GBR)
3. Henri Schoeman (RSA)
4. Hayden Wikde (NZL)
5. Dan Dixon (GBR)
Series Standings after two races
1. Jonathan Brownlee (GBR) – 28 points
2. Henri Schoeman (RSA) – 22 points
3. Daniel Dixon (GBR) – 21 points
4. Roberto Sanchez Mantecon (ESP) – 18 points
5=. Alex Yee (GBR) / Leo Bergere (FRA) / Chase McQueen (USA) – 15 points
Teams Standings after two races
1. SLT Sharks – 230 points
2. SLT Scorpions – 169 points
3. SLT Eagles – 160 points
4. SLT Warriors – 141 points