Third consecutive World Championship for the USA's Taylor Knibb
Junior World Champion in 2016 and 2017. Under-23 World Champion in 2018. The impressive Taylor Knibb continued to build her impressive triathlon C.V. on the Gold Coast today by riding away from the field and building herself a three minute lead by T2. Giving up little time over the run too, she was an impressive winner – and an athlete that will surely be topping many a podium in the years to come.
Here is the full race report courtesy of Doug Gray at the ITU.
---
USA's Taylor Knibb storms to brilliant U23 World title
An incredible bike segment from Taylor Knibb under the blazing Gold Coast sunshine saw the rising American star well on her way to a comprehensive win in Gold Coast on Friday morning, where she was crowned U23 World Champion with a powerful performance that had echoes of the mighty Flora Duffy. After winning the Junior title at the Rotterdam Grand Final 12 months previously, it was another case of rising to the occasion for the Washington DC native.
"I still can't really believe it. I rode well, I think, I just tried to be smart. My coach had a very detailed plan going into the wind but then to maintain speed coming back. This is very much a lot of people's work. It has been a long season but I am happy to end it on a high," said a delighted Knibb afterwards.
Going into the race wearing the number one after a remarkable 2018, it was France's Cassandre Beaugrand who many had their eye on, and coming out of the water after the two-lap swim just behind Great Britain's Sophie Alden, she looked well placed to take hold of the bike.
The swim field was compact, however, and the likes of teammates Knibb and Tamara Gorman and Australia's Jaz Hedgeland were on the front-runners' heels. Beaugrand looked to have come out of transition the cleanest and had a small advantage in the early stages, but it was the USA's latest talent Knibb who took the 40km ride by the scruff of the neck.
By the end of the first lap, Knibb had already managed to carve out a 25-second advantage, and as a group of 11 struggled to organise itself, including the likes of Germany's Bianca Bogen, Italy's Angelica Olmo and New Zealnd's Nicole Van Der Kay, Knibb continued to extend her lead.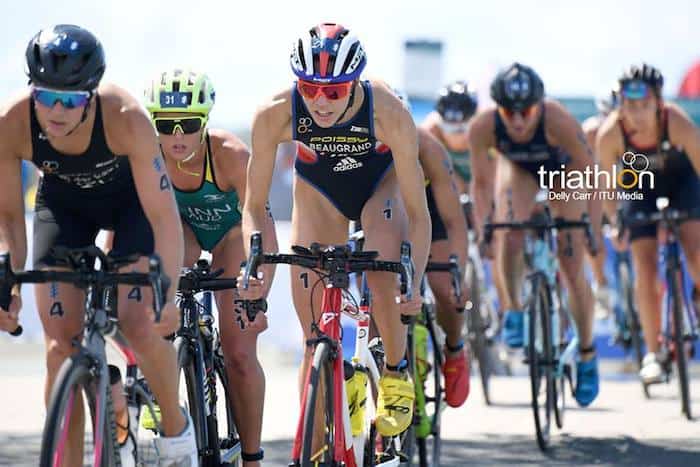 The race continued in that trend, a ten-strong second chase pack also struggling to close in on their targets. At the bell, it was a huge lead of nearly three minutes that Knibb had managed to open up, a gap that looked too much even for the Jorgensen-esque French starlet Beaugrand to make up.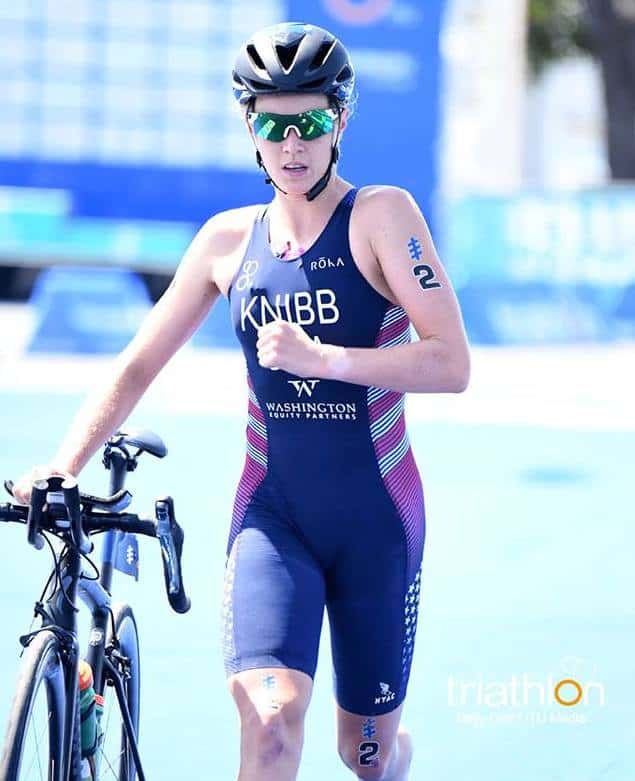 Knibb afforded herself an unhurried transition and set off for the 10km run with the luxury of a lead that only something truly remarkable could trouble. Over the first run lap it began to look like that just could happen, Beaugrand striding out alone in second and slicing 44 seconds off Knibb's lead.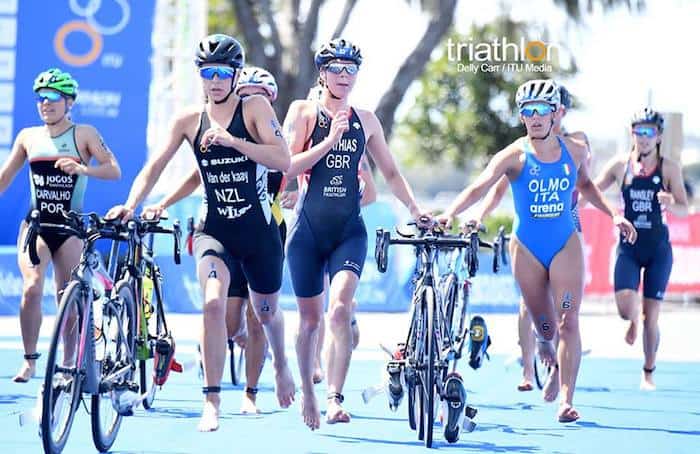 The initial effort took its toll though, and Knibb was able to respond well, while a battle was raging for third place between Angelica Olmo and Nicole Van Der Kay. First the New Zealander made a move, then Olmo stormed back with a steely determination etched on her face.
Beaugrand could only cut six seconds off the lead over lap two, and by that stage, with the American out front and looking perfectly at ease, there could be little doubt as to the result. As Knibb took the crowd's applause down the final chute, she crossed the line 94 seconds ahead of Beaugrand, Olmo powering into third.
"Coming off the bike I didn't know how the legs would feel but I guess it is not how they feel it is what they let you do. I just focused on my arm carriage and that really helped me get through the run," added Knibb after the race. "On the bike you can't really play on a planned tactic, it was about seeing how goes. It was a dream scenario, getting away so early because I had a good swim. It was a great race."
"I was hoping for a better result but it is one day and one race, so today Taylor was better but I hope one day it will be me," said a disappointed Cassandre Beaugrand. "No one wanted to work on the bike so it was too hard for me to ride alone for such long time and pull back the time to Taylor. It was not my best run today, I was a little tired after the ride but I am still happy."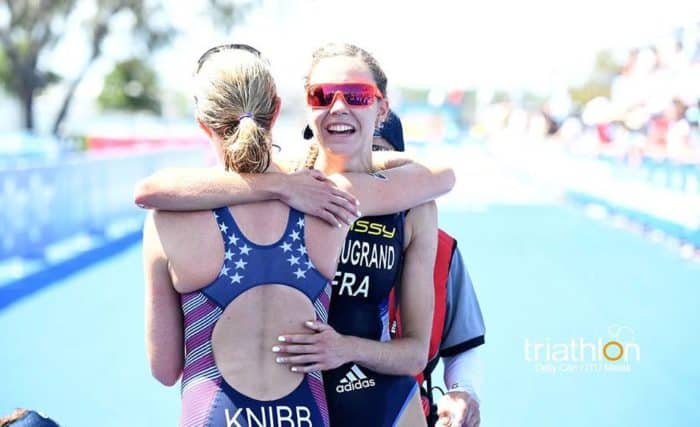 "I wasn't expecting this after my crash a month ago in the Europeans and some problems with my shoulder, so I wanted to take the race as it came but suddenly I knew I was battling for the podium and it was Nicole once again with me," said Angelica Olmo. "She dropped me early but I began to get back and believe. Taylor was amazing though. I knew if I came out of the water good I had a chance but she was something else."
Gold Coast ITU Triathlon U23 World Championship – Friday 14th September 2018
1.5km / 40km / 10km
1st – Taylor Knibb (USA) – 1:53:47
2nd – Cassandre Beaugrand (FRA) – 1:55:22
3rd – Angelica Olmo (ITA) – 1:56:39
4th – Nicole Van Der Kay (NZL) – 1:57:02
5th – Erika Ackerland (USA) – 1:57:18
13th – Olivia Matthias (GBR) – 1:59:07
15th – Sian Rainsley (GBR) – 1:59:22
22nd – Sophie Alden (GBR) – 2:01:48