Fourth place for defending champion Kimberley Morrison
12 months ago, Great Britain's Kimberley Morrison won her second IRONMAN 70.3 title at IRONMAN 70.3 Texas. She didn't win this year. She didn't make the podium. But, having gone exactly four minutes faster and with only the names of Hauschildt, Carfrae and Wurtle in the only athletes in front of here, the hard-riding Drag2Zero athlete can take away plenty of positives from her return to Galveston. Another good step in her steady progress up the professional ranks.
Women's Race
Laurence Delisle (USA) led the way in the water, over a minute clear with a speedy 24:17 clocking for the 1.9km. Morrison was 3:15 back at this stage in fifth position, with Heather Wurtele (CAN), Melissa Hauschildt (AUS) among those with a few seconds entering T1.
Everyone knows that Morrison's trump card is her bike, so of course she played it – and well. By the midpoint of the ride she was alone and clear at the front of the race, Delisle now in second and 2:27 back, with Hauschildt, Wurtele, Carfrae and Haley Chura (USA) part of the chasing five. By T2 Morrison had extended her lead to 3:47, with the chasers now down to two – Hauschildt and Wurtele, Carfrae now five minute down starting the run.
#IM703Texas @TriathlonKim off the front and looking mighty strong today as she pulls away from the field. Photo: @TalbotCox pic.twitter.com/rwgIRowG1g

— IRONMANLive (@IRONMANLive) April 8, 2018
Morrison's running has been a steady, but incremental work-in-progress for several seasons now, and with that trio of talent chasing her, she would need to use everything she had.
Two-time IRONMAN 70.3 World Champion, Melissa Hauschildt was the quickest of her chasers, but Morrison held off the pass until around the mid-point of the half marathon. Shortly after, Wurtele passed the Brit too and at the 10-mile mark, it was the returning Mirinda Carfrae showed she still has speed in her legs to move into third. Hauschildt took the win (via a 1:18:07 run), while Carfrae (1:18:49) was able to pass Wurtele (1:20:18) late on for second.
#IM703Texas At 4.3 miles into the run, @TriathlonKim holding onto the lead, but has @melhauschildt (+1:16) and @TeamWurtele (+1:29) closing in fast. Photo: @TalbotCox pic.twitter.com/8VIXguOQA2

— IRONMANLive (@IRONMANLive) April 8, 2018
1:25:34 was the run split for Morrison – probably one of her best to date. No podium, but plenty to be pleased about.
Chuffed for Kim to finish in 4th against some seriously tough opposition #im703texas pic.twitter.com/T1qNnXOtwd

— Kimberley MORRISON (@TriathlonKim) April 8, 2018
Men's Race
Ben Kanute made a huge breakthrough when taking the Silver medal last year at the IRONMAN 70.3 World Championship, He would take the win in Texas but it was a competitive race, in part due to the cycling fireworks of Andrew Starykowicz (USA), who powered his was to a 2:00:56 bike split to hold a lead of 1:38 at the end of the bike over Kanute, with Michael Weiss (AUT) 5:37 back.
While Starykowicz did lose time on the run and end up in third, his 1:18:12 (against the 1:14:16 of Kanute) – in combination with his bike split – was pretty impressive for a guy that a) many people assume 'can't run', and b) was all but killed by a truck two years ago.
Speaking to Bahrain Endurace 13 Media, Kanute said, "Windy and cold this morning along with a deep field made for a tough race. Really happy to be able to break the tape!" He thanked his coach and added, "It has been a great start to the season, and I am looking forward to keeping the momentum rolling."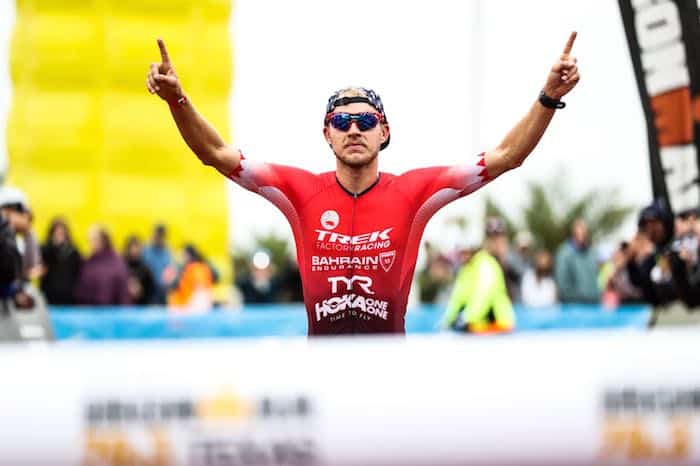 Fantastic too to see Matthew Russell (USA) back racing. His crash with a vehicle during the 2017 IRONMAN World Champs was so horrific that many assumed he would never be able to race again. Today, he finished seventh and closed with a 1:14:15 run split. Respect!
Results aside, surely seeing @MattRussellTri racing (and right now, doing it really well), is the biggest triathlon victory of the weekend? Huge respect to come back from that truly awful Kona athlete-meets-car at high speed smash.

— TRI247 (@tri247) April 8, 2018
Really happy to be back racing! The coldest & windiest #im703texas ever. My hands and feet were numb coming off the bike. I finished 7th overall in a time of 3:49 (26 swim, 2:05 bike & 1:14 run). Some things to improve on but it's a big victory to just … https://t.co/jq0JBaMsNL pic.twitter.com/dQylAu8sSZ

— Matthew Russell (@MattRussellTri) April 9, 2018
IRONMAN 70.3 Texas – Galveston – Sunday 8th April 2018
1.9km / 90km / 21.1km
Pro Women
1st – Melissa Hauschildt (AUS) – 4:07:55
2nd – Mirinda Carfrae (AUS) – 4:09:50
3rd – Heather Wurtele (CAN) – 4:09:59
4th – Kimberley Morrison (GBR) – 4:11:40
5th – Jodie Robertson (USA) – 4:14:58
6th – Haley Chura (USA) – 4:20:14
7th – Holly Benner (USA) – 4:23:05
17th – Emma-Kate Lidbury (GBR) – 4:33:43
#IM703Texas Your 2018 Memorial Hermann @IRONMANLive 70.3 Texas champion, @melhauschildt in a time of 4:07:55 – Swim: 27:42, Bike: 2:18:50, Run: 1:18:07. Congrats Mel! Photo: @TalbotCox pic.twitter.com/tpxvkKpjve

— IRONMANLive (@IRONMANLive) April 8, 2018
Pro Men
1st – Ben Kanute (USA) – 3:43:44
2nd – Michael Weiss (AUT) – 3:45:40
3rd – Andrew Starykowicz (USA) – 3:46:30
4th – Matt Hanson (USA) – 3:46:48
5th – Paul Matthews (AUS) – 3:49:09
6th – Trevor Wurtele (CAN) – 3:49:22
7th – Matthew Russell (USA) – 3:49:33
#IM703Texas Men's podium: Left to Right – @michi_weiss (2nd), @benkanute (Winner), @starykowicz (3rd) pic.twitter.com/BUaBuHBSrF

— IRONMANLive (@IRONMANLive) April 8, 2018