Pro View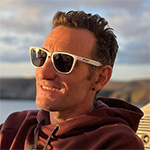 Tim Don
Tim is a triathlon and IRONMAN legend. And alongside Ian Dempsey he's created
Halo ID
, a global community for like-minded people with a love for triathlon and endurance sport – all about your next level, whatever that may be.
There was thrilling racing but also a serious crash which overshadowed the men's race at WTCS Leeds – so plenty for Halo ID duo Tim Don and Ian Dempsey to discuss this week.
On the positive side they were full of praise for women's winner Cassandre Beaugrand, Dempsey saying: "What a run. That was frightening, the way she went straight past them."
Penalties too soft?
But the French star was one of several athletes to pick up penalties and Don wasn't impressed given the elite level.
He said: "We counted seven penalties in the top flight across the two days – for missing the Mount Line and things like that.
"And is the punishment enough? Cassandre Beaugrand got a 10 seconds penalty but it made no difference. They've got to have an impact I think."
And it's fair to say they also weren't fans of aspects of the TV coverage, which was on terrestrial television in the UK.
Don said: "We missed some of the crucial moments and key incidents. They need to up their game because everyone is missing out."
You can watch the full show by clicking on the video embed right below here, or head over to the Halo ID website to watch a longer version. Enjoy!