From Kona to Kona – Full Circle for Tim Don
The return to health, fitness, winning and IRONMAN World Championship qualification for Great Britain's Tim Don was certainly one of the most engaging stories of 2018, captured so brilliantly earlier this year in the film, Man with the Halo.
That incredible journey ended – with a another one starting – on the second Saturday in October this year, and Tim's return to the IRONMAN World Championship has been captured once again in style with this sequel Man with the Halo: Iron Again".
---
MAN WITH THE HALO: IRON AGAIN"
SEQUEL REFLECTS ON A JOURNEY OF COURAGE AND DETERMINATION BY THE FORMER TRIATHLON WORLD CHAMPION, TIM DON
Emmy award-winning director, Andrew Hinton, captures the triumphant road back to the World Championship in Kona, Hawaii in a moving mini-sequel
The emotional journey back to the Ironman World Championship by the legendary three-time Olympian, former triathlon World Champion and Ironman World Record holder, Tim Don, is now unveiled in a mini-sequel to the infamous "Man with the Halo" documentary by Don''s Swiss sportswear sponsor, On.
On October 13th, Tim Don adorned his competitor number for what was to be the most emotional race of his career. Reacting to the sound of the starting gun at the Ironman World Championship in Kona this year marked a triumphant achievement for the 40 year-old, whose 10-month torturous rehabilitation has reverberated throughout the athletics world as one of this year's most remarkable stories in sports.
Don''s road to recovery, since surviving a near-fatal road accident that was feared to bring a sudden end to his esteemed career just days before the Ironman World Championships in October last year, has been portrayed in a powerful five-minute mini sequel to the infamous Man with the Halo documentary. The sequel is entitled "Man with the Halo: Iron Again".
""This is the final chapter of the compelling guts and glory story that demonstrates how pure willpower can overcome any obstacle in sport"," says Olivier Bernhard, co-founder of On, the Swiss sportswear company. "
"After receiving such an overwhelming response from around the world to the Man with the Halo documentary following its release in May this year, we felt obligated to complete the tale of Tim''s heroism and accomplishment in reaching his goal across the finish line at Kona this year. It was quite an emotional day for all of us and a most memorable one for Tim, his team and entire family who have lived through the unimaginable pain and suffering that Tim endured during his fight to regain pole position at the top of his sport. This sequel brings the story full circle and shows how one man can conquer all.""
On, together with Emmy award-winning director, Andrew Hinton, revealed Tim''s remarkable story in a compelling short form documentary that chronicled his courageous comeback journey prior to competing at the Ironman World Championships in Kona this year – the pinnacle race he was robbed of as a result of his road accident that broke his neck. The popular "Man with the Halo," documentary was released in May to commemorate the one-year anniversary of Tim''s world record-breaking performance during the 2017 Ironman South American Championships in Florianopolis, Brazil.
The Man with the Halo: Iron Again sequel begins with Don returning to the spot where the road accident took place in Hawaii, featuring roadside commentary from Don himself, complete with flashback footage and photography of him being taken to hospital moments after it occurred. This progresses to show his rehabilitation and training in the gym while wearing the medical halo device screwed to his head. Don gives a heartfelt and unfiltered account of his pain and anguish, as he sets his sights on his comeback race at the Boston Marathon, at which he finished in just over 2:49. The story jumps to Kona in Hawaii, with excerpts of his altitude training with commentary from his coaches and footage of his friends, family and fellow athletes embracing Tim days before the competition. The sequel finishes with video of Don competing at the World Championship and his own moving commentary on the experience and personal achievement after completing the race.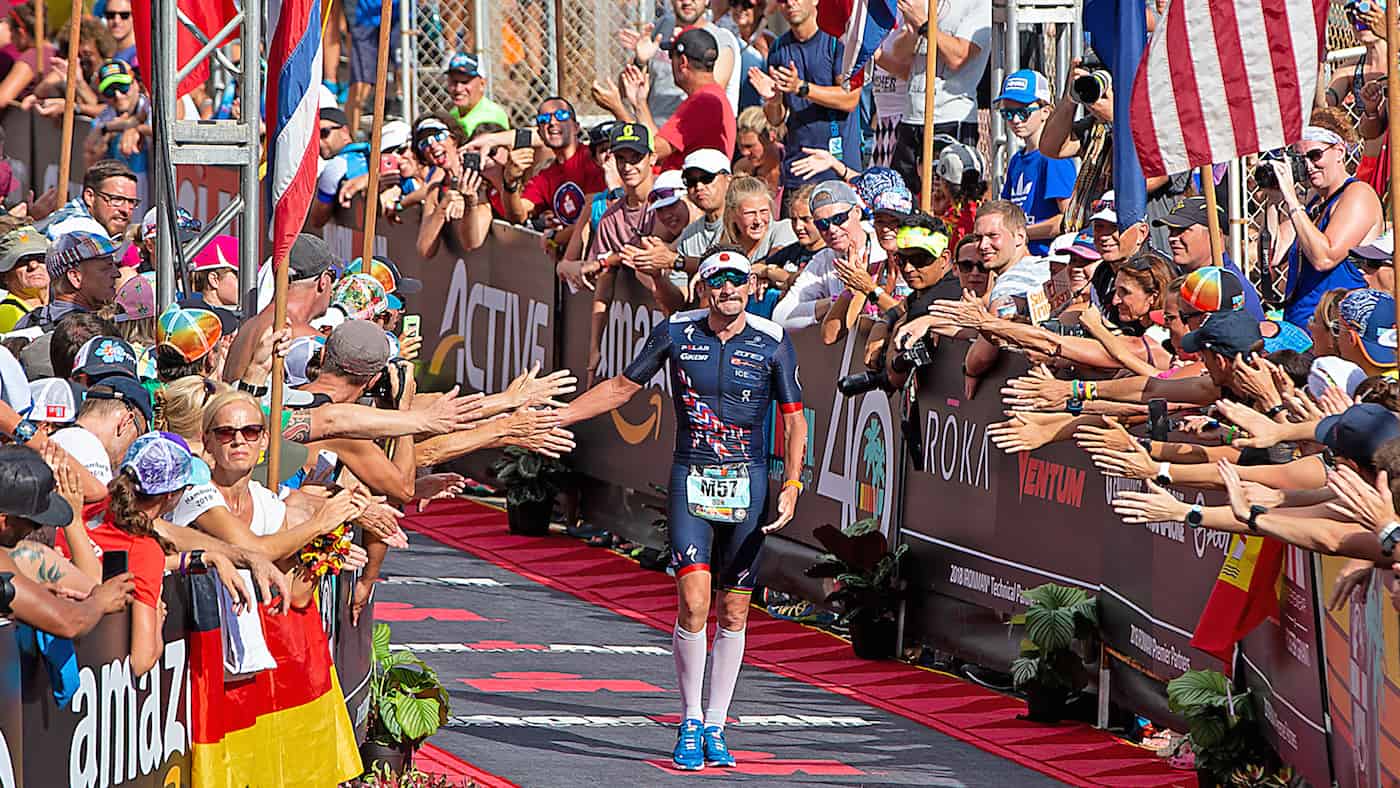 ""It''s been a gruelling journey for the last eight months, and one I will never forget"," says Don. ""I have learned a great deal about myself this year and particularly how the mind is the most essential element in the recovery process. Knowing you have the strength and believing in yourself, above all else, is my lifelong mantra that I would love to instil in others who may have experienced similar episodes. I would like to thank my team, sponsors, friends, family and everyone who has supported me towards making my life liveable again. I have my sights set firmly on Kona 2019 and it's business as usual.""
Following his accident in October 2017, Tim suffered nearly four agonising months at his home in Boulder, Colorado – not being able to shave, shower or dress himself. He became entirely dependent on his wife Kelly, who would often have to clean around the metal of the halo to prevent infection and reduce the swelling where the pins were screwed into his forehead. Tim was on a heavy dose of prescription painkillers that would often add to the problem with frequent vomiting. For three weeks he was upright in a chair in a corner of his living room, unable to sleep for more than 90 minutes at a time. The entire right side of his body became black from bruising and swelling with his ankles becoming swollen despite his compression socks.