The Boston Marathon will be Tim's return to racing in April
Full replay from Wednesday's 'Comeback' workout on Zwift
Last night's weekly TRI247 Winter Series group workout on Zwift was a very special event, hosted by Great Britain's 3x Olympian, 4x World Champion and IRONMAN™ World Record holder, Tim Don.
Most in the sport will be familiar with the crash and the subsequent broken neck that Tim suffered just days before the IRONMAN World Championship. That moment lead to almost three months of recovery in the now infamous Halo device. While the Halo has gone, there is still a long way to go until Tim is back to full fitness and health.
Last night's session – which we called the Comeback – was for us at TRI247 and all of the riders that joined, a real celebration of Tim's return to training and a mark of respect for the 20-plus years of contribution that Tim has made to the sport of triathlon. Huge thank you to everyone that joined us for this week's workout, your support is greatly appreciated.
Tim's cycling coach, Matt Bottrill, commented pre-ride how many of his other coached athletes asked to change their own training schedule to be able to join Tim on this ride. It was also the first time on the software for Matt himself, as he joined riders from around the world – including Pro Luke McKenzie, who was riding at around 4 a.m. in Australia to show his support!
With thanks to Zwift, the full session was also streamed live on Facebook, and you can watch the full replay here, featuring Tim riding in Boulder, USA.
What did we learn?
During the session, Tim was also chatting to Paul Shanley (Tri247) and Richard Melik (Zwift) in London, and here are a few insights on Tim, the sport and his thoughts on a range of subjects and athletes, that we learned along the way:
Despite the severity of his injuries, there was never a time that Tim believed he wouldn't race again.
Despite the crash, his Specialized Shiv Tri frame did not have a scratch on it! The same can't be said for his wheels and tri bars…
Tim was "blown away" by the support from all of his sponsors and fellow Pro athletes during this period. "It has inspired be to get back."
Tim's sporting idol from his early days in the sport was Spencer Smith, "He's a legend…"
Tim's father was a Premier League football referee. "I got to see plenty of games with my Dad… but it put me off wanting to be a referee. We've had police escorts from many a football ground, I can tell you that!"
His favourite discipline is… the one that you happen to be doing well in at the time!
One of his least favourite sessions is VO2 Max efforts in the swimming pool. "I'm only one or two seconds quicker doing those efforts, than if i did 40*100m off 1:15, but I know it has to be done!"
"I'm terrible in the cold" – so Tim doesn't think that the UK IRONMAN races would suit him.
Tim will be at the London Marathon this year… watching it, not racing.
Zwift has transformed his approach to indoor training. "It's just fun, especially the London course. I grew up mountain biking around Box Hill."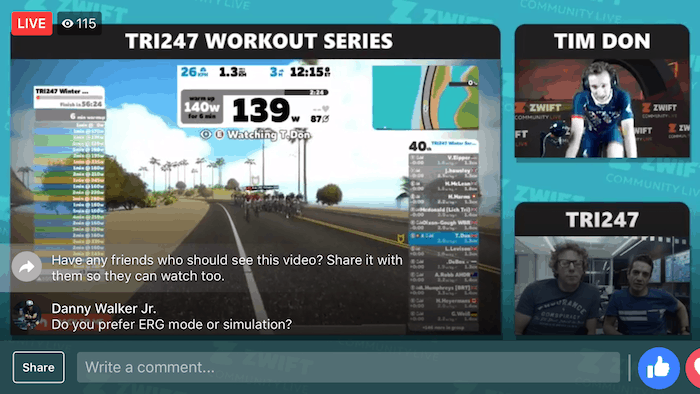 "My first race this season is going to be in April – I'm going to do the Boston Marathon. I felt that I needed something to focus on and have my own personal goal. I'd like to run quicker than my IRONMAN time, 2:44″
"All being well, I'd like to do a 70.3 in June."
Tim wants to go to Kona – and is considering Frankfurt or Hamburg as qualification towards that aim.
Javier Gomez is set to race IRONMAN Cairns – according to Tim!
On Alistair Brownlee's IRONMAN prospects: "If anyone can do a super-super sprint relay at Commonwealth Games, race 70.3 and IRONMAN in the same season, it is Al."
On Alistair Brownlee's future plans: "Alistair will be in Tokyo! I believe he can win two more Gold medals."
IRONMAN Brazil: "I still got chased by a dog – I don't know what it is about me and dogs!"
How low can the IRONMAN world record go? "I think we will see a sub 7:30 in the next five/seven years."
Today (Thursday), Tim will be running for only the second time since his accident.
Tim is swimming – still with a neck brace on – 6*100 off 1:30, averaging 1:21 with no tumble turns. "I'm not going to worry Lucy Charles with that… but hopefully I can sit on her feet again in that swim race the week before Kona. It's awesome!"
On Lucy Charles: "I can only see Lucy getting faster. She's so new, it's amazing to see. It's a testament to the team around her. I really think she's going to be knocking on the door of Daniela in the next couple of months, absolutely."
Tim and Stuart Hayes were at rival primary schools and have known each other for about 35 years, coming through the Thames Turbo club system together.
---
Don't forget – you can still show your support for Tim and help towards the extensive medical costs incurred by his injuries by purchasing this bespoke cycling kit from Endura. All profits from the kit sales will go to support Tim and his family.
Full details on how to purchase the kit HERE.