Tom Bishop learnt from his mistakes last weekend at Venice-Jessolo and managed to overcome the inevitable fatigue that comes from racing back-to-back weekends with an impressive third place finish at Challenge Peguera-Mallorca.
The Brit, who was seventh in Italy last weekend, secured his second middle distance podium of the season after also finishing third at IRONMAN 70.3 Swansea in August, as he makes the transition from the World Triathlon circuit up to the longer races.
Conservative approach pays off
In a strong field, Bishop raced well across all three disciplines to come home with that podium spot. In the water, Bishop stayed at the back of a front group of five, "as I wanted to conserve some energy, go hard on the first section of the bike and go as best effort as I could to the top of the first climb without overcooking it".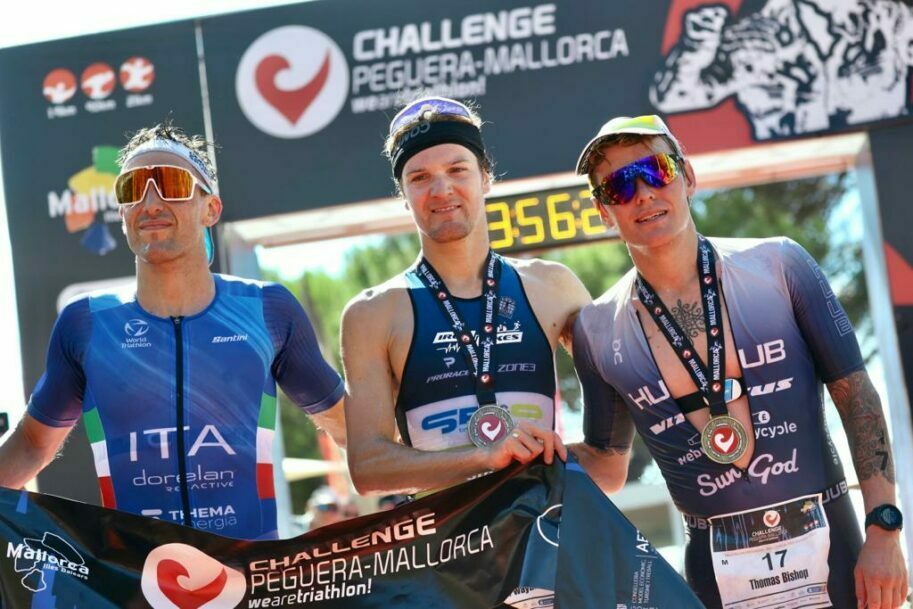 Out on the bike course, the Brit was working with a group of four on the first lap, before unfortunately crashing on a descent, where Bishop "pulled my back brake a little too hard and ended up sliding out", which knocked him out of the main pack and left him riding solo for the last 30km of the bike.
Into T2, Bishop came out on to the run course with a 90 second deficit to the front pair. "I set off pretty steady and had a plan to even split it, and after the first 10km I was just in touch with the leader and ran into first". For the next lap, Bishop led before being caught by two runners moving though the field, admitting "I really blew up" over the last couple of kilometres but managing to hold on for third. In retrospect, Bishop reflected "I'm happy with a podium, I led for a while and still haven't got that win, but I'm happy with how it's gone today".
Heading home healthy
After the run, Bishop saw the medical team, with his heart rate said to be at 200bpm. Whilst the Brit wasn't too sure why he struggled so much over the final few kilometres, he explained that it could be down to either a lack of recovery from last weekend's race, or the fact that he has just come back down from altitude.
"Racing inside ten days of coming down from altitude isn't always recommended, but I was here and I thought I'd give it a go". After being put on a drip, Bishop is now okay and heading home, and said that "if the body is alright in a couple of days" then he will refocus and aim for a final race of the season sometime in December.