At the first edition of IRONMAN 70.3 Swansea last weekend, Tom Bishop excelled to finish third, chasing home Alistair Brownlee and Antonio Benito-Lopez.
Brownlee was a class above the field on Sunday, a day which marked 10 years since he won his first Olympic Gold in London, with Bishop the first to praise the two-time Olympic champion on his performance.
A class apart
Bishop told us: "Alistair showed how good he is and what the level is, and I got thoroughly beat by him. But it's kind of opened my eyes to what I need to do, and I'm excited for that as I have a lot to improve on."
Bishop made clear in his pre-race comments that he considers himself very much an apprentice of long course racing, with the experienced ITU athlete emphasising that this type of racing is new to him and contains elements that he needs to learn to master.
He came into the race "wanting to learn as much as I could about the race and how to do this distance" following his fourth place at Challenge Wales earlier on in the year.
Speaking about his mindset prior to the race, Bishop said: "I came in ambitious but humble, realising that this is the first time I'm racing this distance in an IRONMAN event and there are some really strong people on the start line". It is this kind of respect for the course and his competitors that allowed Bishop, who finished on the podium at a Europe Triathlon Cup in Holten just over a month ago, to perform so well at an unfamiliar distance and ensure that he avoided the kind of blow up that many short course athletes face on their first experiences at the longer distances.
Not all plain sailing
After exiting the water in the leading trio and with a gap, which for Bishop was "really important as if a chase pack came behind me, I wanted to be prepared", the bike leg didn't get off to a great start.
Bishop explained: "I had a flat tyre as when I was setting up in transition the night before my back tyre was flat, but I pumped it up and gave it a spin, hoping the tubeless sealant would seal it."
Riding with a flat tyre, Bishop luckily managed to make it around the bike with the chase pack, thanking his lucky stars that "I have a foam inner that means when you have a flat you can ride around at around 30-40psi", which meant riding the entirety of the bike leg "with a spongy tyre that caused me to overbike a bit".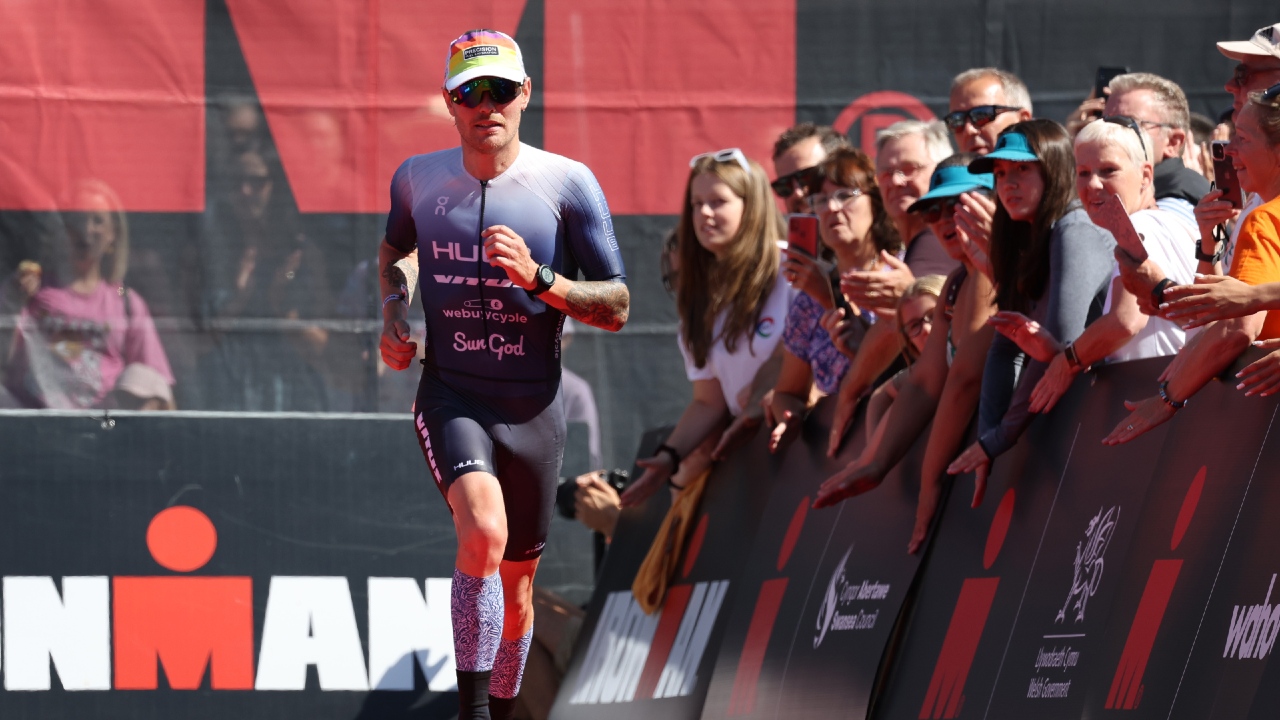 His problems didn't end in transition either, as out on the run course, sitting comfortably in third, Bishop almost fell victim to every triathlete's worst enemy, cramp. "I knew I was safely in third but on the second lap I started to really cramp up and was worried I wouldn't be able to run to the finish line." But Bishop managed to hold it together and maintain his podium place.
Exceeding expectations
Bishop had a lot of positives to take away from the race, including some on the race course and venue itself, which proved to be a magnificent event across a great weekend of triathlon down on the coast of South Wales. Bishop said: "It was great to be here in Swansea, the crowds were exceptional, and the course is amazing. I really enjoyed it."
Whilst he couldn't confirm his next race, Bishop reiterated how pleased he was with his result and his excitement for future racing, stating that he was "happy to get third in this field and just excited to see what I can do next and learn from the race".