Double Olympic champion Alistair Brownlee roared back to winning ways in Swansea with an emphatic victory in the men's race, ending a frustrating injury-blighted spell – and exactly 10 years to the day since his memorable London 2012 triumph.
And there was a British double as Kat Matthews added to her stunning season which has seen Sub8 glory and a runner-up spot in the IRONMAN World Championship.
Brownlee was unwell when he finished fourth on his return to action at IRONMAN 70.3 Oceanside in April following ankle surgery and then forced out by illness the day before the rescheduled IRONMAN World Championship in May.
He also missed the Sub7 project in June and then his return to competitive action was ruined by stomach issues when 24th at the PTO Canadian Open in July.
But on Sunday in Wales everything went to plan – he was in the lead group in the swim, powered clear on the bike and then rounded it off with a 1:09:23 half marathon to take a clear-cut win in 3:49:34.
Antonio Benito-Lopez (ESP) was second, 7:41 back, with Tom Bishop (GBR) rounding out the podium.
The women's race was closer-fought but again saw a standout display from Matthews as she proved too good for fellow Brits Lydia Dant and Ruth Astle.
PRO Men – Brownlee dominates
After a 15-minute delay to the planned start time, the Men's Pro race got underway with the 1.9km, two-lap swim in the Prince of Wales dock, the same venue that hosted Saturday's Volvo World Triathlon Para Series races.
With PTO Canadian Open bronze medallist, Aaron Royle out of the race (announced earlier in the week), that further cemented double Olympic champion Alistair Brownlee's race favourite status.
In normal circumstances, the only debate might be who would join him on the podium, but the way his 2022 has gone to date, that wasn't quite the absolute certainty it might typically have been. Falling exactly 10 years to the day since that famous gold at London 2012, a sunny Sunday in Swansea would seem an appropriate time to get back to winning ways.
No surprise to see Wales' Andrew Horsfall-Turner leading the way in the water (22:15), with Brownlee and Tom Bishop right on his heels. They were 45 seconds clear of a chase pack, which included the like of Thomas Davis, Michael Boult (AUS), James Teagle, Antonio Benito-Lopez (ESP), Jack Hutchens, Maurice Clavel (GER), Harry Palmer, Elliot Smales, Liam Lloyd.
We expected Brownlee to break clear on the bike early, and he soon said his goodbyes to Horsfall-Turner and Bishop, and was more than a minute and a half clear inside the first 20 km.
60km in and that advantage was three and half minutes, from what was now a chase group of five – Lloyd, Clavel, Teagle, Benito-Lopez and Bishop.
By the time Brownlee reached the T2 dismount line, his advantage had extended further to 5:39 over home favourite Liam Lloyd. Lloyd had broken clear from the chase group in the closing third of the ride, leaving Bishop, Clavel and Benito-Lopez almost seven minutes down on the pace pace-setting Brownlee. Two disciplines down, could he complete the job and prove once again that form is temporary, class is permanent?
Absolutely he could – and in some style. He maintained sub 1:10 half marathon pace throughout and not surprisingly that saw him put even more distance between himself and the chasing pack.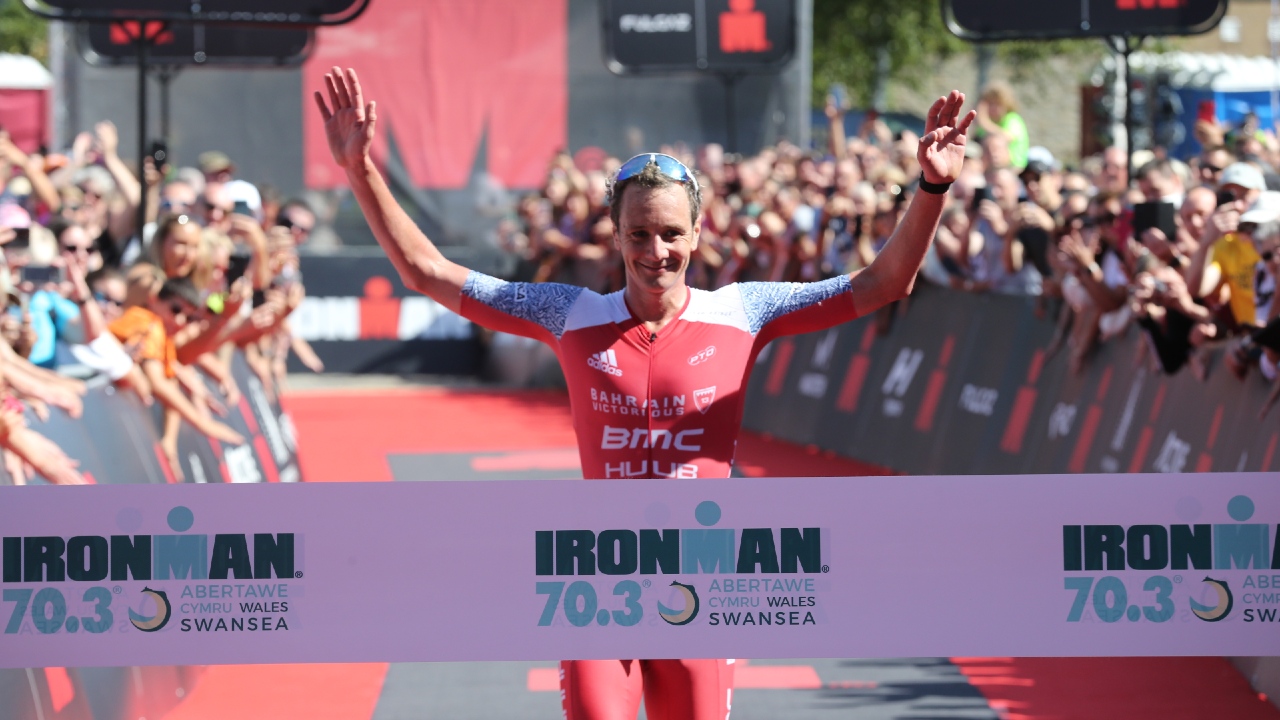 Benito-Lopez moved into second early on and maintained that position to the line, with Bishop a fine third as he continues his step up to middle-distance racing.
PRO Women – Matthews a class apart
IRONMAN World Championship silver medallist, Kat Matthews, led the way in the swim (26:28), but in the absence of any of the sport's top tier fish-like swimmers in today's race, there wasn't too much between the leaders.
Just over 30 seconds back, the BMC Pro Triathlon Team member had five athletes chasing – Lizzie Rayner, Olivia Mitchell, Jade Roberts (RSA), Tara Grosvenor and Ruth Astle. Laura Addie was a further minute back in seventh place, while IRONMAN Lanzarote winner, Lydia Dant – one of our podium picks – started the bike 2:37 down on Matthews. With her bike strength, she was very much still in the game and set to cut her way through the field.
As expected, Astle was the strongest of the chasing five on the bike and she bridged up to Matthews around the midpoint of the ride. Matching their pace almost to the second, Dant had worked her way through to third place on the road.
Always strong on the bike, Astle upped her pace over the closing miles to head towards T2 solo. A combination of both using her strengths and the knowledge that, typically, Matthews is stronger on the run, it was the best way to race to optimise her chances of victory. Matthews was very quick in T2, which mean that Ruth started the run with a narrow advantage of 1:12 over Kat, with Lydia 3:13 down on the leader.
And it didn't take Matthews long to close the gap – she'd moved 45 seconds in front after just 6km and that was over two minutes by the halfway point of the half marathon.
Soon after Dant overtook Astle for second place but Matthews remained out on her own with her lead remaining steady and that was how it stayed all the way to the line.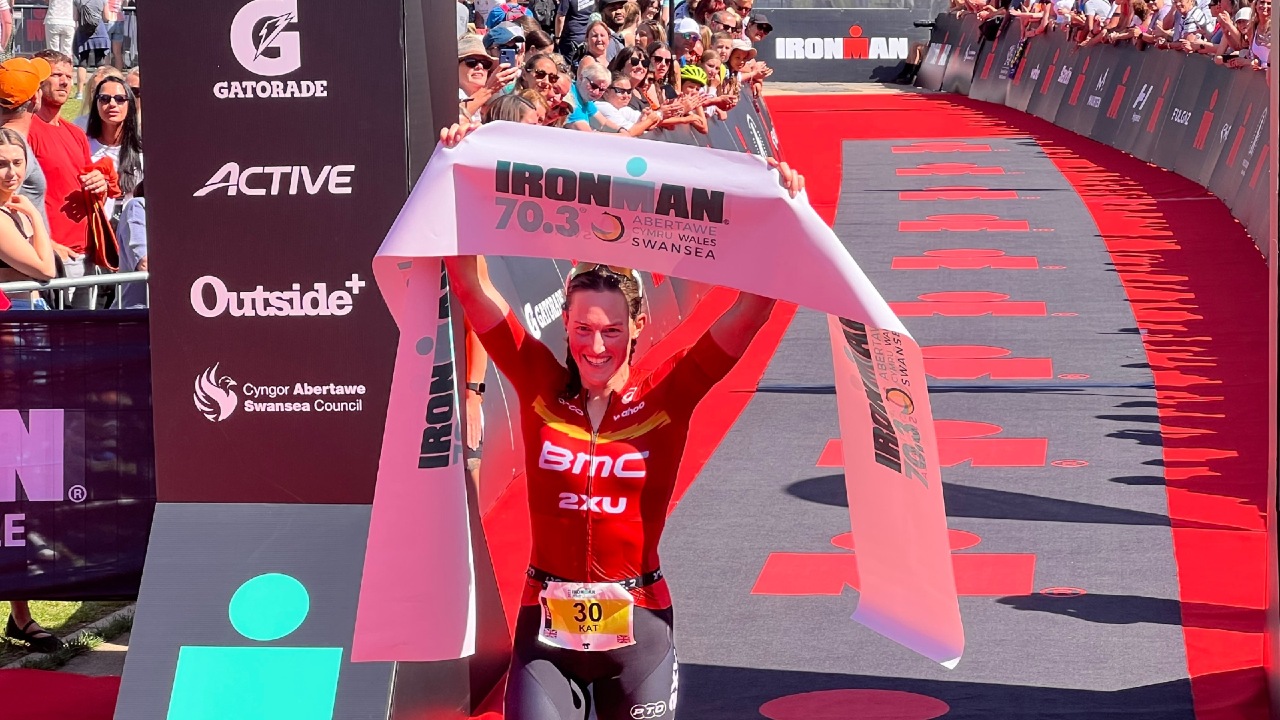 She broke the tape in 4:25:09, with a 1:18:48 half, and finished 2:42 in front of Dant, with Astle completing the one-two-three.
IRONMAN 70.3 Swansea 2022 Results
Sunday 7 August 20222 – 1.9km / 90km / 21.1km
Pro Men
1. Alistair Brownlee (GBR) – 3:49:34
2. Antonio Benito-Lopez (ESP) – 3:57:15
3. Tom Bishop (GBR) – 4:01:18
4. Maurice Clavel (GER) – 4:05:01
5. Liam Lloyd (GBR) – 4:06:04
Pro Women
1. Kat Matthews (GBR) – 4:25:09
2. Lydia Dant (GBR) – 4:27:51
3. Ruth Astle (GBR) – 4:30:35
4. Jade Roberts (RSA) – 4:37:31
5. Olivia Mitchell (GBR) – 4:41:58