Elite paratriathlon progress took another step forward in the UK on Saturday, courtesy of some exciting racing at the Volvo 2022 World Triathlon Para Series Swansea.
Hosted in glorious sunshine in Swansea Marina, the event – which has already been confirmed for 2023 and 2024 – welcomed all of the medallists from the PTVI event at the Birmingham 2022 Commonwealth Games. They were joined by plenty of Paralympic gold medallists and World champions from across the full spectrum of the six international paratriathlon categories.
Having co-hosted a World Triathlon Para Series (WTPS) event alongside the World Triathlon Championship Series (WTCS) race in Leeds last year, this was the first time that the top tier of para racing had been given standalone status in the UK.
Ellis and Crowhurst impress
Only six days on from the Commonwealth Games in Birmingham, Dave Ellis and guide, Luke Pollard, were impressive winning gold again in the PTVI class. They were fastest across all three disciplines and closed out with a 16:27 5km run.
Ellis finished nearly two minutes ahead of Thibaut Rigaudeau, and referenced that the Frenchman had finished the bike section thirty seconds ahead of them at the European Championships last year. "We know whenever they're racing, it's going to be a good race."
It may have only been her seventh triathlon race, but Katie Crowhurst showed no signs of pressure after winning gold last weekend and in only her first World Series event. The 18 year-old, guided by Grace France this time, finished second after they dramatically out-sprinted Jessica Tuomela of Canada for silver at the finishing line.
On the sprint finish, Crowhurst commented: "Grace said, 'come on, we're catching them' and she wouldn't let me get a drink at the aid station on the last lap. She really pushed me. I'm really happy!"
Annouck Curzillat of France won gold, her first ever WTPS win. Alison Peasgood didn't start as a precaution following last weekend's crash in Birmingham.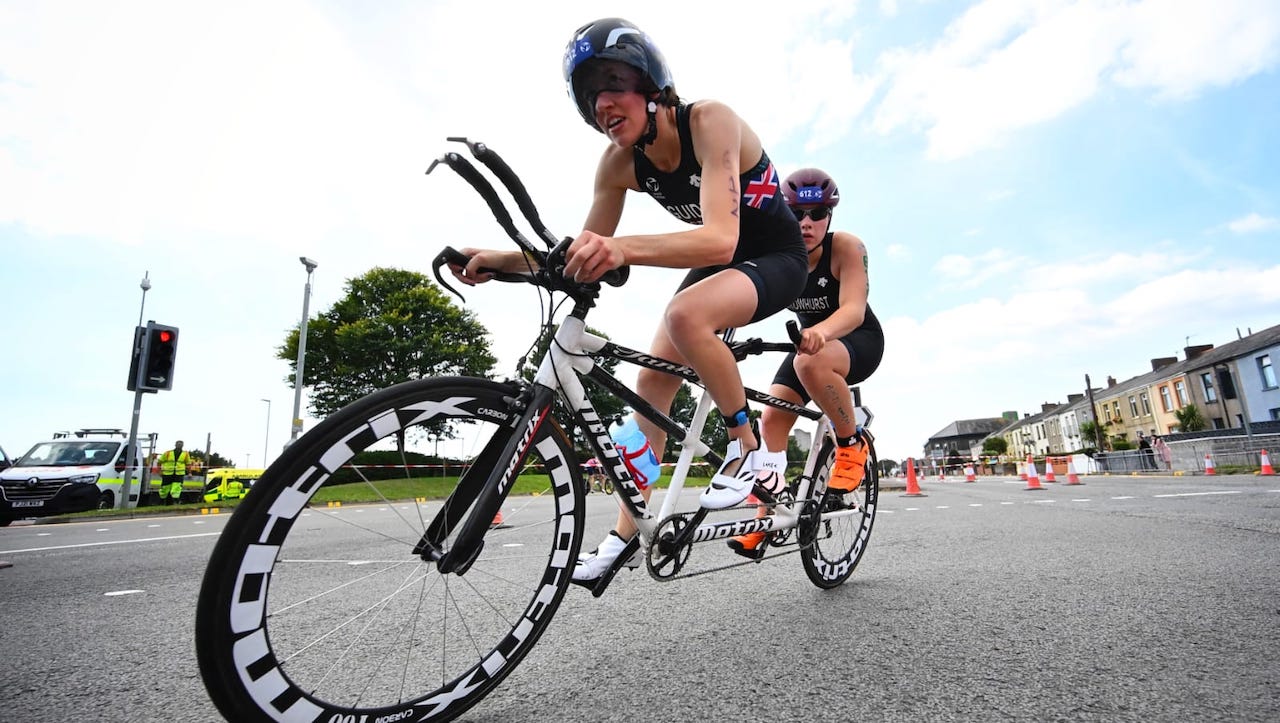 No luck for Norman
There was a much-anticipated match up between Britain's Claire Cashmore and Rio 2016 Paralympic Champion, Grace Norman (USA) in the PTS5 category. Norman led out of the swim, dragging Cashmore along with her, but Norman suffered a mechanical issue on the bike that sadly ended her race.
Taking victory, Cashmore said: "It was quite emotional really, really special."
In the same PTS5 category, Tokyo silver medallist, George Peasgood (GBR) had his lead overtaken on the run by Tokyo bronze medallist, Stefan Daniel (CAN). Daniel said it was the first time in 'a long while' that he had felt good on the run.
Hanquinquant again!
Alexis Hanquinquant (FRA) won gold again in the PTS4 category. The amputee is the reigning Paralympic champion and has only lost two races since 2016.
Volvo World Triathlon Para Series Swansea Results
Saturday 6 August 2022 – 750m / 19km / 5km
PTVI
Men
1. Dave Ellis (GBR), 57:40
2. Thibaut Rigaudeau (FRA), 59:19
3. Antoine Perel (FRA), 59:59
Women
1. Annouck Curzillat (FRA), 1:11:01
2. Katie Crowhurst (GBR), 1:12:06
3. Jessica Tuomela (CAN), 1:12:09
PTWC
Men
1. Florian Brungraber (AUT), 1:00:15
2. Giovanni Achenza H1 (ITA), 1:04:11
3. Ahmed Andaloussi (FRA), 1:05:08
Women
1. Lauren Parker (AUS), 1:06:38
2. Kendall Gretsch (USA), 1:11:20
3. Jessica Ferreira (BRA), 1:12:23
PTS5
Men
1. Stefan Daniel (CAN), 56:55
2. George Peasgood (GBR), 58:13
3. Filipe Marques (POR), 58:52
Women
1. Claire Cashmore (GBR), 1:05:35
2. Gwladys Lemoussu (FRA), 1:11:01
3. Cristina Miranda Zambrano (ESP), 1:22:19
PTS4
Men
1. Alexis Hanquinquant (FRA), 59:16
2. Pierre-Antoine Baele (FRA), 01:01:47
3. Eric Mcelvenny (USA), 01:02:17
Women
1. Andrea Miguelez Ranz (ESP), 01:14:07
2. Elke Van Engelen (GER), 01:17:35
3. Kendra Herber (USA), 01:18:57
PTS3
Men
1. Nico Van Der Burgt (NED), 1:08:19
2. Daniel Molina (ESP), 01:13:50
3. Michael Herter (FRA), 01:15:48
PTS2
Men
1. Jules Ribstein (FRA), 01:06:30
2. Wim De Paepe (BEL), 1:08:13
3. Lionel Morales (ESP), 1:10:47
Women
1. Hailey Danz (USA), 1:17:34
2. Anu Francis (AUS), 1:21:21
3. Liisa Lilja (FIN), 1:26:06