There was plenty of action on the run at the first ever PTO Canadian Open on Sunday, but when the dust settled, it was Team Norway topping the podium once again.
Gustav Iden took the spoils of victory (including a $100k cheque for first prize) as he came home in front of compatriot Kristian Blummenfelt.
That though tells just a tiny part of the story on what was an incident-packed day in North America.
Swim – Schoeman sets the pace
When we previewed the Pro Men's race in Edmonton, one of the factors we mentioned was the quality of swimmers in the field and the likelihood that the pace would be on from the start.
That, not surprisingly, proved to be the case and we saw an elite group of six break clear, headed out of the water by Henri Schoeman (RSA). Separated by just 17 seconds, Schoeman was joined by Aaron Royle (AUS), Alistair Brownlee (GBR), Sam Laidlow (FRA), Ben Kanute (USA) and Kyle Smith (NZL). Plenty of biking legs there too.
The chasers were led by Olympic, World Triathlon and IRONMAN World Champion, Blummenfelt (NOR), who was 1:16 back on the pace-setting Commonwealth Games gold medallist. The Blummenfelt 'group' was significant, and included the likes of Miki Taagholt (DEN), Frederic Funk (GER) and Iden (NOR).
All told there were 23 athletes within two minutes of the leader after the opening three-lap, 2km swim in Hawrelak Park, but as expected, Lionel Sanders (CAN) was not one of them. 'No Limits' was 34th of 37 in the water, 3:48 down. The slowest T1 of the entire race, by some margin, was hardly helping his cause, and he would start the bike in 35th.
Bike – Brownlee and Laidlow break clear
20km down – the end of lap one of four – and Laidlow and Brownlee had gained a small advantage, 21 seconds up on Smith and Royle. They in turn were now 10 seconds clear of Kanute and Schoeman.
The Blummenfelt/Iden/Taagholt/Funk and co. chase group started lap two 1:44 back. Sanders had Sebastian Kienle (GER) for company, but will still four minutes behind Brownlee and Laidlow at the front, but now up to 26th.
Brownlee and Laidlow continued to work well at the front, swapping the lead and both clearly fully focussed on optimising the bike section. 40km in and they were now 47 seconds up on Smith who was now riding solo.
Royle, Schoeman and Kanute had now been swept up by the Norwegian express, who has slightly reduced their deficit to 1:32. The pressure was on though, and that group was now down to just seven.
Sanders was losing nothing – but while now up to 20th and still more than four minutes back, he was gaining nothing in time terms either.
The second half of the ride didn't see too much change in terms of the shape of the race. A few seconds here and there, but when the T2 dismount line arrived, it was still Brownlee and Laidlow leading the way. Alistair's dismount however was pretty poor – clearly crossing the line.
The chase group was 1:07 back comprising of Iden, Funk, Blummenfelt, Smith, Royle, Taagholt, Pieter Heemeryck (BEL) covering 3rd-9th in close order. Sanders completed the top-10 (alongside Andrew Starykowicz) at this point and has gained back some time. He was 3:19 back as he headed towards his bike rack.
Run – Gustav holds on as Kristian battles back
A late entry to the event, Brownlee had said pre-race that the run was where he was likely to struggle, courtesy of a lack of enough running miles, and he certainly didn't look too good over the opening mile as Laidlow took the lead.
Ominously, Iden and Blummenfelt were now practically stride-for-stride and less than a minute back. They also looked, well, like they usually do – brilliant.
Clearly in pain, Alistair was soon struggling big time, dropping back through the field and seemingly in danger of a DNF. In Brownlee terms, he was in hobble mode and it was painful to watch, from an athlete who has been one of the greatest we've ever seen.
Laidlow started the second lap of four with a 16 second lead, but his chances of maintaining that spot for another 4.5km were basically zero, with the way that Iden and Blummenfelt were flying… and then suddenly Blummenfelt came to an abrupt halt with an apparent hip flexor / quad injury / cramp.
Brownlee broken, Blummenfelt hobbling and just as Iden moved into the lead, Laidlow pretty much came to a stop too with cramps. Carnage all over the course – and all within about 10 minutes. Unexpected excitement and lots of things to be considered for each athlete, considering future season plans and avoiding long-term damage.
With his biggest potential challengers falling away, Iden was now in prime position. At the midway point of the run, his lead was a minute and a half over Blummenfelt, who had seemingly had his own Terminator moment, regenerated, and was looking (very) good again. Remarkable – but given his last 18 months, why expect anything different?
Aaron Royle was continuing to have a great day, holding third place (+1:48), followed by Laidlow, Heemeryck, Funk and Taagholt.
Sanders (+3:44), Smith (+3:45) and Collin Chartier (+4:55) rounded out the top ten with 9km of running remaining.
With one 4.5km lap remaining, Gustav continued to lead – but Big Blu was not giving up, bouncing back, gaining time and just 56 seconds in arrears. Surely even he couldn't take this victory?
At the final turnaround – 2.25km to go – Blummenfelt had cut that 56 seconds to 43 seconds. Exciting racing certainly, but the odds were definitely in favour of the reigning and two-time IRONMAN 70.3 World Champion.
So it proved, and despite the best efforts of his training partner, the legend of the lucky hat remained intact as Gustav Iden took victory at the PTO Canadian Open by just 27 seconds.
Royle capped a fantastic all round performance to complete the podium, ahead of an impressive Laidlow who, like Blummenfelt, bounced back from his mid-race issues for a superb fourth position.
Not the day he wanted, but if you'd told me at 3km that Brownlee would even finish the race, I'd have said you are mad. Kudos to the twice Olympic champion for showing his grit to complete the race.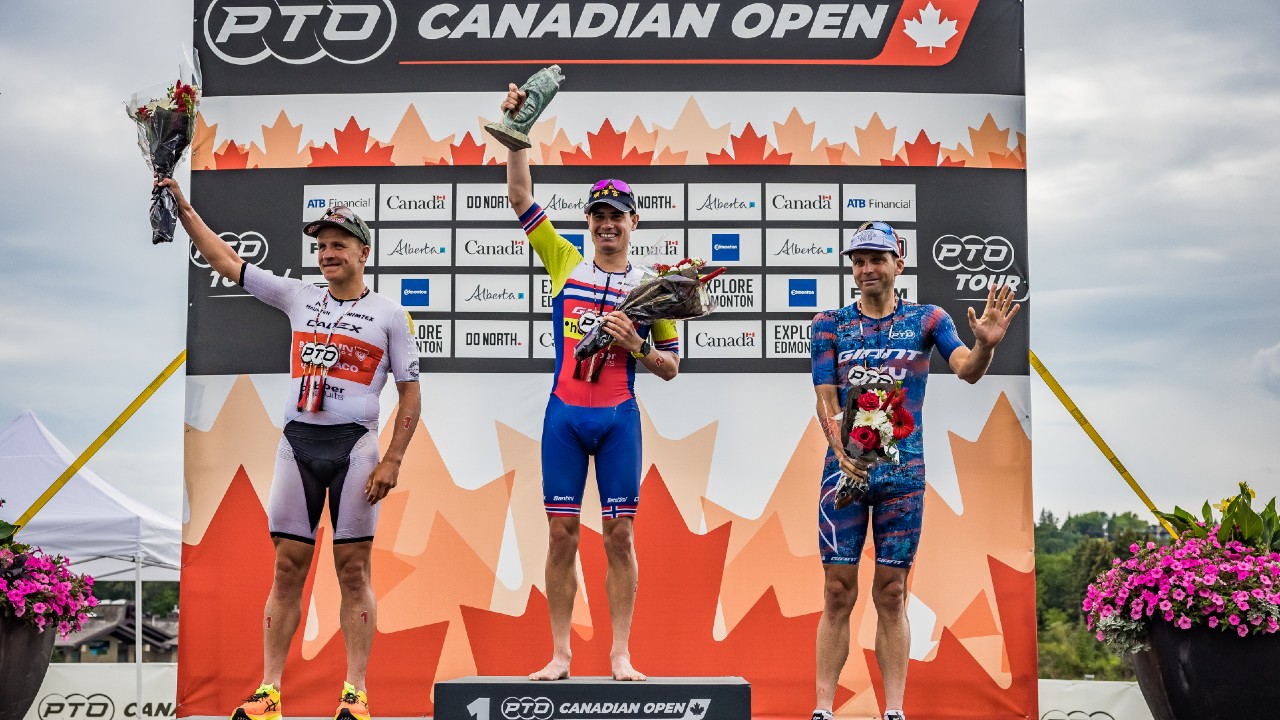 PTO Canadian Open 2022 Results – Pro Men
Sunday 24 July 2022 – 2km / 80km / 18km – Edmonton
1. Gustav Iden (NOR) – 3:10:48
2. Kristian Blummenfelt (NOR) – 3:11:15
3. Aaron Royle (AUS) – 3:14:26
4. Sam Laidlow (FRA) – 3:14:47
5. Frederic Funk (GER) – 3:14:56
6. Pieter Heemeryck (BEL) – 3:15:23
7. Lionel Sanders (CAN) – 3:15:49
8. Max Neumann (AUS) – 3:16:39
9. Kyle Smith (NZL) – 3:17:02
10. Miki Taagholt (DEN) – 3:17:14
17. David McNamee (GBR) – 3:19:07
24. Alistair Brownlee (GBR) – 3:23:15