It was an afternoon of steep learning for Great Britain's Tom Bishop on his way to a seventh placed finish at IRONMAN 70.3 Venice-Jesolo on Sunday.
Italy's Alessandro Fabian took victory in the men's race with Lucy Byram on the top step of the podium on the women's side.
Bishop, 31, was in contention for the race victory before he was awarded a five-minute penalty for entering the draft zone.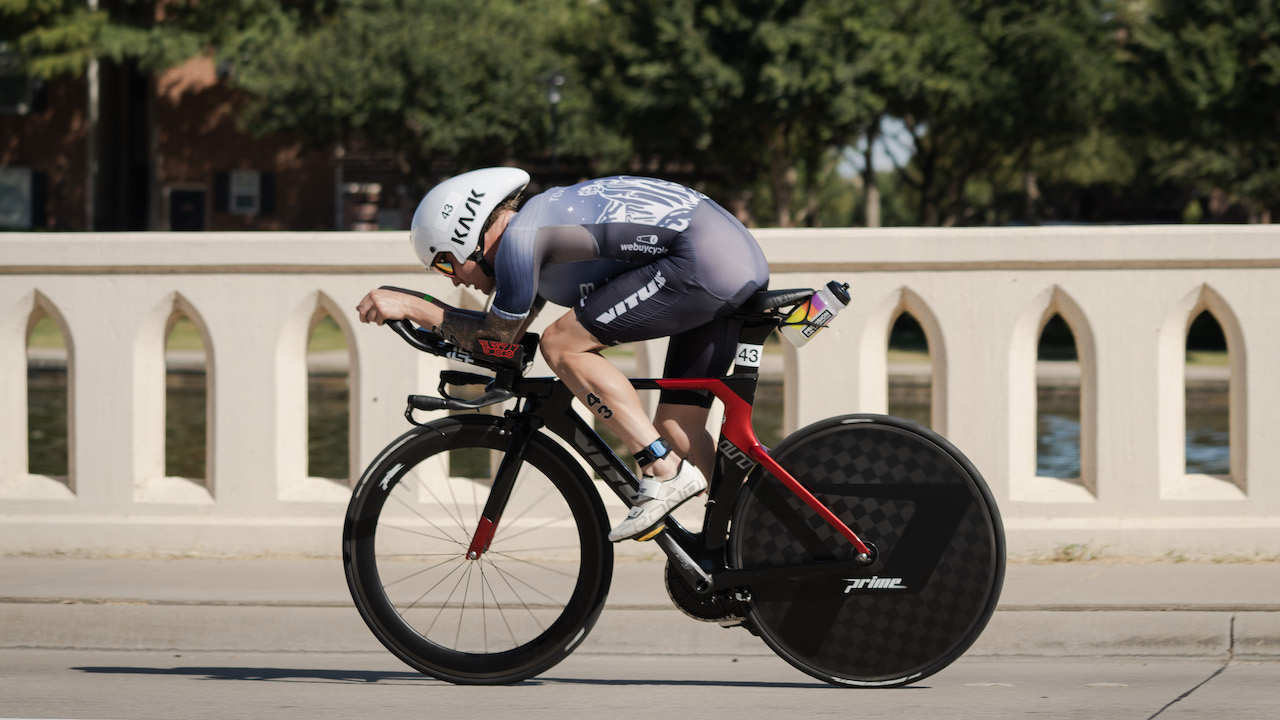 Drafting Penalty
"I'm disappointed with myself," Bishop told TRI247.
"I'm kind of embarrassed about it because I have tried my best over these first few races to really avoid the drafting offences by sitting further back.
"I spent the first 50-60k on the back of the pack trying to just keep off the back because it kept concertinaing together then breaking apart.
"I thought to move up just incase moves were made, but again hit a patch where we all just bunched together and the referee was on to it and he got a few of us – I'm not going to deny I was in the draft zone.
"I was trying my best not to [be in the draft zone] by coming off the bars and stuff.
"It was inexperience, I was not very good hovering on the 12-20 metre mark – so I got done basically.
"It happened to most people in the pack – only a few of us stopped in the end so I was a bit confused about why not everyone stopped."
Struggle on the swim, mistake on the run
It wasn't exclusively the drafting penalty that cost the Brit a shot at victory, Bishop admitted the swim didn't go according to plan.
"I started off in the back row in the swim, I just got shoved out which was not fun but didn't have a great swim.
"I had to swim through the field – I missed the front guy out of the water, but the pack kind of came together in the first 10k of the bike because the course was quite twisty which allowed groups to come together."
Further drama unfolded on the run for Bishop as he mistakenly took the finishing chute 1km early.
"I ran pretty well, I was kind of running on my target pace which is 70 minutes for the half, like 3:20 per km, just about.
"Annoyingly there was an extra 1km loop to finish off," added Bishop.
"I went in to finish early, realised my mistake and doubled back so that cost me about 90 seconds to two minutes maybe, so I went from fifth to eighth."
"I guess I can say I've been trying learn as much as I can about racing and I learned a lot today. It didn't go well ideal but happy with my form and onto the next one."
Tom won't have long to test that form, as he lines up at Challenge Peguera-Mallorca this coming Saturday.