Another British IRONMAN VR Pro entrant this week
In the absence of real world racing in recent months, the IRONMAN Virtual Series (details) has been one of the opportunities for Pro triathletes to experience some 'race' action during the worldwide pandemic.
There have been plenty of British athletes racing over the last three months, including the likes of Emma Pallant, Joe Skipper, David McNamee and Nikki Bartlett. Just last week, Laura Siddall – who lead our TRI247 Zwift Group Workout last night – won the IRONMAN VR16 Pro Challenge.
Next up to the racing plate tomorrow (Friday) is Tom Davis. Given that over the late couple of years he has probably raced as much as anyone, few athletes will be as keen to get back to racing as him. Here's a quick update from him.
---
Tom Davis competing in the IRONMAN VR17 challenge
Great Britain triathlete, Tom Davis, has been invited to compete in the IRONMAN VR17 Pro Challenge event, which is aligned with round 4 of the second IRONMAN Virtual Championship Series. The men's challenge will conclude this Friday, 31st July, with a live bike race starting at 3.20 pm BST.
Tom, who is a member of team ERDINGER Alkoholfrei, has already completed the running and swimming components of the event, filming his road and pool sessions. The 40km indoor trainer bike race will be broadcast live on the IRONMAN VR Facebook page, with non-elite riders also able to ride the course.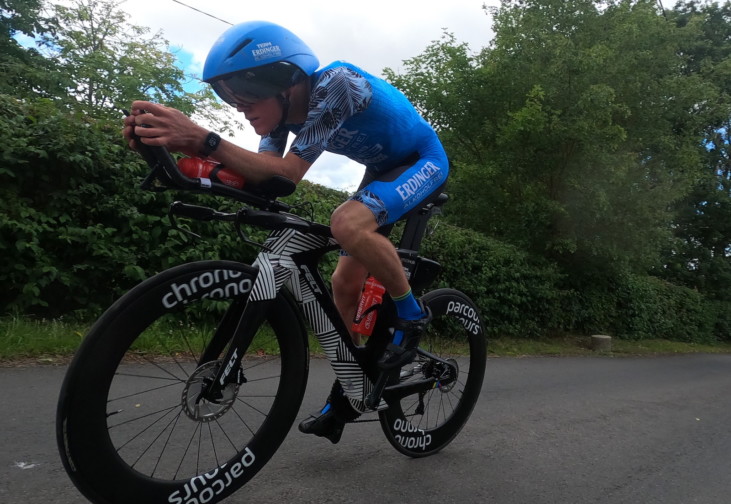 Looking ahead to the final leg of the event, Tom said "After several weeks without a competition, I'm excited to be back in the saddle and taking part in a competitive race. I went into the swim and run segments with a goal and was pleased with the times I recorded and know what I need to do in the final segment.
"The VR bike race is over 40km of the Ironman 5150 Santa Cruz course in the USA which I've never ridden before and, coming out of lockdown, my desire to win is stronger than ever. And who knows, if I enjoy it, I may go over and compete there when we're able to travel more freely again."
Pro participation in the VR Challenge series is by invitation and Tom will be competing against Matt McWilliams (USA), Kevin Collington (USA) and Santiago Ascenco (BRA). A women's event contested by Natascha Van der Merwe (USA), Danielle Dingman (USA), Laurel Wassner (USA) and Rebeccah Wassner (USA) will conclude on Saturday 1st August.
Since talking to Tri247 at the end of March, Tom has been training at a consistent level and although he was unable to swim, he maintained a steady running and cycling routine, including many hours on a turbo when he couldn't get out on the road.
"I've been doing a lot of virtual training sessions with my coach" explained Tom "and a few social rides with my ERDINGER Alkoholfrei UK Teammates so I have had some virtual company along the way. One of the most frustrating parts of the last few months, though, has been for event organisers to confirm a race only to have to postpone it again but I have my fingers crossed that a few competitions from September – in Poland, Italy and Nottingham – will stay in the diary this time. I'm working towards longer, harder training sessions in anticipation of racing and making the most of being able to have swimming sessions in open water or the pool after so long out of the water."
You can follow The IRONMAN VR17 Pro Challenge at https://www.facebook.com/IRONMANVR/