Thrilling racing, burgeoning rivalries – and penalties.
They've been three of the key themes of short-course racing this year and the last of those is the hardest to understand.
For you wouldn't normally expect athletes at the very highest level to make mistakes which could ultimately cost them the win.
But then again, if the racing is so close and you're being pushed every step of the way then maybe it shouldn't come as a surprise.
And in fairness it's not that it hasn't happened in the past – Jonny Brownlee famously overcame a T1 mount line penalty at London 2012 to win bronze. That one was 15 seconds as penalties vary by race distance.
Penalties are the 'X Factor'
But will the pattern continue at the Commonwealth Games in Birmingham?
Definitely, according to triathlon legend Tim Don of Halo ID, who joins us each week to debate the big talking points.
"It's the X Factor this week," he says. "People have been getting penalties left, right and centre, so I do think that someone's going to get a penalty and it's going to affect the race."
So what can you get penalised for and how stringent is the punishment? Here are just a few of the examples from the last three WTCS races, ones to watch out for as many of the same athletes converge on Birmingham.
No stopping Beaugrand
The last time the world's very best triathletes were in the UK, at WTCS Leeds, lots of penalties were handed out.
Two of those went to high-profile French duo Vincent Luis and Cassandre Beaugrand, the latter for getting on her bike before the mount line (heading out of T1), while Luis dismounted his bike after the line going into T2.
Both were hit with a 10-second penalty but that wasn't enough to stop Beaugrand. She served that within sight of the finish line and had just enough in hand to get out of the penalty box and still take the win ahead of Georgia Taylor-Brown.
Harsh – and probably not fair!
Onto Montreal and young Brit Sam Dickinson came in for a bit of stick from the aforementioned GTB in what was the Mixed Relay World Championships.
"I was using some very strong curse words for little Samuel!" she said after having to serve a penalty which had been incurred by Dickinson on leg three, though it didn't stop her from retaining a fine second place for Team GB.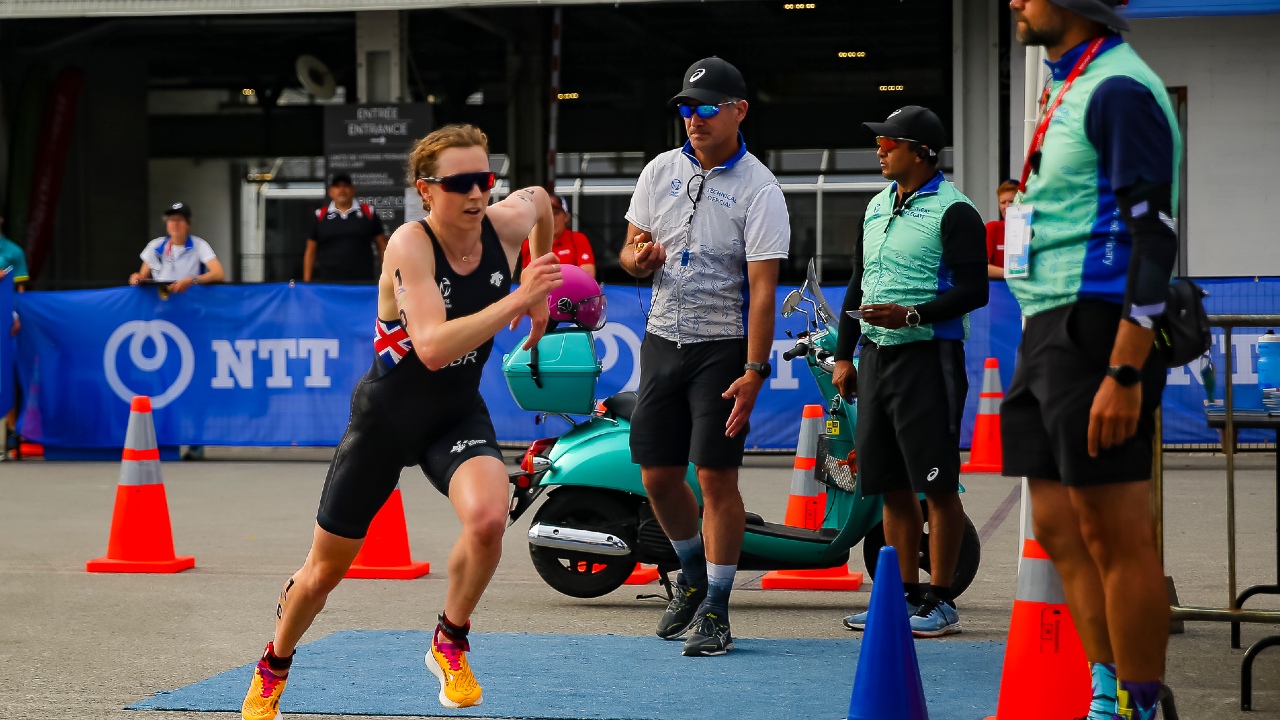 The penalty (again 10 seconds) was for leaving equipment outside of the storage box in T1 (sunglasses), but in this case it wasn't quite as it seemed – and actually more than a little harsh on 'little Samuel'.
He told us: "What happened was my helmet got blown off of my bike with my sunglasses on before the race started. An official picked it up, put it back on my bike but left my sunnies on the floor. So I did the whole race not knowing, and then I got penalised because they were outside the box – when actually it shouldn't have been a penalty anyway."
No-one is exempt
And so to the latest WTCS race in Hamburg and a very similar penalty for none other than the reigning Olympic champion Flora Duffy, the very first of her award-laden career.
Again it was equipment outside of the storage box – this time goggles left in T1.
"I couldn't believe it when I came back into T2 and I saw my goggles were out of the transition box. It really flustered me and I was slow out of there," she said.
Will a similar mistake prove decisive for the reigning Commonwealth champion this week? Only time will tell.
On this occasion though – and this is another pattern emerging – she was able to serve the 10-second penalty on the run and still have enough reserves of energy to power past Beth Potter and take the win.
A fine line – but reason behind it
And that brings up back to Tim Don, who wonders whether the penalties are strong enough.
"Is the punishment enough? They're often making no difference. They've got to have an impact I think."
There are many other examples this season – staying in Hamburg, Lisa Tertsch of Germany was overly aggressive in the swim which cost her team 10 seconds and that was doubled with another penalty of the same duration and ultimately cost them in the final analysis as Team GB swept through late on for the gold.
So it's a fine line, and note that if penalties aren't served then it's automatic disqualification.
The idea of the system – generally good in most people's eyes – is to ensure that the order across the line should reflect actual order. No need to deduct a penalty post-race, and change the order etc.
It means if you're watching on TV this week then you can be pretty confident that whoever crosses the line first will also be on the top step of the podium when the medals are handed out.
And it's also difficult to argue that, in recent months, it hasn't contributed to the excitement either!