Norway on top after Day One at Super League Triathlon Jersey
Great tactical racing in the Triple Mix Stage 1 at Super League Triathlon Jersey saw Kristian Blummenfelt, Richard Murray and Jonathan Brownlee set themselves up for the rest of the day.
Here is the full roundup from SuperLeagueTriathlon.com.
---
Kristian Blummenfelt of Norway blasted away in the final half-kilometre to finish the overall winner for today's Triple Mix at Super League Jersey after staying out in front all day with South Africa's Richard Murray and British crowd favorite and dual Olympic medalist Jonathan Brownlee.
Triple Mix is a three-stage race with a 10-minute break between stages and a pursuit-style start in Stages 2 and 3.
Stage 1: Swim-Bike-Run
While Jake Birtwhistle received pole position on the pontoon at yesterday's slot draw and led out of the 300-meter swim that kicked off Stage 1, Brownlee was right on his shoulder and got the jump out of transition onto the 5-kilometer bike leg. After five laps over the flat yet technical YESSS Power bike course going over cobblestones and through tight dead turns, the Australian contingent of Birtwhistle, Matt Hauser, and Aaron Royle took the lead. It was on the run where Brownlee, Blummenfelt, and Murray asserted the dominance that would mark the rest of the race regardless of what order swimming, biking, and running would take.
Blummenfelt finished the two-kilometer run in first, with Murray and Brownlee in close pursuit. Olympic Bronze medalist Henri Schoeman came in a distant fourth as the rest of the field splintered into smaller chase groups.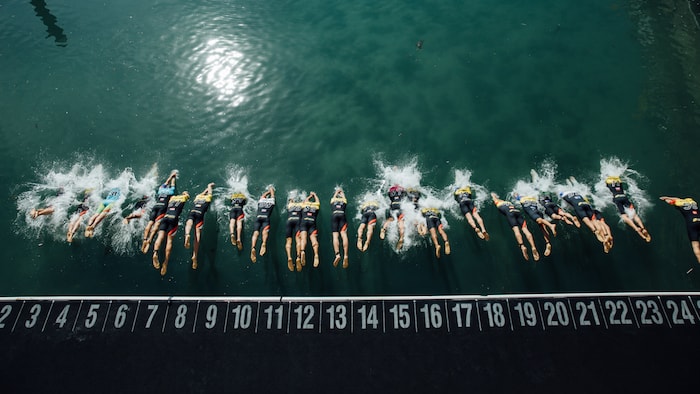 Stage 2: Run-Bike-Swim
After a 10-minute break, the pursuit-based start for Stage 2 sent the top three off on the run with an 11-second lead. In the hands of these fleet-footed athletes those 10 seconds quickly ballooned to call into play the 90-second elimination rule. With a time gap of greater than 90 seconds to the leader, Ben Shaw was eliminated unceremoniously, as were Dan Halksworth, Crisanto Grajales Valencia, and Joao Pereira.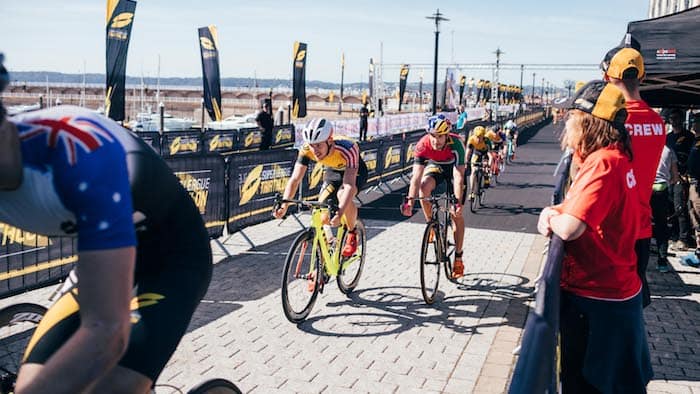 Once on their bikes, Blummenfelt, Murray, and Brownlee worked together to grow a monstrous lead with clear road behind them. Still joined at the hip by the time they jumped back into the water, Brownlee surged ahead by a few strokes leaving Murray to chase him through the finish chute. Schoeman kept fourth place with a great swim after slipping backwards in the bike pack, while reigning world champion Mario Mola crept up into sixth.
Stage 3: Bike-Swim-Run
The final stage of Triple Mix started with the bike leg. With the big three once again out in front, the stage saw a few more eliminated by the 90-second rule including pre-race swim favorite Richard Varga and world number five Fernando Alarza. Ben Dijkstra crashed out on the bike leg, leaving British hopes entirely in the capable hands of Brownlee.
Once into the swim, the three men played tactical, holding positions with Brownlee out in front, Murray sitting on his feet, and Blummenfelt just a little further back. The race would be decided on the run.
It was Blummenfelt who had a bit more gas in the tank as he and Murray dueled through the run leg; ultimately, the Norwegian sprinted ahead for the day's win. Their race-within-a-race relegated Brownlee to third place, while Schoeman held strong in fourth.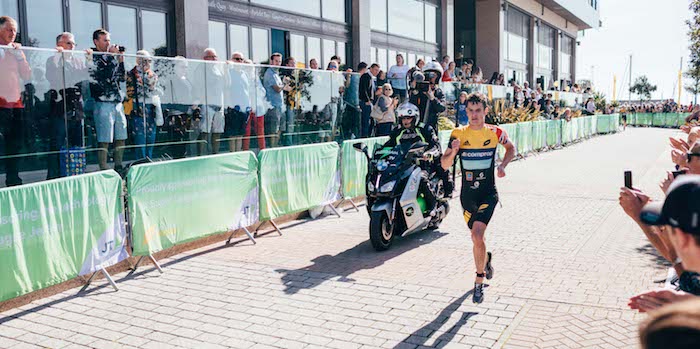 "It feels so good. Especially Murray he's really strong on the run so I wasn't really sure of a way to get him but super pleased. I think the fact that we started the next stage with a gap played a huge role. We went hard in the beginning and kept going and worked well together," said Blummenfelt, who is third in the year-end world rankings. "My plan was actually to stay a little bit more calm in the first stage but it's too hard with this many people around cheering you on. I didn't plan to go that hard in the beginning but seems the day played out well."
Brownlee, a first-time racer in the Super League Triathlon formats, had a bit of adjusting to do. He said, "I took out the start in the first swim and it was full on and we had to keep going. And then I made a mistake there towards the end and it cost me the race… I'm really tired but I've got to do it all again tomorrow. I had the advantage of a home crowd, and it's great to see lots of Jersey people around supporting me, so thank you."
Defending champion Murray did not lack in taking his chances on the day. "I realized it was a four-kilometer run on the trot and I decided that was the moment to try and go for it today. Luckily I had these two men next to me to come with and it was definitely a really hard day. It was my first breakaway ever and the crowd was amazing and it's very hard to be in a breakaway so kudos to the guys who do it every race," he said. "Blummenfelt managed to get the better of me today but it was great from these two guys."
Blummenfelt now sits atop the point standings with 25 points. Murray is four points behind at 21, while Brownlee has gained 18. This gives them plenty of wiggle room to take out the overall win tomorrow after the Eliminator, but as today's race has showed, you need to race every stage like you want to win it.