Britain's Kate Waugh lived up to her #1 bib as she powered to victory in the women's U23 World Championship in Abu Dhabi.
Speaking to us beforehand about what she called "a special year", her biggest concern had been a relative lack of run training this season on account of injury issues.
She conceded the final stages of the 10km at Olympic distance would be a "challenge" but she produced the perfect tactics to negate those worries.
For herself and British teammate Jess Fullagar had gapped their rivals from the front group on the sixth of eight laps on the bike and by the time they reached T2 had an advantage of just over a minute.
That would prove decisive as Waugh went on to win by 25 seconds from Germany's Annika Koch, with Italian Bianca Seregni in third.
'Emotional' win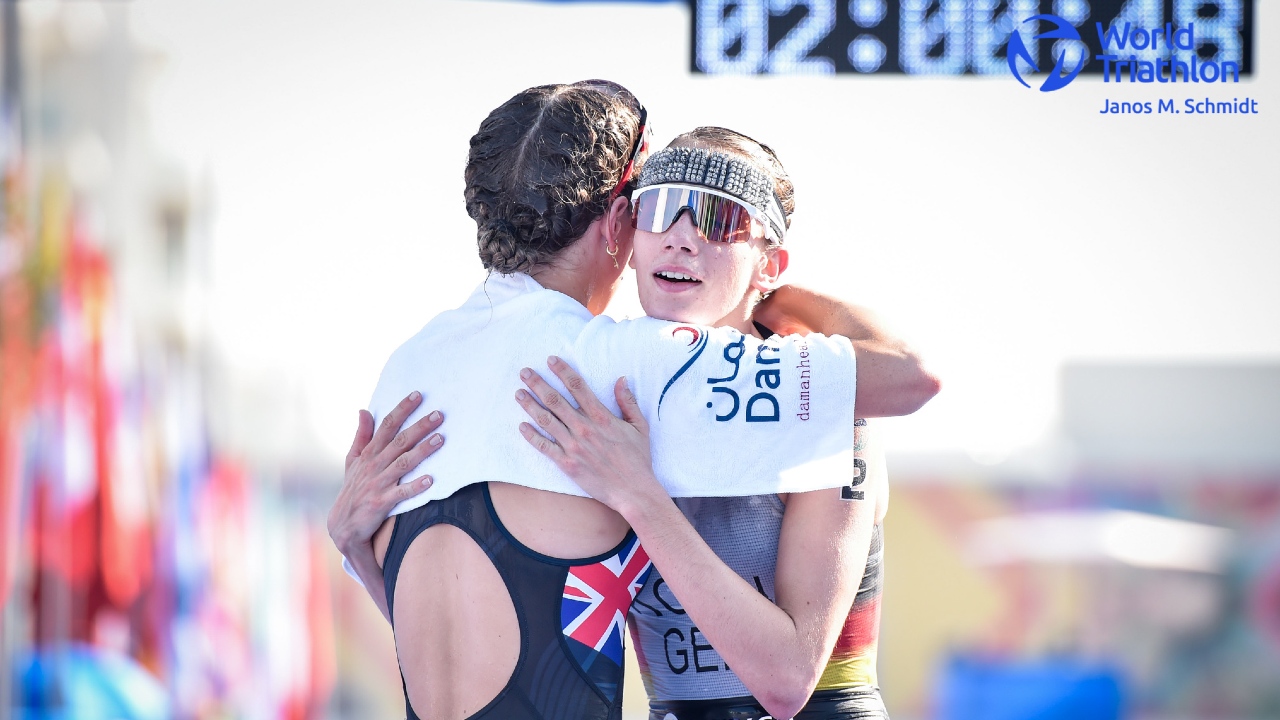 And afterwards she told World Triathlon: "I crossed the line in 10th last year and I really wanted to win this one.
"It just feels amazing to be world champion. It's a dream come true, I've had second and third before and never a gold, so I am excited to stand on the top step for the first time. I just knew I didn't want to have any regrets today.
"I've had some complications and some niggles to deal with so it's all a bit emotional. Jess and I train together in Leeds, do our bike sessions together and I knew my run was a bit below par this year so wanted as big a gap as possible and it paid off.
"Obviously the break on the bike is pre-planned. We really thought about how we were going to do it and we tried a couple of times and going onto the second to last lap I just thought I am going to have to go and not look back. We sat at the back and saved ourselves for a bit before just going for it.
"Jess put in a really good effort in what was her first standard distance. I just had to keep my head on the run and know that I had a break in 35 minutes.
"I was hurting so much on the last lap and knew the gap was closing so I just had to stay focussed."
'A shout out to the Brits'
Runner-up Koch admitted that move on the bike had been decisive, while proving gracious in defeat.
She explained: "I'm really happy with my run, and a shout out to the Brits for their job on the bike. We did everything to keep the gap as small as possible but they did an amazing job and a really deserved winner."
Seregni had led from the outset in the swim and stayed on well to be rewarded with a bronze medal.
"I'm so happy with this result, the race went well and even though we came for the win I'm happy with the podium," she said. "I was alone on the swim so the bike was pretty hard and we didn't collaborate that well. On the run I tried to keep aware of the heat and take my time and managed to catch the podium."