While Kristian Blummenfelt and the Norwegian machine were taking science to the next level to go Sub7, Joe Skipper and co had their own secret weapon – enter 'Weedkiller Man'.
The sight of a Skipper team member riding alongside the British star during the run in baking German temperatures with a weedkiller tank and sprayer strapped to his back went viral during and after the official race broadcast.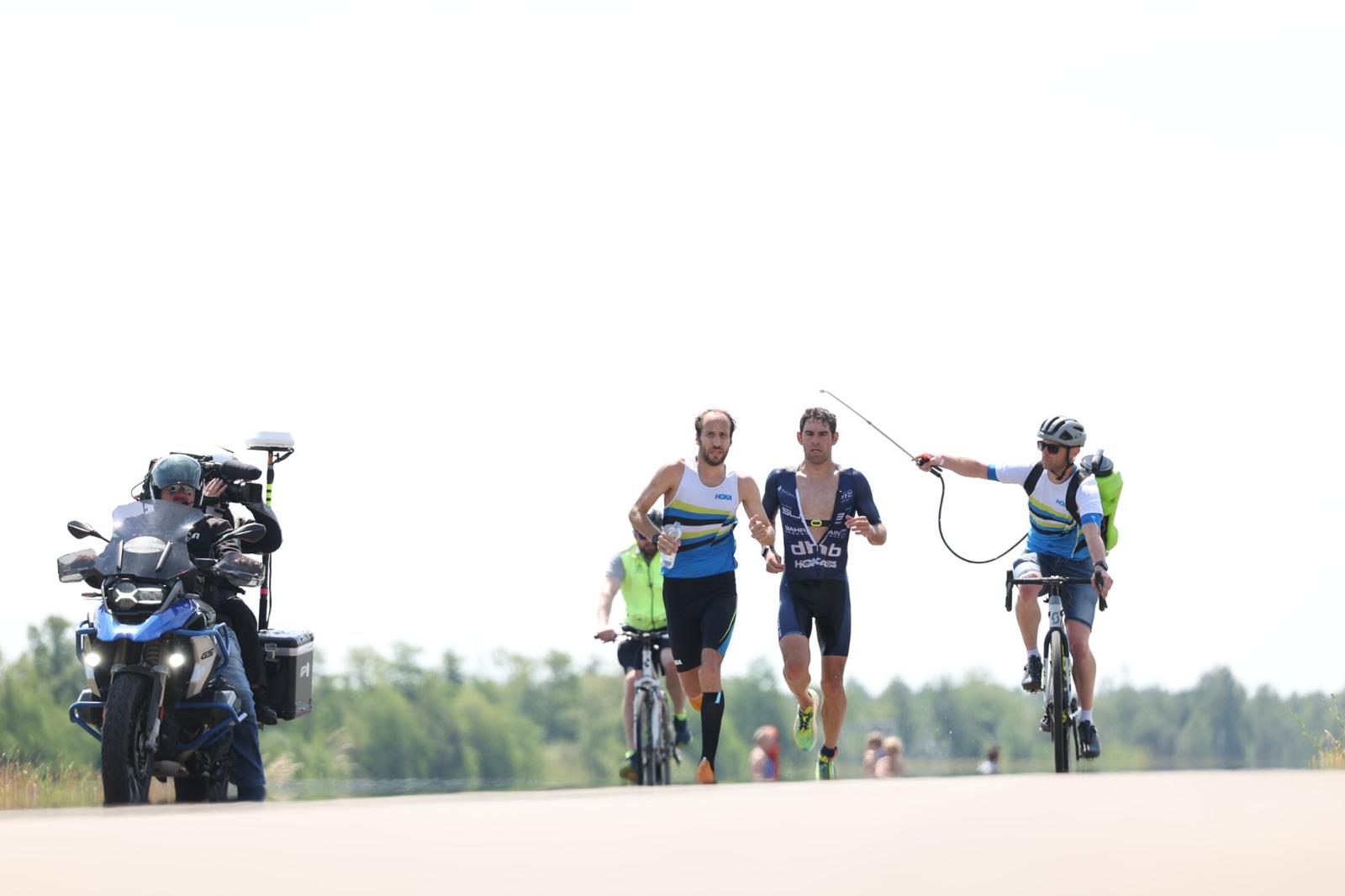 The plan was to keep Joe cool during the marathon by spraying him with water (not weedkiller) from the tank, and it worked a treat as he produced an incredible performance to clock 6:47:36. That was on just eight days' notice after being called up to replace the injured Alistair Brownlee.
Who is 'Weedkiller Man'?
So who is Weedkiller Man? How did the plan come together? And will we get to see him in action again? All burning questions, so time for the world exclusive interview.
Lee Cook – friend of Joe, fellow triathlete and now better known as 'Weedkiller Man' – sat down with us to talk about an epic week in Germany, his new-found 'fame' and what the future holds for his alter ego.
Weedkiller Man – the inside story
TRI247: Just tell us how the whole thing initially came about and whose idea it was?
When Al (Alistair Brownlee) and Tipper (Team Manager Jacob Tipper) were coming up for any possible marginal gains for the Sub7 attempt. Tipper had the idea to use a handheld plant sprayer with a mist of water to cool him on the run. The idea was circulated on the team WhatsApp group and Al said " I have a better Idea" and sent a link to the sprayer on Amazon.

TRI247: Did you get the equipment in Germany or was it taken over in top secret from the UK?
😂 Al ordered it on Amazon, and it arrived in the team van with the bikes and rest of the kit.

TRI247: How did you get chosen to be the man applying the spray?
Joe called me the morning he found out he was potentially off to Germany to step in for Al. He asked if I'd help and would I be his designated helper.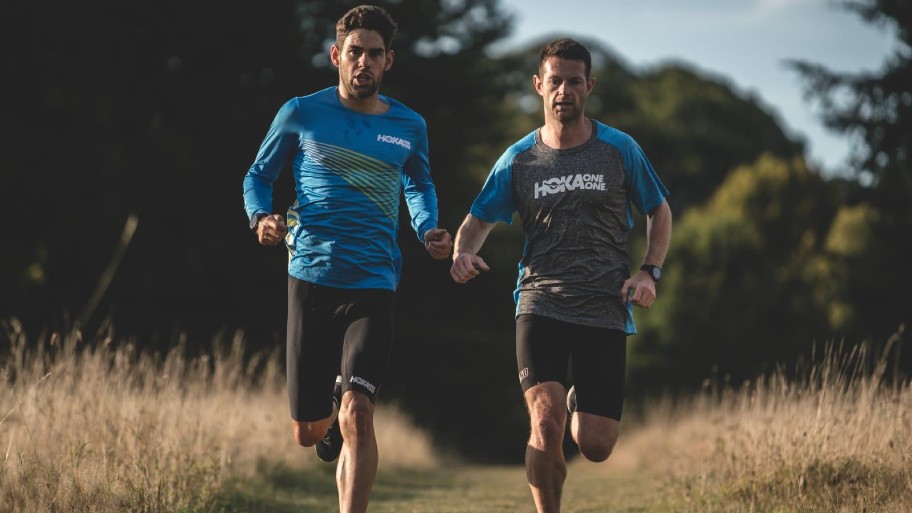 TRI247: What was your brief/instructions from the team heading out onto the run course?
Joe and I had spoken before about a nutrition plan and strategy for the race so I took everything he wanted. It was a hot course with no shade, so any cooling was going to be a big advantage.

TRI247: When did you first find out afterwards that 'Weedkiller Man' had become a thing?
Pretty much as soon as I'd stepped off the bike when Joe had gone over the finish line, when Joe's agent told me 'Weedkiller Man' was all over social media 😂

TRI247: You said your phone has started to blow up a bit since, what's it been like?
The evening after the race my phone began to to go crazy with messages from people I haven't raced or seen for years. All asking if I was 'Weedkiller Man'. It's been a bit of a laugh.

TRI247: What happens to the equipment now? Charity auction or pride of place in the Cook pain cave?

I believe it headed home with Gordon Benson in the team van, so hopefully Al can get some use out of it in his garden…
TRI247: Is Weedkiller Man retired after one race or would you consider stepping up to the plate again if the opportunity arises? What about sponsorship potential?
Oh no, definitely not. You'll be seeing 'Weedkiller Man' again. My agent is in talks with a couple of UK sponsors, Buxton and Highland Spring. I think he could be like The Stig from Top Gear. Lots of potential for him to appear, so you never know where you'll see him next…

TRI247: The whole race week in Germany seemed to have a great buzz and energy to it. What was it like to be a part of it?
In all seriousness it was a fantastic weekend. Really professional but fun too. The team and pacer element which was taken over to long-course triathlon was amazing and you could tell how rewarding and exciting it was for the teams and all involved. The coverage and efforts the organisers went to were far superior of any Ironman event in the past. The bar has been raised.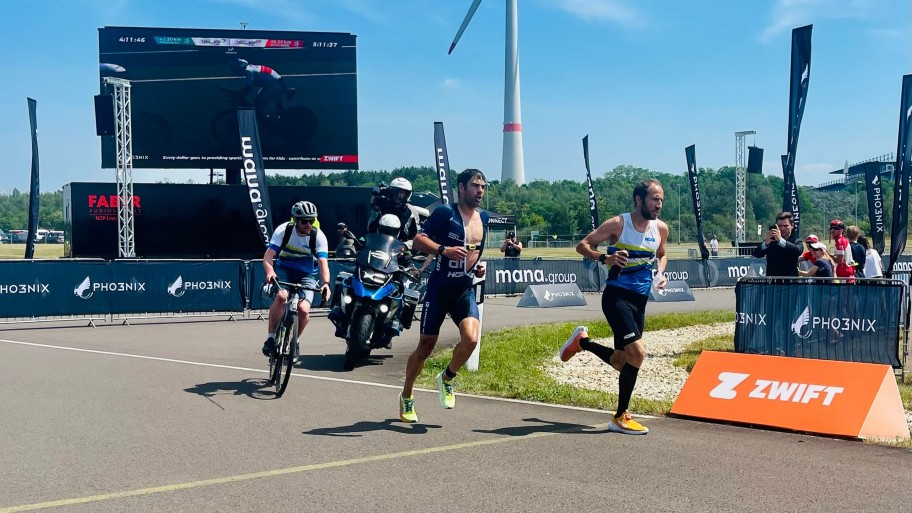 TRI247: Joe clearly owes you one now, how do you intend to collect? Believe he has a stag do coming up?
Joe will be forever in my debt. I did parkrun on Saturday and was called 'Weedkiller Man' by multiple spectators and competitors. I'm his best man and he does have a stag do coming up (in the Alps on the way home after a group of us do IRONMAN Nice on June 26) – so payback will be served. We have some plans involving 'Weedkiller Man' but I wouldn't want to ruin the surprise for him 😂