Something for everyone this past weekend; a British XTRI World Champion and an IRONMAN winner, off-road Championship racing in the Czech Republic, the British Triathlon Super Series, last-chance for Super League Triathlon qualification.
Check all of that out, and more, in the Weekend Roundup, which this week features two cracking video features.
(Header image photo credit – Kai Otto-Melau/nxtri.com)
INTERNATIONAL RACING
Norseman Xtreme Triathlon / XTRI World Championship
The Norseman Xtreme Triathlon has been getting prime time T.V coverage over the past 24 hours in the UK, courtesy of BBC Breakfast's Louise Minchin, who added to her finish last year at the Patagonman in Chile by earning her white t-short in Norway. From inspired by the Brownlee's at London 2012, she's come a long way and continues to be a fantastic ambassador for the sport to many outside of the triathlon 'bubble' – congratulations Louise.
If you need some #MondayMotivation check out our @louiseminchin taking on the @nxtri in Norway 🏊‍♀️🚵‍♀️🏃‍♀️ pic.twitter.com/XqumLf9TXq

— BBC Breakfast (@BBCBreakfast) August 5, 2019
This years race – reported on in full HERE – hosted the first XTRI World Championship, which was won by Great Britain's Lucy Gossage and, in an incredibly close finish, Norway's Hans Christian Tungesvik. Several other Brits in the top five too, check out the report for full details.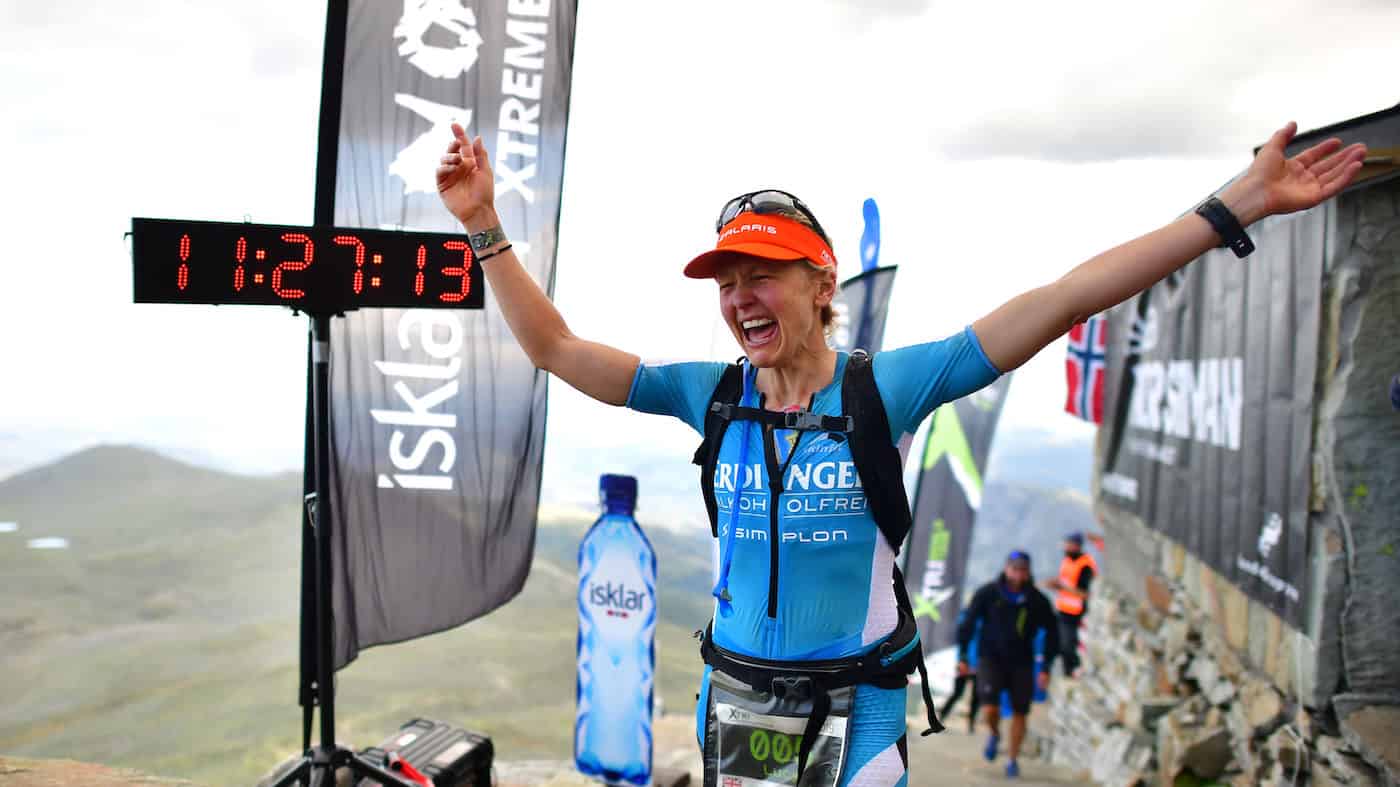 Check out the always awesome post-race video from the team at nxtri.com below:
IRONMAN Tallinn, Estonia
I asked in the Weekend Preview whether the British pairing of Corinne Abraham and Kimberley Morrison could secure a one-two in Estonia, and claim the two Kona qualifying slots on offer. Just 14 seconds shy of achieving the former after a very late pass on the run, those Kona slots were still collected. Read the full Pro report HERE.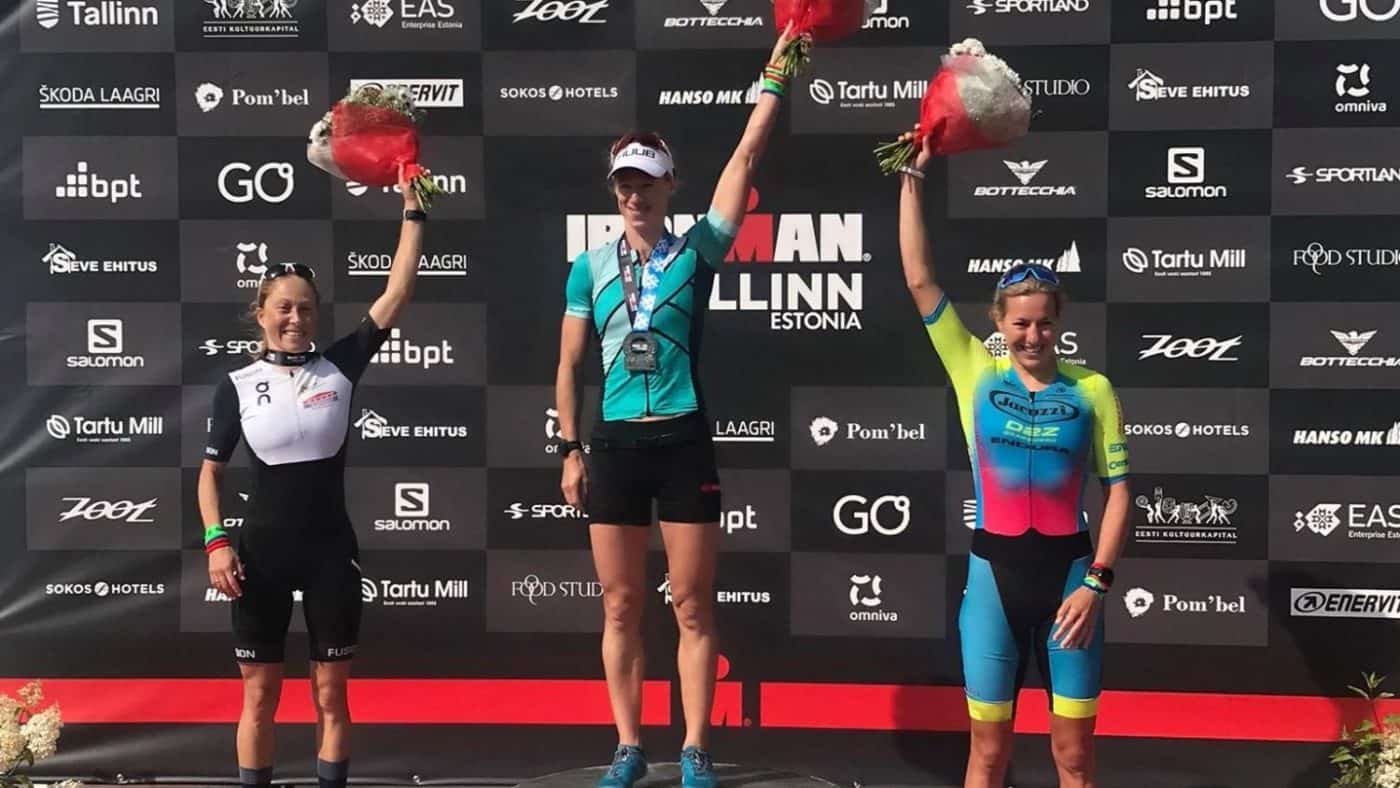 British Age-Group action in Tallinn too, with several podium results, the fastest Brits being James Elgar (7th AG'er overall, 8:59:18) and Rosie Wild (3rd AG'er overall, 9:48:14). Here's the full listing.
[UPDATE – Big thanks to David Southgate for highlighting this… not only did James Elgar go Sub-9 at Tallinn, he also achieved that feat a month ago at Challenge Roth – and in between, also finished second in the Welsh Middle Distance Championships. Seriously impressive!]
M Grenfell (M18-24) – 3rd – 11:53:12
Rob O'Laughlin (M25-29) – 3rd – 9:21:01
James Elgar (M30-34) – 2nd – 8:59:18
Jappas Dupreez (M35-39) – 3rd – 9:04:24
David Francis (M45-49) – 1st – 9:26:07
Peter Openshaw (M55-59) – 10:13:12
Rosie Wild (F25-29) – 1st – 9:48:14
Anne Frederick (F25-29) – 2nd – 10:31:05
Claire Shea-Simonds (F40-44) – 1st – 10:11:40
Sue Turley (F55-59) – 3rd – 13:22:13
Finally bagged the top step of the AG Podium after lots of 2nd and 3rds… not my best day but got the job done.

Shame about face planting the cobbles. Broken finger and an elbow the size of a tennis ball. Made for a very painful second half to my marathon 😢 pic.twitter.com/10CxX6pTId

— Claire Shea-Simonds (@ClaireSSTri) August 3, 2019
While Claire Shea-Simonds was busy winning the F40-44 division by 28 minutes, husband Duncan was also racing well. You may remember that a few years back he was the Guide for Haseeb Ahmad when he set a new world record/best time for a visually impaired athlete at IRONMAN Barcelona. 11:03:31 was the time that day, but on Saturday Duncan was Guiding another talented British paratriathlete, Iain Dawson, and they clocked a very impressive 10:31:03, finishing with a 4:19:50 marathon after an super quick 4:53:32 bike split on the tandem.
What a day at @IRONMANtri Tallinn with Iain Dawson. Cracking swim set us up well. Smashed the bike on a VERY tandem friendly course. The run was a war of attrition… but we got it done! 10:31 and change. Fastest Ironman by a visually impaired athlete. Boom! 👊🏼

— Duncan Shea-Simonds (@DSS123) August 3, 2019
Super League Triathlon Ottawa
Ottawa, Canada provided the final opportunity for athletes to qualify for the 2019/20 Championship Series of Super League Triathlon, which will begin in Jersey in Late September. After two days of racing – Enduro and Eliminator formats, Charlotte McShane (AUS) and  Ryan Bailie (AUS) took the wins. Full details available on these links: WOMEN | MEN.
WOMEN – GOLDEN TICKET WINNERS
🏆🇨🇦 GOLDEN TICKET WINNERS – WOMEN/MEN 🇨🇦🏆

Here's a look at our final 6⃣ Golden Ticket winners after a thrilling qualifying weekend at #SLTOttawa… #ROADTOSUPERLEAGUE #Canada #Qualifier #Pro #Series #Triathlon pic.twitter.com/KH3sQcndCS

— Super League Triathlon (@SuperLeagueTri) August 4, 2019
Malmo ETU Sprint Triathlon European Cup, Sweden
In draft-legal ETU racing over the weekend, Malmo was the venue (who will host the 2020 ETU Sprint Distance Triathlon European Championships). A big win for Ireland's Con Doherty – his first Senior ETU Cup victory – while the Leeds Triathlon Centre had an international Gold and Silver, thanks to Jessica Fullagar (FRA) and 2018 World Junior Championship Bronze medallist, Kate Waugh.
ELITE MEN
1st – Constantine Doherty (IRL) – 53:56
2nd – Vasco Vilaca (POR) – 54:00
3rd – Gabriel Sandör (SWE) – 54:05
14th – Iestyn Harett (GBR) – 54:48
54th – Grant Sheldon (GBR) – 58:59
DNF – Jimmy Kershaw (GBR)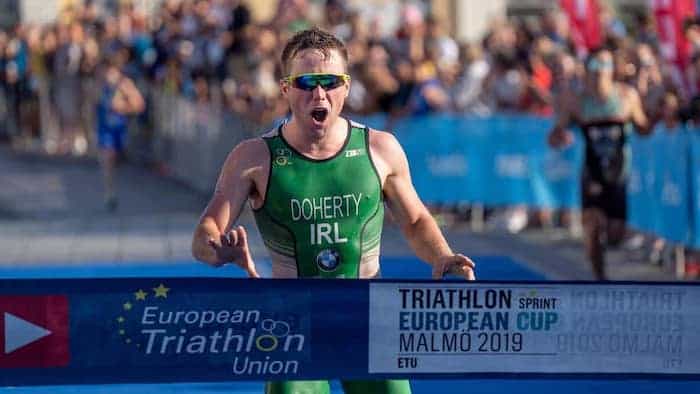 ELITE WOMEN
1st – Jessica Fullager (FRA) – 59:49
2nd – Kate Waugh (GBR) – 59:59
3rd – Edda Hannesdottier (ISL) – 1:00:11
6th – Jenny Manners (GBR) – 1:00:37
7th – Sophie Alden (GBR) – 1:00:47
29th – Zoe Thomas (GBR) – 1:03:32
Malmö was a lot of fun, especially when you get to race with your homie 🥳👯‍♀️ @KateWaugh1 https://t.co/f9j4aPx71v

— Jessica Fullagar (@JessFullagar) August 3, 2019
XTERRA European Championship, Czech Republic 
Two first-time winner of the XTERRA European Championship, a French double for Arthur Serrieres and Morgane Riou. Once again the XTERRA crew have done a fine job of quickly turning around a highlights video and report.
ELITE MEN
1st – Arthur Serrieres (FRA) – 2:31:41
2nd – Ruben Ruzafa (ESP) – 2:32:04
3rd – Bradley Weiss (RSA) – 2:34:14
11th – Doug Hall (GBR) – 2:40:50
36th – Alex Rhodes (GBR) – 2:59:33
https://www.instagram.com/p/B0tlI0ZBYhG/
ELITE WOMEN
1st – Morgane Riou (FRA) – 3:01:03
2nd – Helena Karaskova-ERBENOVA (CZE) – 3:01:44
3rd – Loanne Duvoisin (SUI) – 3:02:28
4th – Jacqui Allen (GBR) – 3:03:00
18th – Nicole Walters (GBR) – 3:28:13
https://www.instagram.com/p/B0vABCSBbb0/
DOMESTIC RACING
Tri in Tredegar hosted the the lastest round of the British Triathlon Super Series at Parc Bryn Bach, where Ben Dijkstra and Bronwen Owen took Senior honours, full results of which are HERE.
The Cotswold Classic is repeat of the popular early season Cotswold 113 Middle Distance Triathlon, and with well over 900 starters is clearly just as popular. The men's champion was Gareth Hodgson (Team Tri Force) – a previous winner of the Cotswold 113 – with the women's title going to Frankie Snare (Witney Roadrunners), ahead of Jemima Cooper (Tri Force Endurance) and Corinne Clark (Vitfor / Cirencester AC), that trio separated by less than two minutes. Full results HERE.
Continuing the Middle distance theme, the long-standing Cowman Triathlon at Emberton Park was won by Mark Styles (Kiln Cut Apparel) and Anna Lawson (Serpentine AC). Full results from that, and the accompanying 'Calfman' and 'Stampede' events HERE.
You can also find the Cleveland Steelman results HERE, where Matthew Alderson (Ryton Tri Club) and Natalie Batey (Tricademy Coaching) were the quickest on the day.