The Weekend Roundup. Part Two.
With such a busy weekend we've split the Weekend Roundup into two this week. Hopefully you'll already have read about the international races (and if not, CLICK HERE for that), which featured plenty of British names racing all over the globe.
In this second piece we are going to highlight a few of the races that took place domestically, which included the first championship event of the British Triathlon season.
British Elite / Age-Group / Para / Junior / Youth Duathlon Championships
The British Triathlon Standard Distance Championships (Age-Group), plus the associated Elite and Para events took place on Sunday at the Bedford Autodrome Duathlon, organised by NiceTri Events.
The Senior Elite races were won by Chris Perham (who recently won the ETU Indoor Triathlon in France), and Olivia Matthews (Optima Racing Team). Chris secured his win courtesy of a swift second run, which enabled him to catch and pass Mark Buckingham and Gordon Benson, who had managed to break clear from the main pacK in the late stages of the 20km bike leg. Matthews set the fastest bike and second run times to secure a comfortable winning margin of more than a minute.
Elite Men
1st – Chris Perham (Loughborough Triathlon) – 59:15
2nd – Mark Buckingham (Holmfirth Harriers) – 59:33
3rd – Gordon Benson (Leeds Triathlon Centre) – 59:49
Bravo @Chris_perham – Elite Men's British Duathlon Champion! 👏👏

🥈- @TriBucko
🥉- @gordonleeds #duathlonchamps pic.twitter.com/svFgplcckj

— British Triathlon (@BritTri) April 7, 2019
Elite Women
1st – Olivia Matthews (Optima Racing Team) – 1:08:47
2nd – Claudia Kelsall (University of Bath Triathlon) – 1:10:08
3rd – Erica Byram (Holmfirth Harriers) – 1:10:17
And it was @libsmatthews who took the British title in the Elite Women's race!

🥈- Claudia Kensall
🥉- Erica Byram

Top racing, ladies! 🏃‍♀️🚴‍♀️🏃‍♀️#duathlonchamps pic.twitter.com/QLduyBxWwG

— British Triathlon (@BritTri) April 7, 2019
The overall wins over the Standard Distance went to George Goodwin (M20-24) and Beth Wilmot (F40-44).
CLICK HERE for all the results from Bedford.
Triathlon news…
There were some very close finishes in several of the Sprint distance events taking place over the weekend:
Halesown Triathlon (RESULTS) – Dan Elliott and Sara Northover took the overall wins
Woking Triathlon (TBC)
Southampton Fast Twitch Triathlon (TBC)
Grantham Triathlon -Sprint & Super Sprint (RESULTS) – Philip Williams edges Kevin Dawson by a mere two seconds; Caroline Woods beats Hayley Newman by less than a minute.
Dyfi Dash Sprint Triathlon (RESULTS) – Stephen Rowlands finishes just four seconds ahead of Nathaniel Harries. Helen Marshall finished fourth overall in an impressive display.
Ulverston Pool Triathlon (RESULTS) – Just five seconds between winner Tom Rigby and second placed John Thelwell. Erica Booth is the women's champion.
Sandicliffe Ford Notts Triathlon (RESULTS) – Adam Thorpe (by just ONE second) and Emily Varley (by just five seconds) take very narrow wins in Nottingham.
Splash and Dash… Aquathlons!
The third of the Tewkesbury Tri Club Aquathlon Series saw James Deane (Gloucester AC) end the early season Swim-Run winning streak of Nigel Gaskin by just 15 seconds, with Robyn Gore (Teme Leisure AC) the women's victor. Results HERE.
The Basildon Aquathlon featured Adults and Tristar/Youth events (result HERE), with the senior race wins going to Holly Freegard and Scott Carpenter. From Essex to Kent, for the Deal Tri Family Aquathlon, Mark Whittaker and Jill Cliff were first across the line in the adults race.
The Tyne Tri Lakeside Aquathlon was another event for all ages (results HERE), with Ellen Roberts (Heaton Harriers) and Steven Carragher (Alnwick District Tri Club) the quickest in what was another close race at the pointy end of the field.
Run-Bike-Run
We've covered the headline event of the weekend already of course, but other events on included the latest F3 Events Windsor Duathlon Series (results HERE) and the Roding Valley TC Women's Duathlon at the Velopark (results HERE).
The Wales Duathlon in Penarth from Tough Runner UK attracted an impressive field approaching 350 starters, with the fastest times of the day going to Daniel Davies and Melissa Dando. Full results available HERE. You can check out the gallery from the event HERE, courtesy of Ed Morris Photography.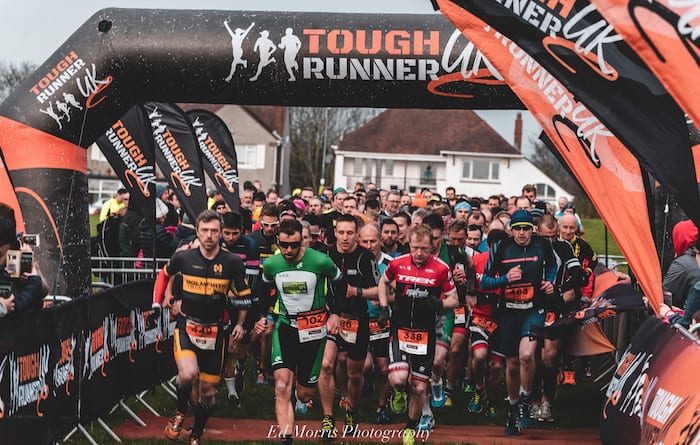 And finally (!), the Great Notley Spring Duathlon saw a comfortable win for Matthew Saward in the men's race, but the women were much close with Jennie Page just 22 seconds ahead of Ruth Grint at the finish.