Nicole Van Der Kaay added to her winning run with victory in the New Plymouth World Triathlon Cup as 2016 Olympics gold medallist Gwen Jorgensen continued her comeback with a 14th-placed finish.
Van Der Kaay came into the race with three wins out of three and was to the fore throughout but again had to outbattle fellow New Zealander Ainsley Thorpe at the business end of the 5km run.
And Norway's Solveig Lovseth produced a superb performance to round out the podium in third.
Swim – Jeffcoat shows the way
It was breezy and rainy for what proved a wetsuit swim but the harbour nature of the course meant conditions were relatively smooth.
Emma Jeffcoat (AUS) was favourite to lead out of the water and so it proved as she exited ahead of Hannah Knighton (NZL), Sophie Linn (AUS) and Van Der Kaay.
American star Jorgensen, in only the second race of her return after six years out of the sport, was 37th at +32 seconds.
Bike – Jorgensen loses touch
It was the bike section – featuring four 5km laps with a punchy 700m climb – which really shaped the race.
Van Der Kaay pushed it from the front but it all started to come back together and by the end of the opening loop it had swelled to a group of 30 within 19 seconds of her lead.
Jorgensen was among those to make contact going up the hill for the second time but she'd had to do much of the chasing and possibly paid the price later on.
Also moving right into contention was Lovseth and she was among those who really drove the pace on lap three.
And that was when the group was whittled down, with Jorgensen among those dropped as she suddenly found herself 43 seconds back.
That ballooned to 1:12 heading into T2.
Run – Van Der Kaay kicks clear
It was actually Erika Ackerlund (USA) who led out of T2 but it didn't take long to settle into a three-way battle up front between the women who would eventually occupy the podium.
There was virtually nothing between them until the third and final loop at which point Van Der Kaay put the hammer down and kicked clear in the closing stages.
Just as she had in Taupo it was Thorpe who took second, nine seconds adrift, with Lovseth third.
Jorgensen picked up a few places on the run – but actually lost a little time on the leaders – as she finished in 14th.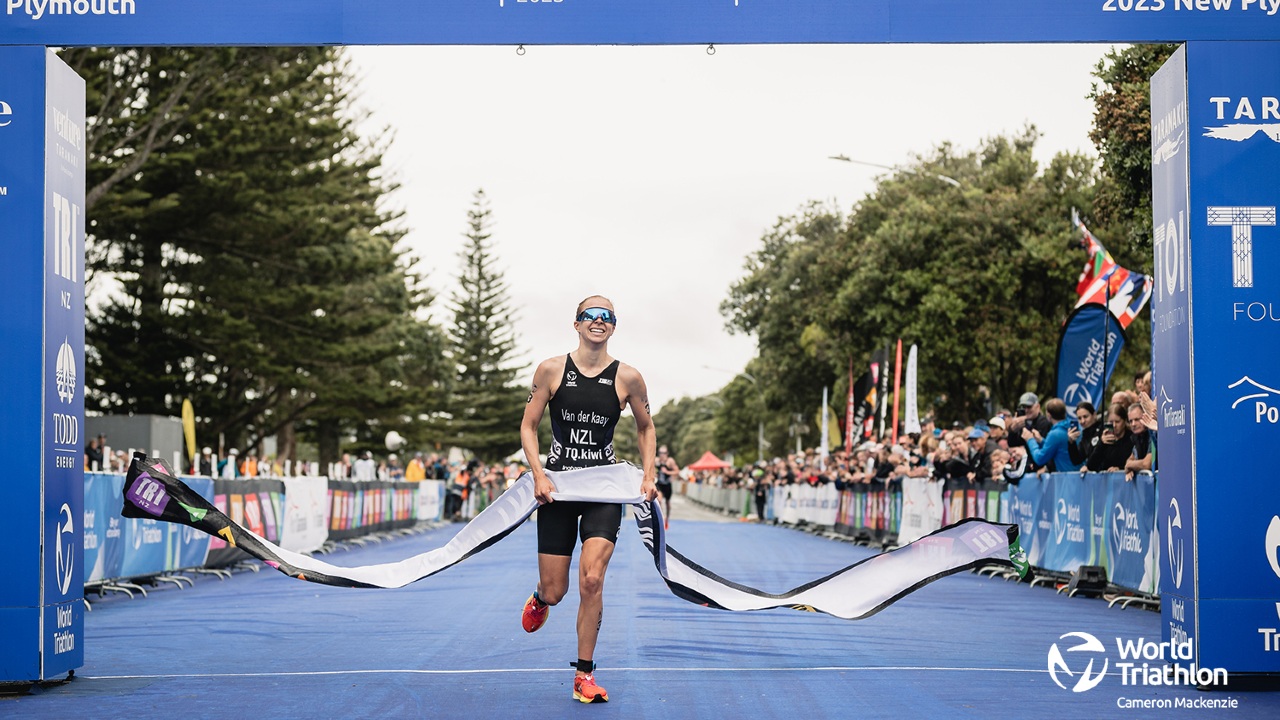 Afterwards a delighted Van Der Kaay said: "It was a goal of mine to get a gold here but I didn't know how I was coming in against the internationals as it's been a few months since my last race at this level.
"It's a great feeling – and in front of a home crowd, even better.
"On the bike I saw there was a big pack behind us but I just wanted to stay at the front – there's that big hill so you had to push whether you were at the back or the front and I just decided to stay clean at the front.
"Early season goals were to get [ranking] points as I was slipping outside the top 100 after a bit of a shocker last year but now it's all about building up to Paris."
And later in the day, New Zealand's men would match the women with their own one-two which was led by Hayden Wilde.
World Triathlon Cup New Plymouth Results 2023
Sunday 26th March 2022 – ELITE WOMEN
750m / 20km / 5km – New Plymouth, New Zealand
1. Nicole Van Der Kaay (NZL) – 1:02:58
2. Ainsley Thorpe (NZL) – 1:03:07
3. Solveig Lovseth (NOR) – 1:03:15
4. Rosa Maria Tapia Vidal (MEX) – 1:03:30
5. Sophie Linn (AUS) – 1:03:34
6. Maria Tome (POR) – 1:03:36
7. Erika Ackerlund (USA) – 1:03:36
8. Claire Michel (BEL) – 1:03:34
9. Olivia Thornbury (NZL) – 1:03:45
10. Kira Hedgeland (AUS) – 1:03:48