Home favourite Hayden Wilde bounced back from his flat tyre in the WTCS opener in Abu Dhabi with a commanding victory at the World Triathlon Cup New Plymouth.
It was a New Zealand one-two in the women's race and that was repeated here in the men's event as Tayler Reid just outsprinted Portugal's Ricardo Batista for second place.
Swim – Batista to the fore
With the temperature just under 20 degrees on a mixed day of weather, which ended in bright sunshine, it was a wetsuit swim.
And it was eventual third Batista who led the way, four seconds clear of Trent Thorpe (NZL) and Nicolo Strada (ITA).
Wilde was 17th into T1, 23 seconds down.
Bike – Wilde bridges up
His chances in Abu Dhabi had been derailed by that flat tyre but there were no such dramas this time for Wilde.
He'd erased the deficit from the swim on the first of the four 5km bike loops as Reid brought the pack of 10 through the finish line for the first time.
The 10 was down to eight by the end of lap two, with Batista back in front, and that was how it stayed until T2 at which point Wilde was a fraction ahead.
Run – High fives for Hayden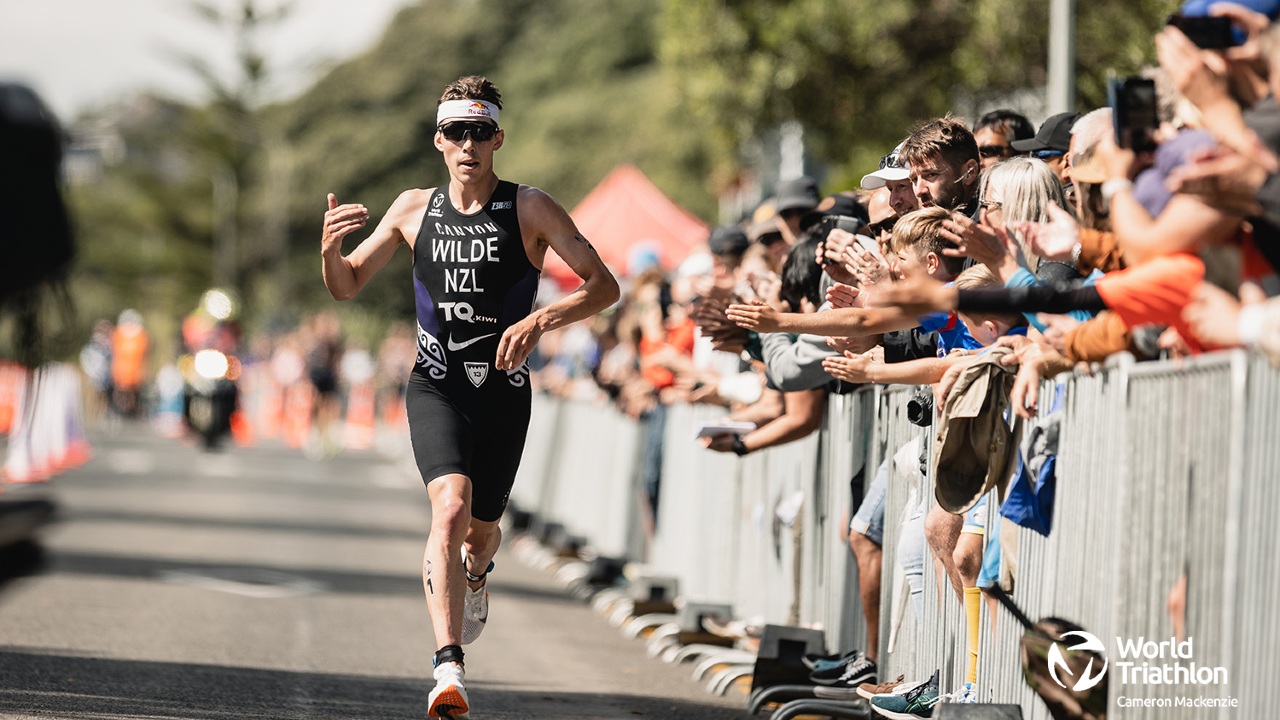 Wilde put the hammer down straight away on the run as he surged clear of his rivals.
He was 23 seconds to the good at the end of the first of three laps, that was up to 51 seconds after the second and he was so far clear heading to the finish that he was able to high five all the way to the line and greet his brother Hamish who was doing the announcing.
He then turned his attention to the battle for second and cheering on his fellow Kiwis, which did the trick as Reid just got the better of Batista while Dylan McCullough took fourth.
Perhaps surprisingly given his long list of achievements, this was a first World Cup win for Wilde, who said afterwards: "It's just lovely to do it in front of the family who had been taking the rip out of me by saying I'd won an Olympic medal but not one of these.
"It worked out pretty well on the bike and I just made sure I went out really hard on the run to get that gap.
"I was frustrated at not having the race I wanted in Abu Dhabi, it wasn't the legs but just an unlucky mechanical so I really wanted to show that today."
World Triathlon Cup New Plymouth Results 2023
Sunday 26th March 2022 – ELITE MEN
750m / 20km / 5km – New Plymouth, New Zealand
1. Hayden Wilde (NZL) – 55:58
2. Tayler Reid (NZL) – 56:33
3. Ricardo Batista (POR) – 56:33
4. Dylan McCullough (NZL) – 56:35
5. Brandon Copeland (AUS) – 56:50
6. Seth Rider (USA) – 57:06
7. Nicolo Strada (ITA) – 57:13
8. Callum McClusky (AUS) – 57:16
9. Tyler Mislawchuk (CAN) – 57:19
10. Janus Staufenberg (NZL) – 57:26