America's Gwen Jorgensen, the 2016 Olympic Champion in Rio, started her surprise comeback with an encouraging third behind Nicole Van Der Kaay in the Oceania Triathlon Cup Taupo in New Zealand.
With a total prize purse of $5,000 AUD, a top prize of $750 and a Continental Cup status making it around the third tier of international World Triathlon racing, this is far from among the biggest races of the 2023 calendar. However, sometimes you have to look beyond ranking points and prize money – especially when the race represented the swim / bike / run return of a triathlon great.
Elite Women: Van Der Kaay doubles up
More than six years since her last triathlon race – and now a mother of two – Jorgensen announced in December that she was returning to the sport, with the Paris Olympics the stated aim.
That in itself is a huge ask as, despite her incredible CV, she starts with no ranking and zero points as she bids to break into a stacked US team.
She'd had just three months of training since the birth of her second son George, but she was out of the water just inside the top 10 after the 750 metres swim in Lake Taupo.
And she slotted into the lead group on the bike which soon swelled to 12 and included most of the pre-race favourites.
Going through T2, Jorgensen had dropped to 11th but things soon shook out early on the run.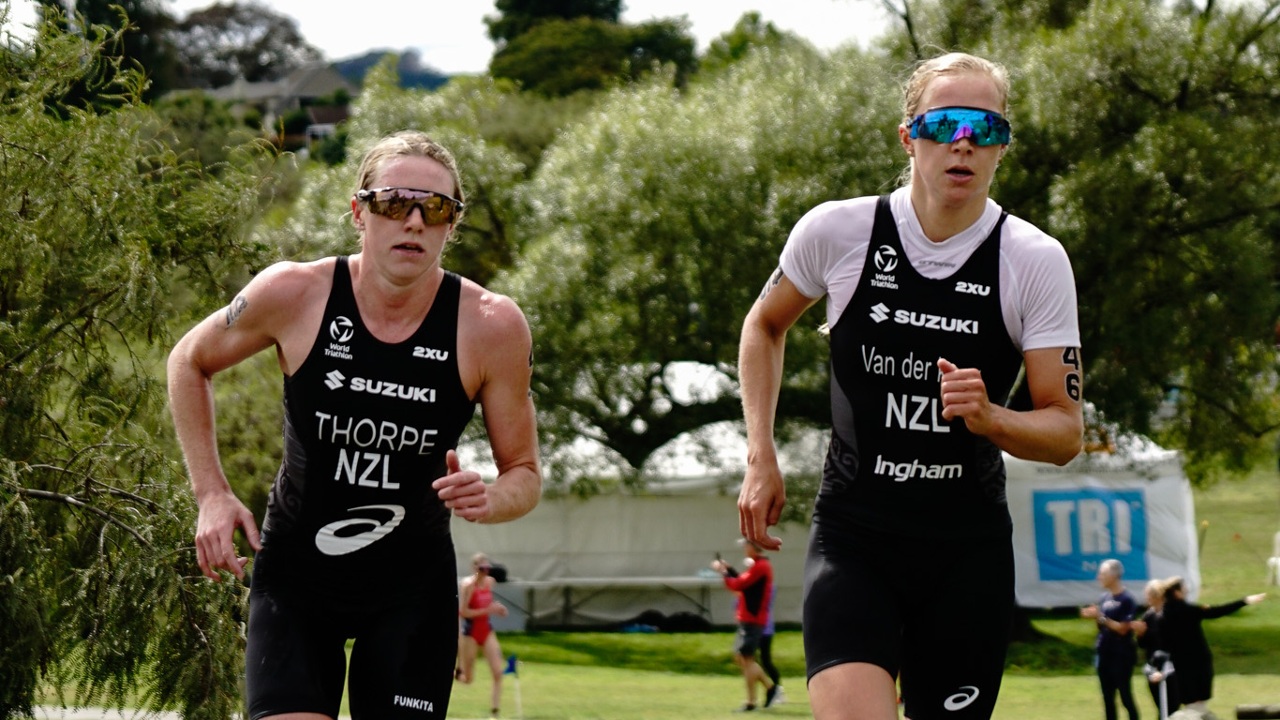 Kiwi duo Van Der Kaay, who won last week in Wanaka, and Ainsley Thorpe were soon clear up front – with Jorgensen quickly emerging as their closest challenger, albeit around 50 metres back at that point.
The front two were always holding her at bay and had stretched their advantage before Van Der Kaay kicked early in the sprint finish to take the victory.
Thorpe was just a few yards behind and then there was a 30-second gap to Jorgensen as she clocked an 18:31 5k ahead of her next test when she'll target a result at the World Triathlon Cup New Plymouth on March 25th.
Afterwards she posted on her Instagram account: "Might have taken my 'play over perfection' expression a little to seriously in my first race back because I made mistakes yet absolutely loved it.
"I heard a quote earlier this week, "It's hard to beat someone having fun." I'm having so much fun that although I got beat, I felt like a winner."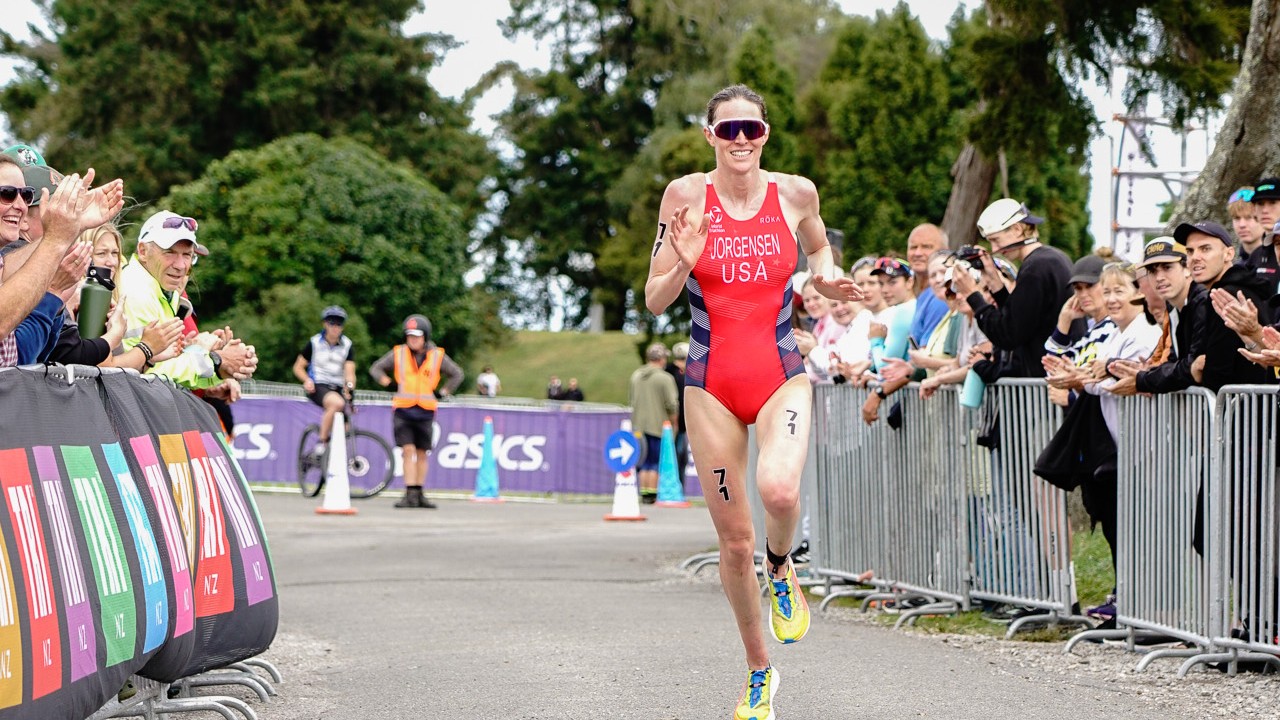 And talking about each component of her comeback race, she told World Triathlon: "I had a hard time in the swim, I haven't swum that much and I haven't been in open water with other people. I would have liked to come out first.
"The bike was super fun. I actually felt super strong on the bike, it was a really fun course, this course in Taupo was amazing, just super fun little risers, little down hills, just a really fun course that flowed really nicely.
"The run was beautiful along Lake Taupo. I just didn't have another gear, I couldn't run any faster and had some pretty slow transitions but I came out and was just trying to chase down the leaders and could never catch."
Elite Men: Castro Fajardo wins it after photo finish
The men's race produced a thriller of a finish as Spain's David Castro Fajardo pipped Kiwi Janus Staufenberg by the narrowest of margins.
Heading out of T2 there was a big front group of 14 but that was soon whittled down to four early on the run, with Aussie Luke Willian and home hope Kyle Smith, fresh from his second last week at Wanaka as he drops down to sprint distances, the other two in the mix.
That quartet stayed together until the fourth and final 1.25km loop as which point Smith just started to drop back.
But up front it was a fantastic battle between Castro Fajardo, in the No 1 bib, and Staufenberg – and it took some studying of the photo finish to determine the Spaniard had edged it, both given an official time of 54:00.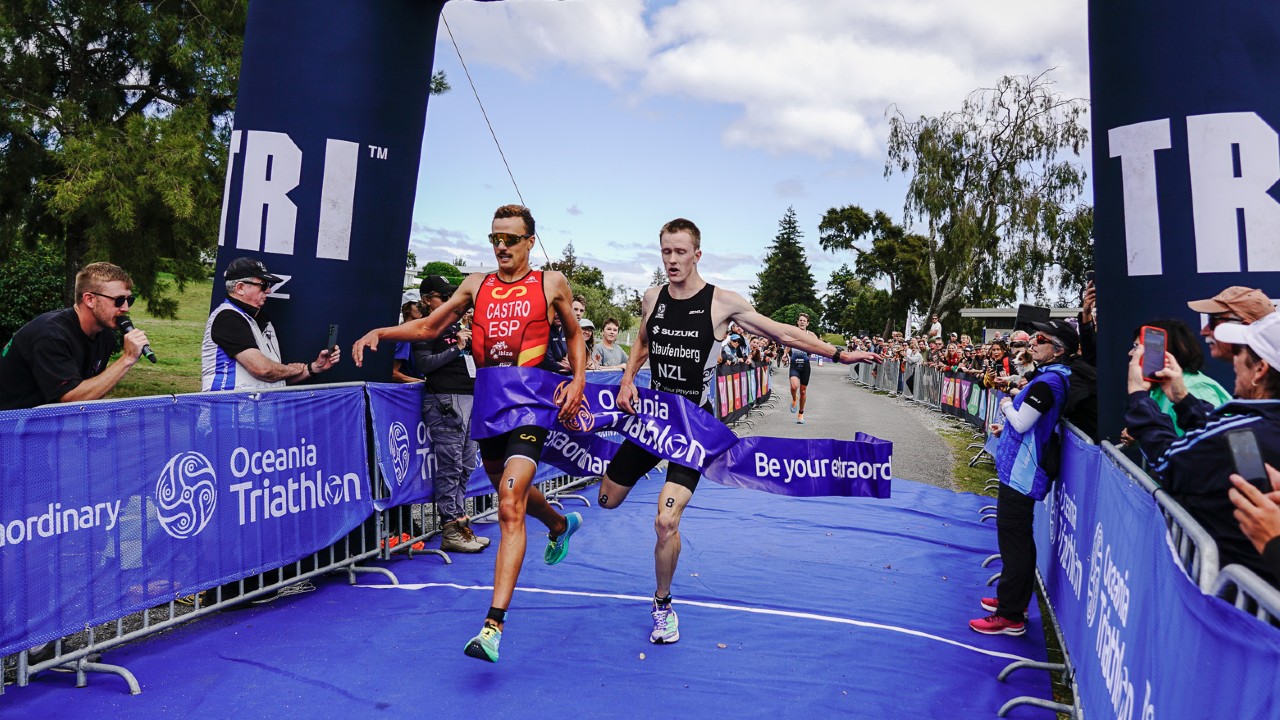 Willian was a close-up third, with Smith fourth and Tayler Reid fifth.
Oceania Triathlon Cup Taupo 2023 results
750m swim / 19.5km bike / 5km run
ELITE WOMEN
1. Nicole Van Der Kaay (NZL) – 1:00:17
2. Ainsley Thorpe (NZL) – 1:00:19
3. Gwen Jorgensen (USA) – 1:00:49
4. Ellie Hoitink (AUS) – 1:01:09
5. Olivia Thornbury (NZL) – 1:01:21
ELITE MEN
1. David Castro Fajardo (ESP) – 54:00
2. Janus Staufenberg (NZL) – 54:00
3. Luke Willian (AUS) – 54:04
4. Kyle Smith (NZL) – 54:13
5. Tayler Reid (NZL) – 54:27