It was no huge surprise to see Nicole Van Der Kaay win again – and Ainsley Thorpe chase her home in a Kiwi one-two – at the World Triathlon Cup New Plymouth.
But fewer would have predicted the woman on the third step of the podium – Norway's Solveig Løvseth in bib #39.
Words of wisdom
The Norwegian men have carried all before them over the last few years but this felt like a significant display on the female side and was labelled a "breakthrough race" by none other than Arild Tveiten, Sports Director for the Norwegian Triathlon Federation.
Løvseth moved into contention on the bike in New Plymouth and helped drive the pace which saw many of her rivals dropped, including 2016 Olympic champion Gwen Jorgensen in the second race of her comeback.
Løvseth stayed at the pointy end of the race throughout, only being run out of it late on by the in-form New Zealand pair.
And she revealed afterwards that some encouraging words from Olympic champion Kristian Blummenfelt had helped boost her confidence and inspire the performance.
She explained: "I spoke to Kristian Blummenfelt a couple of days ago and he told me he got his first podium here in New Plymouth, eight years ago.
"He told me that at the medal ceremony they didn't have a Norwegian flag as they didn't expect him to get on the podium. And he told me I hope they have a flag ready for you and I thought 'okay, now I know what the expectations are!'
"So I am happy to meet them now."
Impeccable timing
The timing couldn't have been better as this is the penultimate race in the first phase of the Olympic qualification cycle as Løvseth explained:
"It's really special – last season I wasn't even able to make it into the top 20 in any races so this means a lot to me. I feel like I really need all the points I can get – I knew that I had to make the most of this chance.
"I just didn't know what to expect, especially this early in the season when you haven't raced very much. So very happy, very relieved.
"I actually felt surprisingly confident, more confident than I used to. I raced Abu Dhabi and that was alright but not like anything special."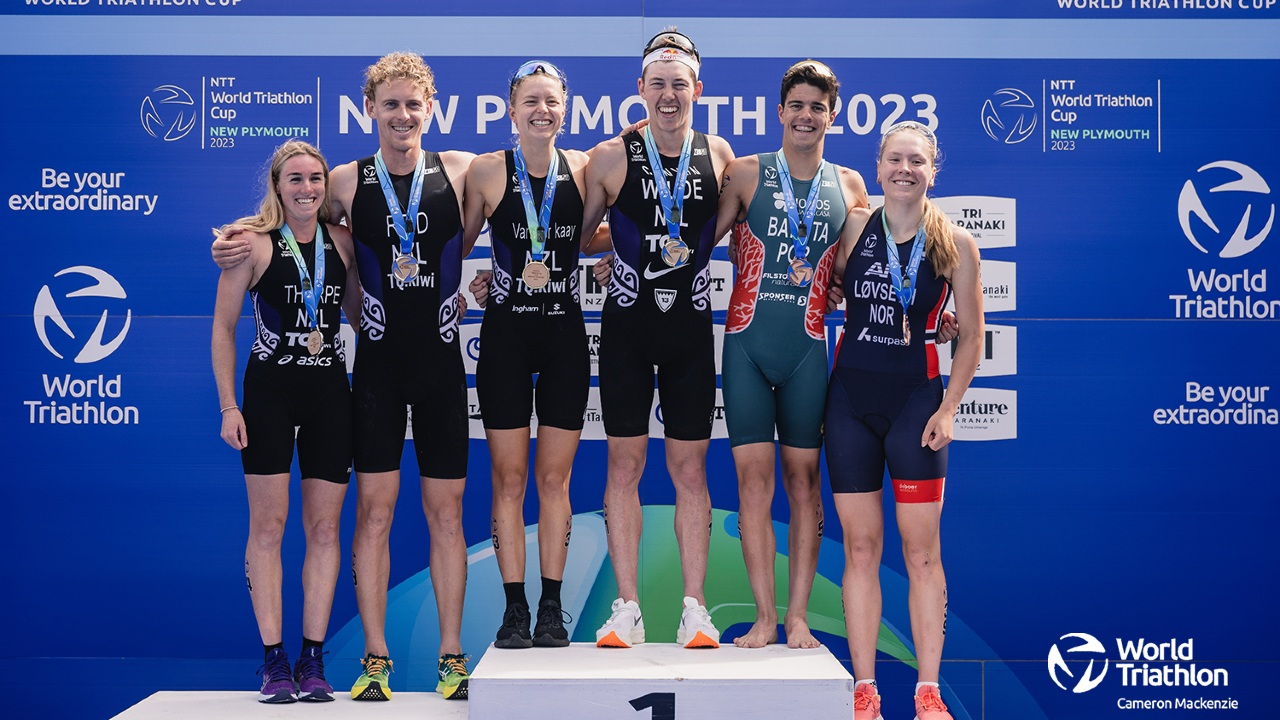 Talking through her race, she added: "I was quite surprised to be in the first pack on the bike virtually straight away – I usually have to use the first couple of laps just to chase to get on.
"That was really nice and I tried to stay near the front so as not to have to do big accelerations and I felt the pace was controlled, felt quite good. I took some turns and occasionally got a gap but I didn't really want to break away as it's sometimes so much harder on your own. I just tried to stay quite close to the front and keep my heart rate down and get ready for the run."