Bringing World Cup action to the continent of Africa for the first time in more than four years, Sunday's World Triathlon Cup Tangier in Morocco also saw the return to competitive action of Rio 2016 bronze medallist, and 2018 World Triathlon Champion Vicky Holland.
There would be no fairytale victory return, but Holland will take a lot of confidence from her display. Here's how it played out.
Swim – Feuersinger first to shore
A wetsuit-legal, 750m sea swim featured some significant swells, and as the lead athletes returned to the beach it was Therese Feuersinger (AUT) and Mathilde Gautier (FRA) leading the way.
They headed towards T1 on what was a relatively long run to get to their bikes. Feuersinger has consistently proved herself one of the most consistent swimmers on the circuit this year, while Gautier won the Europe Triathlon Sprint Distance Championships in Balikesir, Turkey, in August.
At this early stage, Holland emerged from the water in 19th, 23 seconds back and seemingly in good company, alongside the likes of Rachel Klamer (NED), Jolien Vermeylen (BEL) and Lotter Miller (NOR) and more.
Bike – it's Miller time
Straight out of T1, Feuersinger and Gautier were joined by Zsanett Bragmayer (HUN), the Aquathlon World Champion, as well as being an Arena Games winner in both Singapore and Sursee. The flat, four-lap bike course was going to be a tough task to hold off a chasing pack, but halfway through they were still clinging on to an 11-second buffer. Behind, Norway's Lotte Miller was helping to drive the chasers.
The Norwegian's efforts however were about more than bringing a large pack to the front. She was playing her cards, dropped the chase pack and her solo mission saw her bridge up to the front – and three became four.
With their strongest rider absent, the chasing pack now started to lose, rather than gain time, and with one circuit of the 5km bike loop remaining the leading quartet were now 18 seconds to the good. Could they extend that further by T2?
Miller's impact was massive. As they reached the dismount line, their head start for the final 5km run would be 33 seconds, with a large chasing pack also including the 2022 World Junior Champion, Tilda Månsson (SWE), Holland and the vast majority of the potential podium challengers.
Run – No stopping Lisa
Four were very quickly two, and it was Bragmayer and Gautier leading the way, as Miller and Feuersinger would soon be swept up by the chasers.
Fourth last week at the WTCS Championship Finals in Pontevedra, Germany's Lisa Tertsch was leading the charge, and Spain's Noelia Juan was sticking right with her. The duo moved into the lead right at the end of the first of two run laps, but a kilometre further on the German's pace had proven too much for the Spaniard to match.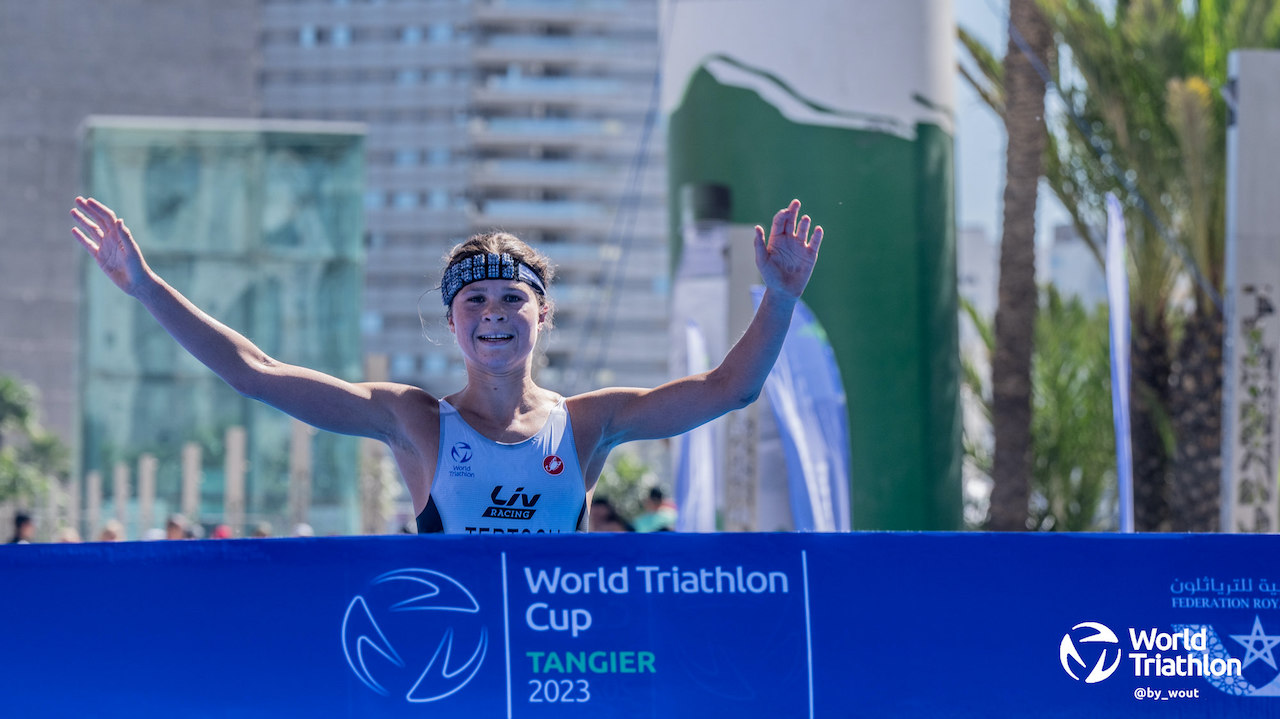 The Harvard University Economics graduate continued to apply the pressure and would continue on to add a third career World Triathlon Cup victory to her C.V. Juan was clear in second, while Månsson – not for the first time – won a sprint against Vermeylen (BEL) to claim the final podium slot.
Holland was strong through all three disciplines, and a seventh-place finish represents a very encouraging performance in her first race for almost two years.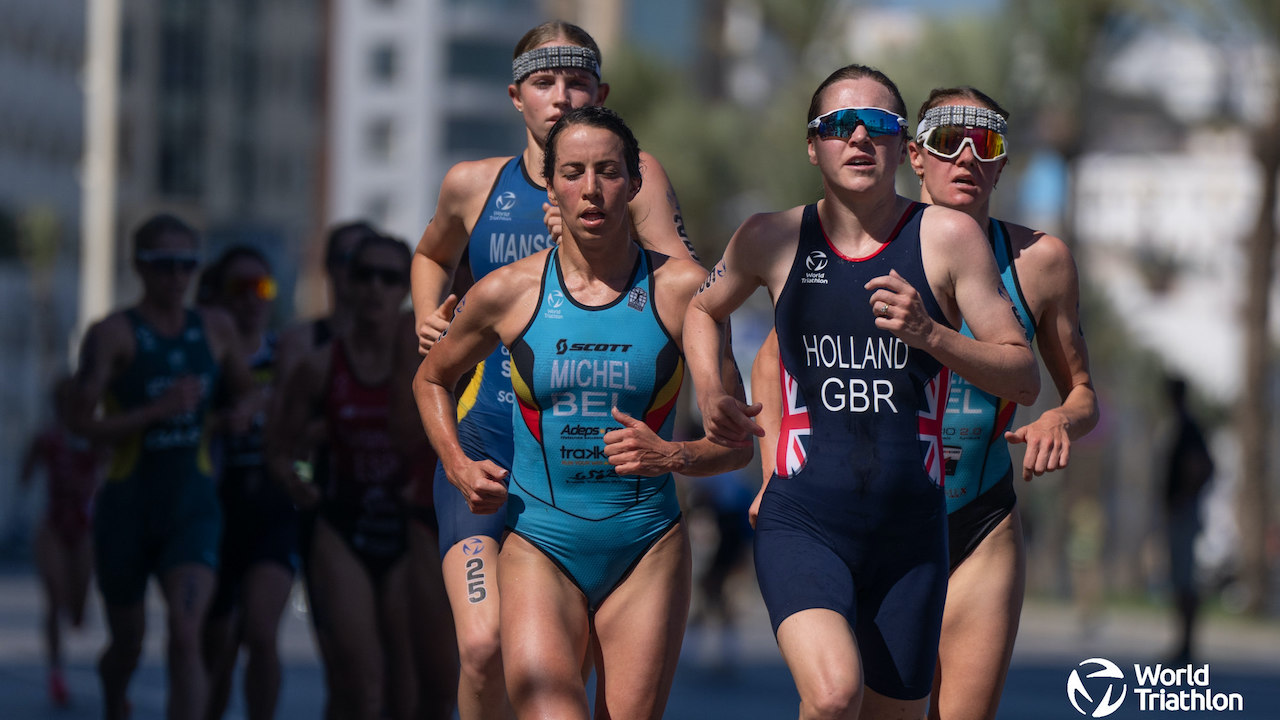 World Triathlon Cup Tangier 2023 Results
Sunday 1 October 2023, Tangier, Morocco – 750m / 20km / 5km
Elite Women
1. Lisa Tertsch (GER) – 58:46
2. Nolia Juan (ESP) – 58:58
3. Tilda Månsson (GBR) – 59:02
4. Jolien Vermeylen (BEL) – 59:04
5. Rachel Klamer (NED) – 59:09
6. Clare Michel (BEL) – 59:11
7. Vicky Holland (GBR) – 59:17
8. Zsannett Kuttor-Bragmayer (HUN) – 59:19
9. Cecilia Santamaria Surroca (ESP) – 59:25
10. Mathilde Gautier (FRA) – 59:32