The unpredictable nature of this format of racing showed itself once again at the Arena Games Triathlon Finals Singapore powered by Zwift, the third and final event in the first eSports World Triathlon Championship.
There was a surprise winner, an injury to Jess Learmonth – but Beth Potter battled the elements to take the World Championship title.
Stage 1: Injured Learmonth out
No Olympic-sized swimming pool today, with the opening swim-bike-run discipline starting with a wetsuit-free (of course) 200m swim in Marina Sands Bay.
The four Brits racing – Learmonth, Sian Rainsley, Georgia Taylor-Brown and Potter – were soon to the front. No surprise to anyone that Learmonth lead out, but the entire field crossed the timing point within 10 seconds. Transitions would be key today and Potter, to date, has been the Queen in that area through the Arena Games series.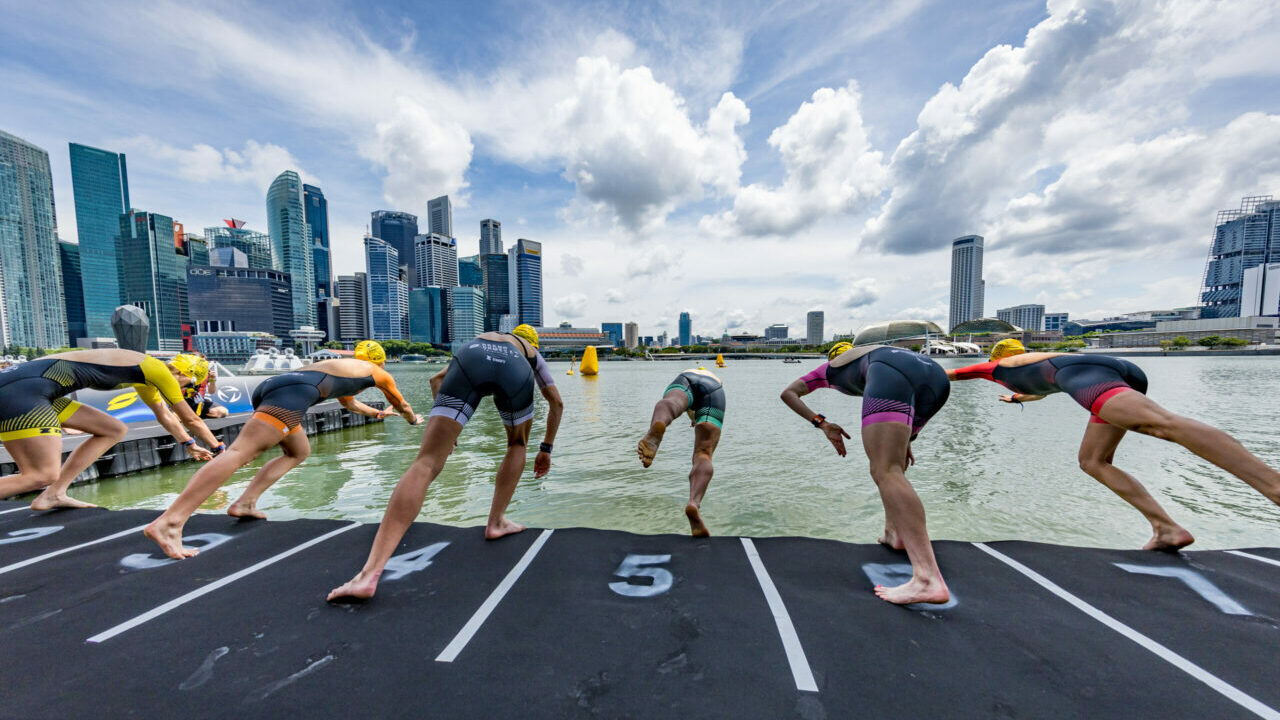 Zwift's 'Crit City' was in non-drafting mode today as per London, with a fast 4km on the cards in each stage. Potter had referenced the challenge of the heat after yesterday's qualification, and she was trying to address that today by putting a cooling device around her neck when starting the ride. An entire stage might take 'just' 14 minutes – but Arena Games racing is tough.
While Learmonth didn't really gain anything in the swim, she was pushing the bike hard and built a lead of around seven seconds over GTB, with Potter a further two seconds back approaching the curved treadmills. Once again, Potter's transition speed was on show and she was quickly into second place. Taylor-Brown has never really excelled on the curved treadmill, and Rainsley moved into third, while Potter set off in (virtual) pursuit of Learmonth.
There was talk pre-race of a Learmonth injury, and that proved true. So much so, that with barely 100m to go she pulled up and couldn't even finish the race, being forced to step off of the treadmill. She was out.
"I've had a hip injury – it just gave up on me literally with just a couple of hundred metres to go. I felt fine right up until it went."
That left Potter clear for the win, Rainsley in second six seconds behind with Zsanett Bragmayer in third (+9.7). Taylor-Brown and Anabel Knoll were split by tenths, in fourth and fifth. The title, surely, was in Potter's hands now.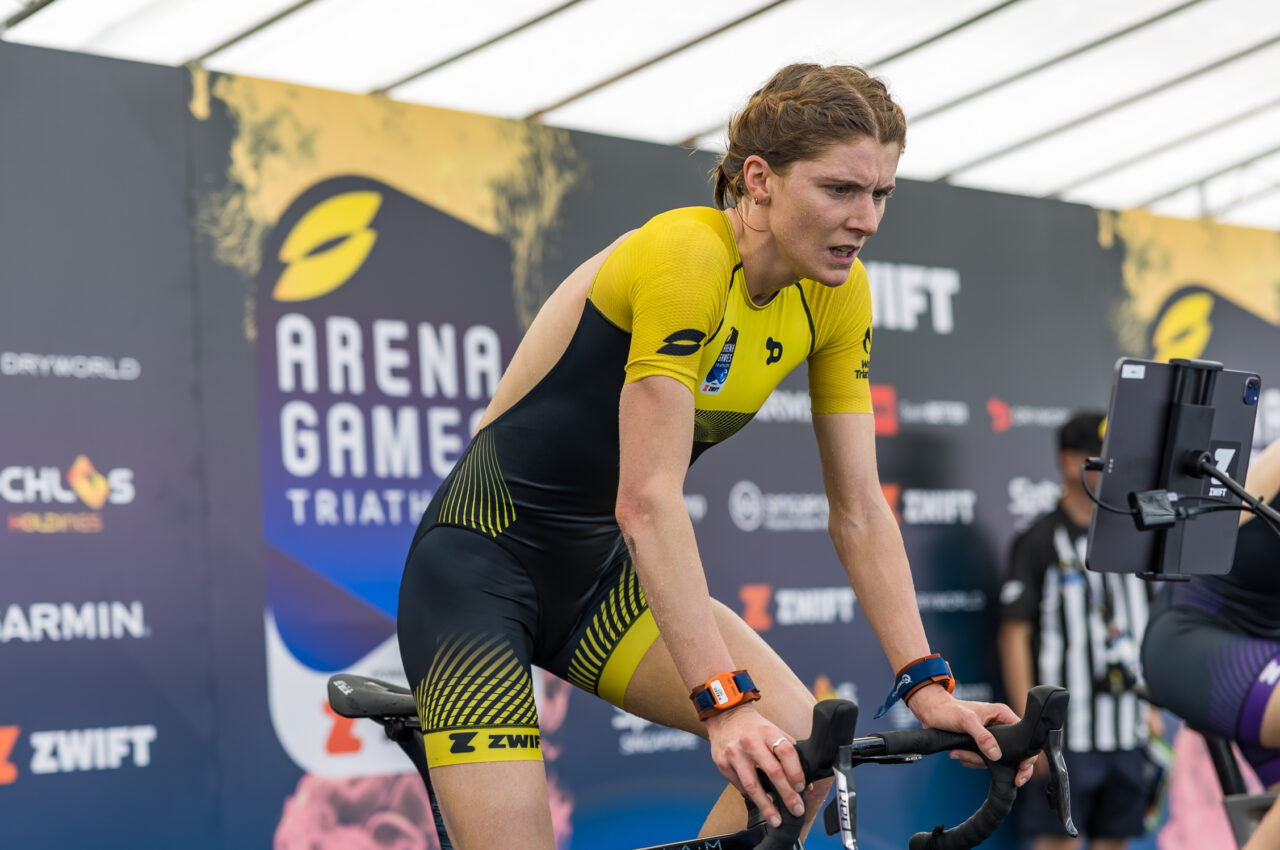 Stage 2: Zsanett to the fore
Stage 2 of Arena Games reverses the order and goes run-bike-swim.
We've seen Potter excel here previously, but with the tough conditions and Jess now out of contention, the Scot was seemingly playing tactics. Not looking at her brilliant best, a smart move.
Bragmayer and Potter were close on the bike after the run did little to split the field. Significant changes behind though, with Rainsley – second in stage one – now back in seventh place and losing time around 20 seconds back.
Zsanett and Beth were off the bike together, and the Hungarian made the best of the long run into the water. That advantage – around three seconds – combined with her superb swim skills, put her in great position for the stage win. That she did, with Potter nine seconds back in third, GTB and Knoll 21 second down. Rainsley swam well to limit her losses, 23 seconds back in fifth.
Bragmayer finished 12th in Tokyo – she's a class act and was showing it.
Stage 3: Duelling for the win
Back to swim-bike-run, and the pursuit start format meant that Potter and Bragmayer would start together. They had a significant advantage over Rainsley. The overall eSports World Championship was seemingly in the pocket of Potter – but no doubt she would like to clinch it with another event victory.
Bragmayer – a great swimmer – provided the perfect swim lead-out for Potter, and they arrived at the bikes locked together. With GTB and Rainsley more than 20 seconds back, there was no threat from behind with just 4km of cycling and 1km of running to complete the Arena Games Triathlon Series.
Nothing to separate the leading duo on the bike, and while Georgia was making up a few seconds behind to potentially complete the podium, that was not going to impact Potter and Bragmayer.
For Bragmeyer of course, this was her fifth race of the day, having had to qualify through the repechage. They came of the bike together and – of course – Potter was flawless in transition. Zsanett was not following the Potter script however…. and fought back to re-take the lead. Could she hold it over the final 400m?
In a world of pain, Bragmayer was so, so impressive and while the World title was out of reach, she wanted to surprise everyone and take the overall event win. And with the biggest smile – and a world of pain – she took the Singapore win.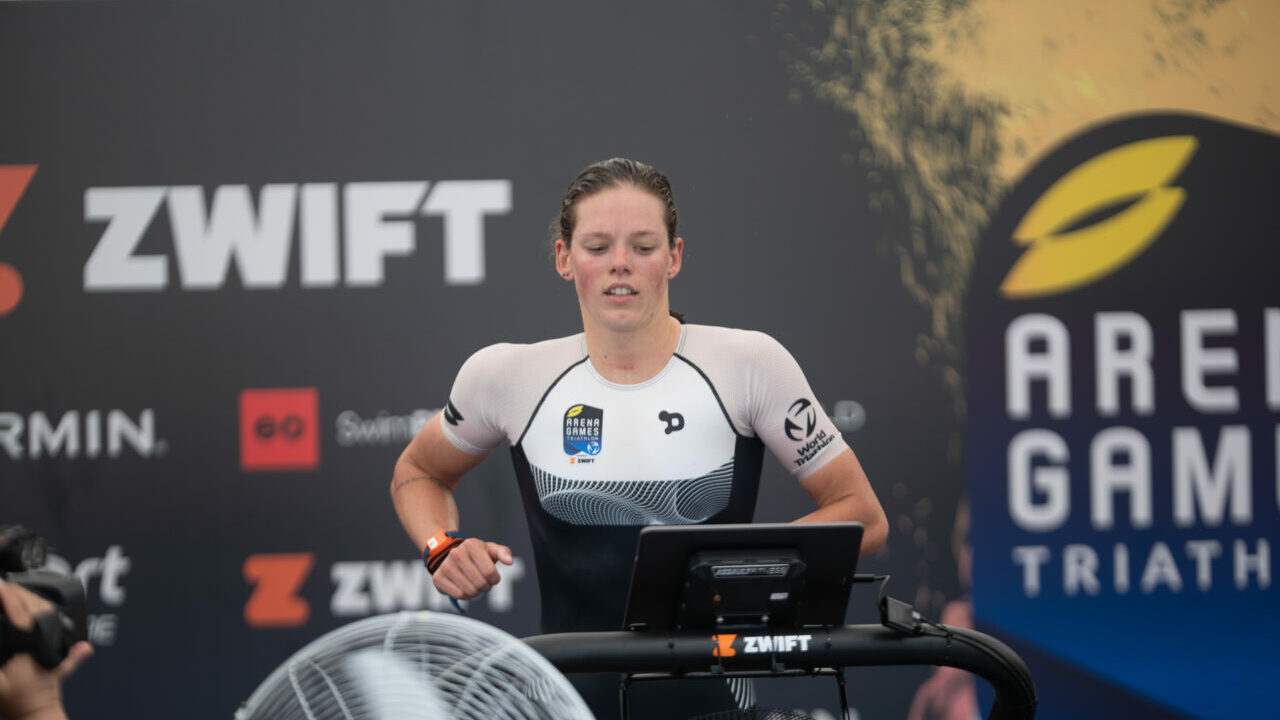 4.2 seconds back, Beth Potter earned the first ever World Triathlon eSports World Championship title.
"I was in a wall of pain today" admitted Beth immediately after the race, struggling to recover from her efforts.
Arena Games Singapore Finals 2022 Results
Final, Women: Saturday May, 2022
1. Zsanett Bragmayer (HUN)
2. Beth Potter (GBR) +0:04
3. Georgia Taylor-Brown (GBR) +0:36
4. Sian Rainsley (GBR) +0.42
5. Anabel Knoll (GER) +0:49
6. Lena Meissner (GER) +1:17
7. Eva Daniels (LUX) +1:22
8. Barbara De Koning (NED) +1:33
9. Hanne De Vet (BEL) +1:54
DNF. Jess Learmonth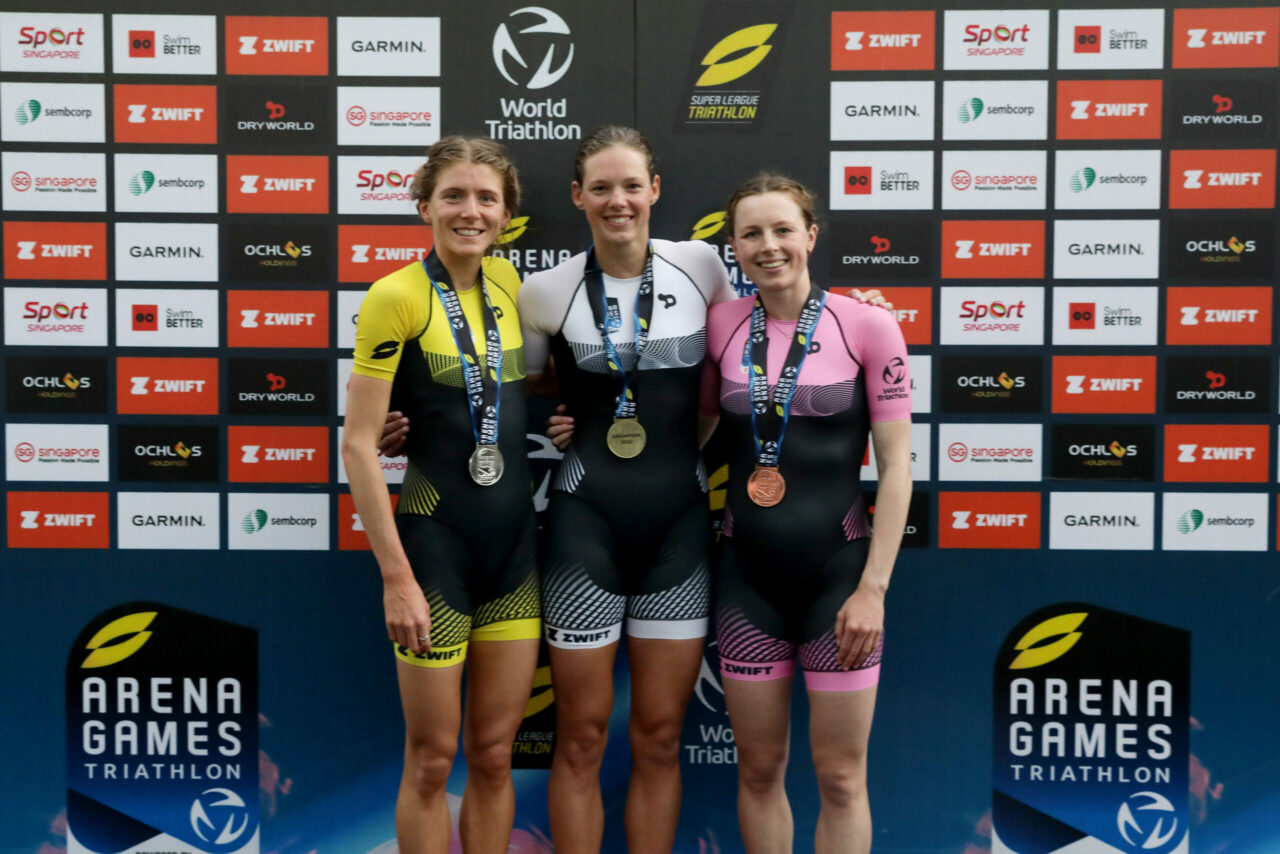 Championship Standings:
Beth Potter (GBR) – 713 points
Zsanett Bragmayer (HUN) – 645 points
Georgia Taylor-Brown (GBR) – 626 points
Anabel Knoll (GER) – 580 points
Lena Meissner (GER) – 570 points
Sian Rainsley (GBR) – 565 points
Jess Learmonth (GBR) – 462 points
Barbara De Koning (NED) – 424 points
Eva Daniels (LUX) – 313 points
Hanne De Vet (BEL) – 268 points