Spain's Cristian Fernandez Nieto and Hungary's Zsanett Bragmayer took the senior elite titles at the World Aquathlon Championships in Ibiza on Monday.
A perfectly-timed late burst from Nieto saw him hold off Brits Chris Perham and Jimmy Lund in the men's event.
And Bragmayer, fresh from her silver medal in the Duathlon on Saturday, claimed a commanding victory in what always looked like her stronger event. The women's podium was completed by Margareta Vrablova (SVK), who took the junior gold in the process, and Germany's Céline Kaiser, the defending 2022 champion.
Fernandez repels British pair
There was a late change to the 1km swim with the direction switched to anticlockwise "to avoid some small rocks at the start" – and a kayak then almost caused unwanted interference near the final buoy.
But three men put a gap between themselves and the rest late on, Fernandez and two young Hungarians.
Gergő Dobi, who would go on to take the U23 crown, was first out of the water, with Márton Kropkó close behind and then first out of transition as he began what proved a successful bid to repeat his win in the juniors from 12 months ago.
Lund was fourth, Richard Varga (SVK) seventh, Kevin Tarek (ESP) in the #1 bib was ninth and Perham – European Champion in 2022 – tenth at this stage.
The run course was one 5km loop on a mix of surfaces including trail and by midway the front three were Fernandez, Lund and Kropkó, with virtually nothing between them and 10 seconds back to the chase pack, led by Perham.
In the final kilometre though was when Fernandez kicked and it proved decisive as he held off the onrushing Perham. Jannik Schaufler was fourth, Kropkó fifth and Dobi sixth.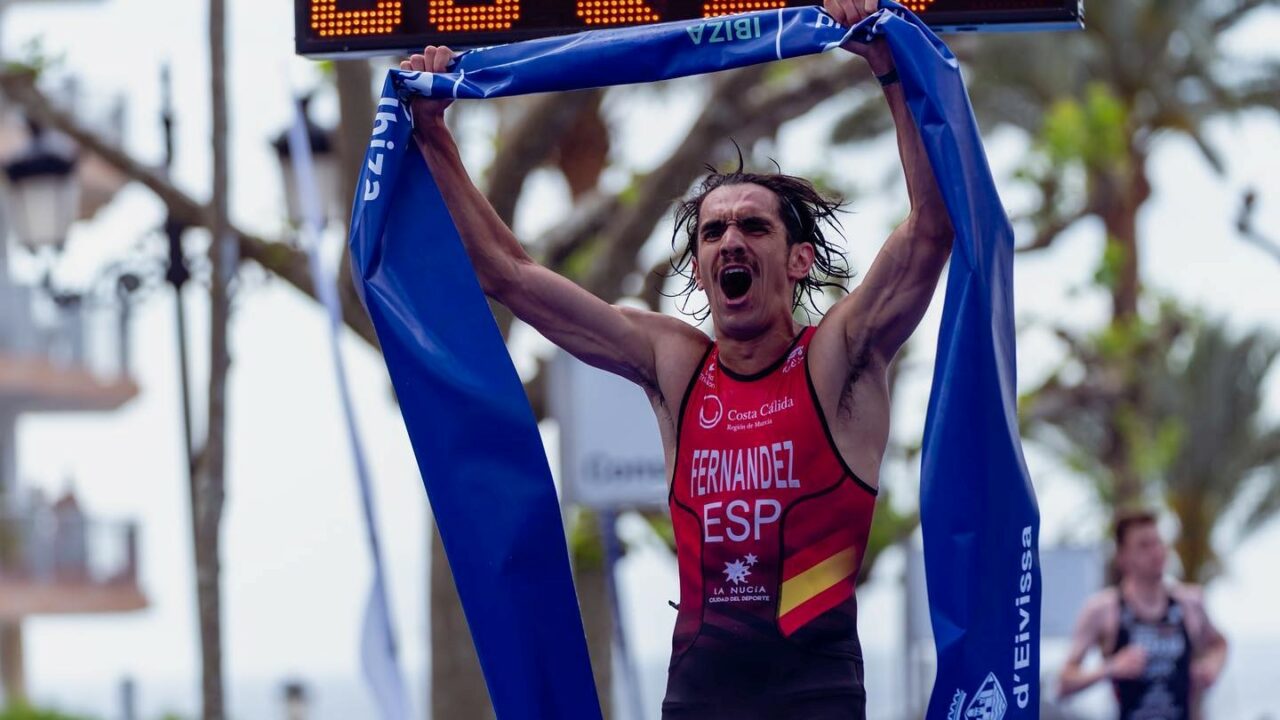 "I am so happy with how the race went – my family are just over there too so it's an incredible day for me," said an understandably delighted Fernandez afterwards.
Perham meanwhile explained how the swim panned out, telling World Triathlon: "It was quite a fast pace at the start and everyone wanted to line up behind Varga on the right so there was quite a lot of jostling.
"There was a little bit of congestion on the last buoy as not everyone knew where to sight given the change in direction and then one of the kayaks just drifted in a little bit but it wasn't too bad as things had started to get strung out by then.
"I think I left myself a bit too much to do on the run and the finish came a bit too soon for me to get that win but it was still a good race for me to get up to second."
Bragmayer sets sights on Yokohama
In the women's race Hungary's Márta Kropkó went one better than her brother Márton a little earlier as she was first out of the water.
But big favourite and compatriot Bragmayer was a close-up third, with Sara Perez Sala (ESP) in sixth and only five seconds back.
But on the run it was all about Bragmayer. She had moved four seconds clear of Kropkó by the first timing point, more than doubled that to nine seconds by the second – and never looked like being caught.
It was Vrablova who came through for a superb second in the elite standings as well as the junior title.
Kaiser rounded out the podium in third, just ahead of Perez Sala who now heads to the PTO European Open on the island this Saturday.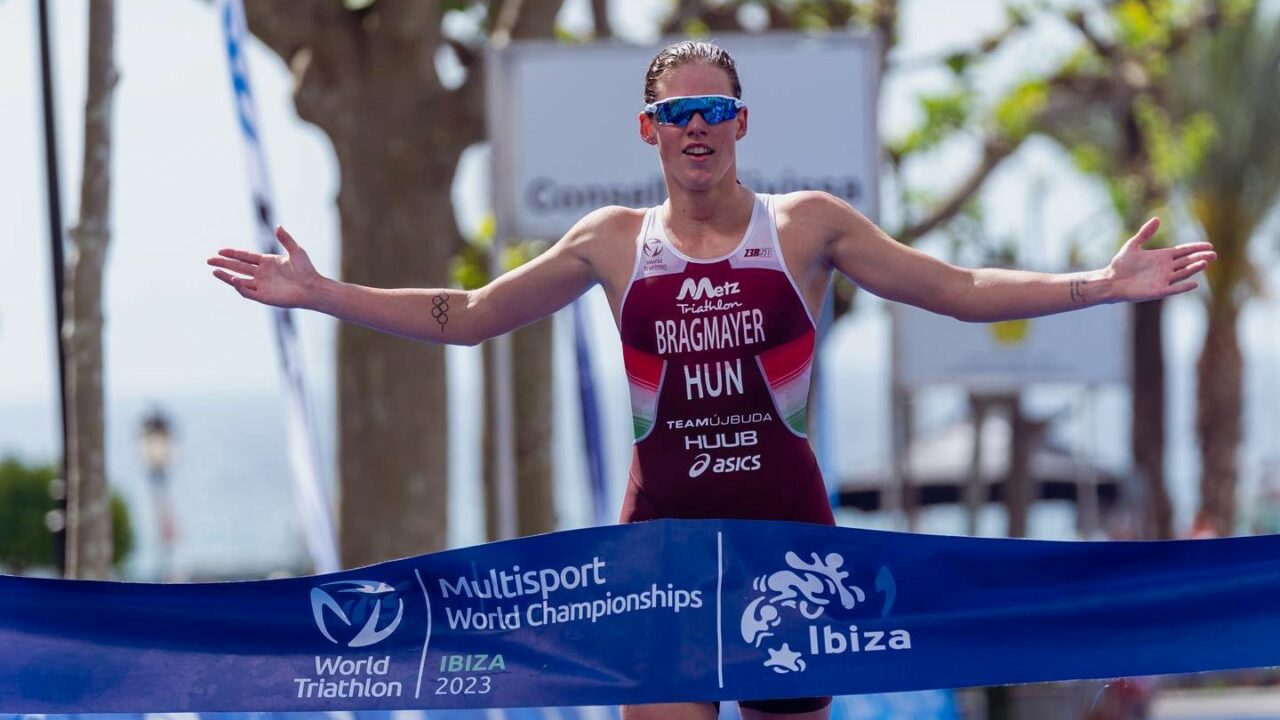 Afterwards Bragmayer told World Triathlon that everything had gone to plan: "Finally I become a World Champion, I'm so happy!
"I really enjoyed it. My tactic was I didn't want to lead the swim, that was okay. I was second or third out of the water which was perfect for me."
And next for Bragmayer is her main early-season target as she added: "Yokohama (WTCS on 13 May) is my big goal."
World Triathlon Aquathlon Championships 2023 Results
Monday 1 May 2023, Santa Eulalia, Ibiza, Spain
1km / 5km
Elite Women
1. Zsanett Bragmayer (HUN) – 32:56
2. Margareta Vrablova (SVK) – 33:05
3. Céline Kaiser (GER) – 33:10
4. Sara Perez Sala (ESP) – 33:18
5. Márta Kropkó (HUN) – 33:22
Elite Men
1. Cristian Fernandez Nieto (ESP) – 29:04
2. Chris Perham (GBR) – 29:08
3. Jimmy Lund (GBR) – 29:13
4. Jannik Schaufler (GER) – 29:20
5. Márton Kropkó (HUN) – 29:22
U23 Women
1. Márta Kropkó (HUN) – 33:22
2. Dominika Peszleg (HUN) – 33:52
3. Silke De Wolde (NED) – 34:53
U23 Men
1. Gergő Dobi (HUN) – 29:29
2. Peter Rojtas (SVK) – 30:56
3. Erick Rogoz (ROU) – 31:27
Junior Women
1. Margareta Vrablova (SVK) – 33:05
2. Nora Romina Nádas (HUN) – 34:06
3. Laura Angleitner (SLO) – 37:36
Junior Men
1. Márton Kropkó (HUN) – 29:22
2. Alexander Bozhilov (BUL) – 30:14
3. Julen Andueza Valencia (ESP) – 31:26