For a first (and last) World Triathlon Series event of the season, on a flat course, with no spectators while dealing with the restrictions of Covid-19, I would personally say that the World Triathlon Hamburg produced a rather impressive Men's Elite race.
Much discussion and debate over the status of World Championship status for the ITU's premier title at such short notice and in the enforced absence of several potential contenders, but from an athlete perspective, the return of racing was more important than its designation. And in that regard alone, no complaints… the organisers put on an event and the athletes delivered 50 minutes of great action.
A breakaway (difficult in sprint distance racing), aggressive racing, big names performing (and some, not so much) and new names breaking through too.
12 months on from the 2019 Lausanne Grand Final, it was great – briefly – to be reminded of what we have been missing.
---
Vincent Luis heroic in Hamburg to become 2020 World Champion
The field was deep with talent and experience and the race always looked like being hugely unpredictable given the past 6 months, but it was to be France's Vincent Luis who delivered a composed sprint-distance performance and a brilliant second consecutive world title at the 2020 Hamburg Wasser World Triathlon. After an excellent swim had helped put him in a front bike pack that included Alistair Brownlee and another Frenchman Dorian Coninx, it was on the run that the 2019 champion was able to pull away with only teammate Leo Bergere and Portuguese Vasco Vilaça for company, the 20-year-old holding on for a brilliant silver in only his second WTS outing.
"I knew I was in good shape and i've spent the last six weeks doing a lot of sessions with some of the best guys in the world," said a thrilled Vincent Luis afterwards. "I swam good and when you have the two Brownlee brothers with you you always have a good chance to get away. I had the two young guys with me on the run so I was a bit scared but pushed the pace with one lap to go. Im so happy for Leo that he took the third spot. That was a great race for France."
Race Report
The weather had calmed considerably from the wet and windy conditions leading up to the start time, the lake waters flat for the 750m swim. As the athletes' masks were discarded, the pre-race protocols were complete and number one Vincent Luis set himself on the edge of the pontoon for the fastest line to the first buoy. He was quickly out towards the front of the 66-strong field, Austria's Alois Knabl also going well, while Britain's Alistair Brownlee was showing his determination from his 66 start number to pull to the front.
Brownlee and Luis were shoulder to shoulder at the first turn and then the Frenchman pulled ahead of Knabl and started to stretch things out across the second half of the swim. Germany's Jonas Schomburg was right on Jonathan Brownlee's heels too, but for the final 250m straight it was Ali and the home favourite spearing the water and out first up the steps into transition.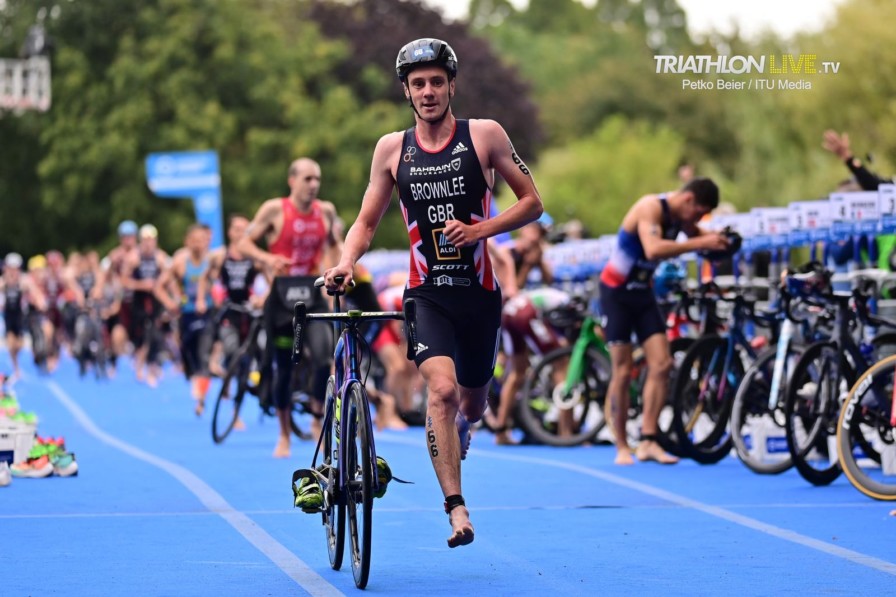 Jelle Geens (BEL), Richard Murray (RSA) and Alex Yee (GBR) emerged 14 seconds back, Kristian Blummenfelt (NOR) a further 7 seconds behind them, and it was a sad end for teammate Casper Stornes whose wetsuit issues took him out of the race.
In true style it was Ali Brownlee taking to the front over the first stages of the bike to drive the pace and he was soon caught by his brother and the French trio of Luis, Coninx and Bergere. Portugal's Vilaça had delivered a brilliant swim and worked hard to join them alongside home favourite Justus Nieschlag and Hungary's Mark Devay. Barclay Izzard (GBR) and Schomburg soon felt the pace and dropped back to join the growing group of chasers.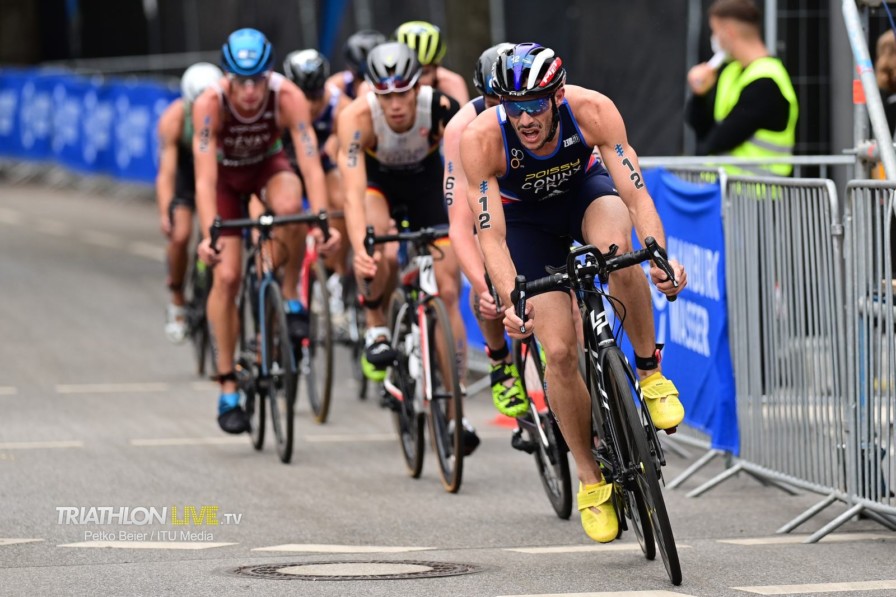 That hungry pack was 18 seconds behind in the early stages and led by Murray, but the smaller lead group was well organised round the hairpins and managed to increase the lead to 21 seconds at the halfway point.
With Blummenfelt making his way to the front and soon driving the chase group of over thirty athletes including Murray, Geens, Yee, Shachar Sagiv (ISR) and Mario Mola (ESP), they were able to cut the gap to a more manageable 15 seconds with two laps to go, but that was as good as it would get.
Alistair Brownlee was into the shoes first right at the back of T2, but by the time he was out of transition, Vilaça and Bergere were already into their stride. Luis bridged up to them while the Brit fell back and then his brother was soon caught by Geens and Blummenfelt as they put the hammer down immediately to try and keep the leaders in reach.
For much of the run it looked a lost cause, Luis, Bergere and Vilaça comfortable and maintaining a 13-second lead with 1500m to go. Geens then made a bold move to try and pile on some pressure, Yee also motoring his way into position, but nobody could do anything to impact on the podium places.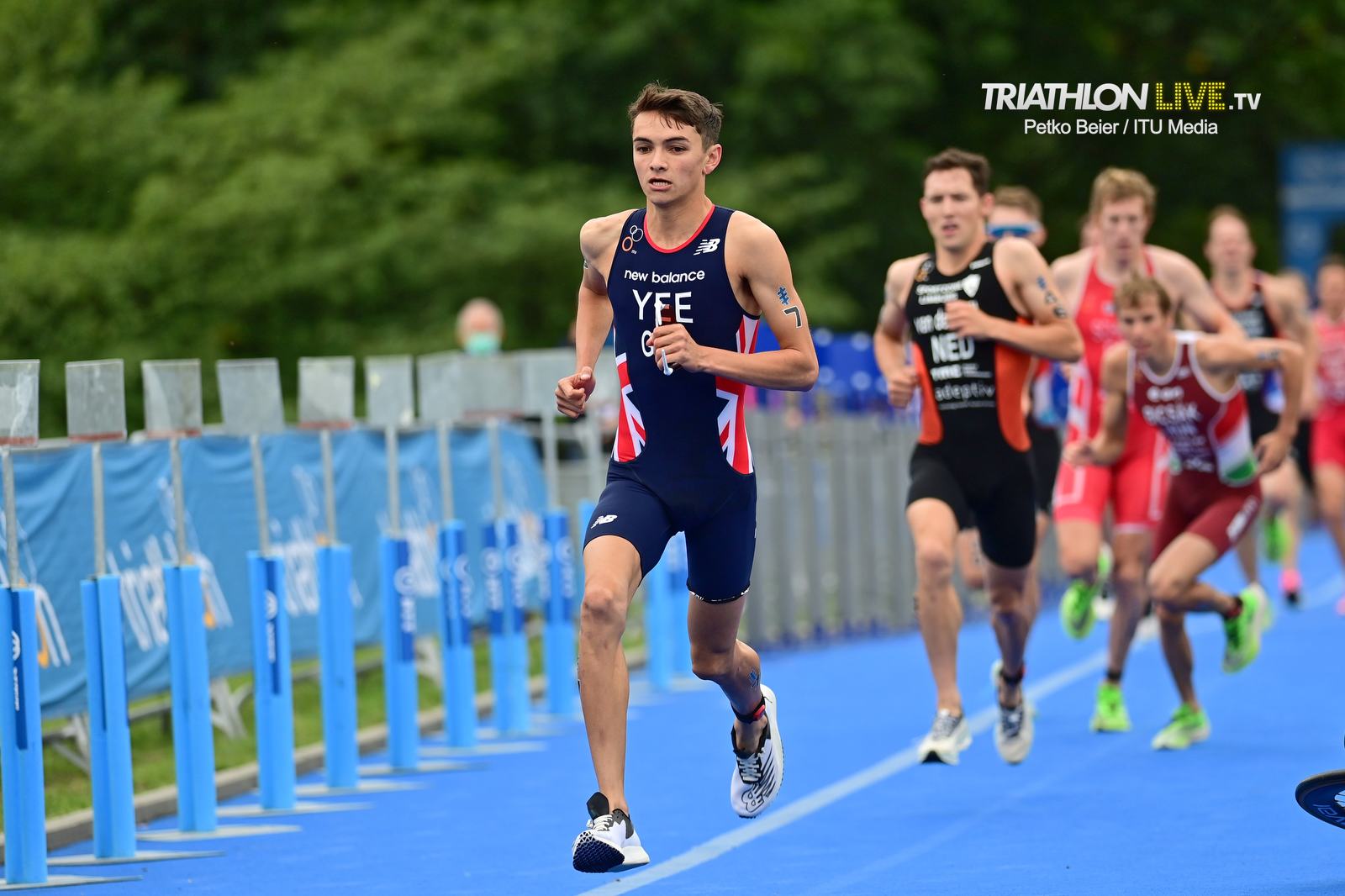 With 350m to go, the small gap Luis carved out grew bigger with every pace, while behind him it was Portugal's Vilaça who had the final move in the battle for silver, edging out Leo Bergere to the bronze.
Sure enough, Geens had reduced the deficit to 9 seconds as he finished in fourth, Yee with fifth place. Dorian Coninx, Richard Murray, Morgan Pearson (USA), Alistair Brownlee, and Max Studer (SUI) closing out the top 10.
"I don't know where that came from", admitted a delighted Vaco Vilaça. "It's my second WTS, I'm 20 years old, and it's a dream to race here with these guys and to be at the front too… It's taking a while to sink in. I was well prepared but didn't really expect to be in the top three. Ive been working so hard on my swim and I worked hard to catch up with the first group on the bike and was able to keep up the pace on the run. Running like that with Vincent and Leo there was absolutely beautiful."
A magnanimous Leo Bergere celebrated his first WTS podium but was quick to respect those athletes who had not been able to travel to Germany. "Even if it was a special day, we don't forget our rivals in Australia and New Zealand and there'll be work to do to beat them next year, but I'm so glad how it went. We worked well together on the bike, and it's great to share the podium with my good friend Vince and a pure talent like Vasco.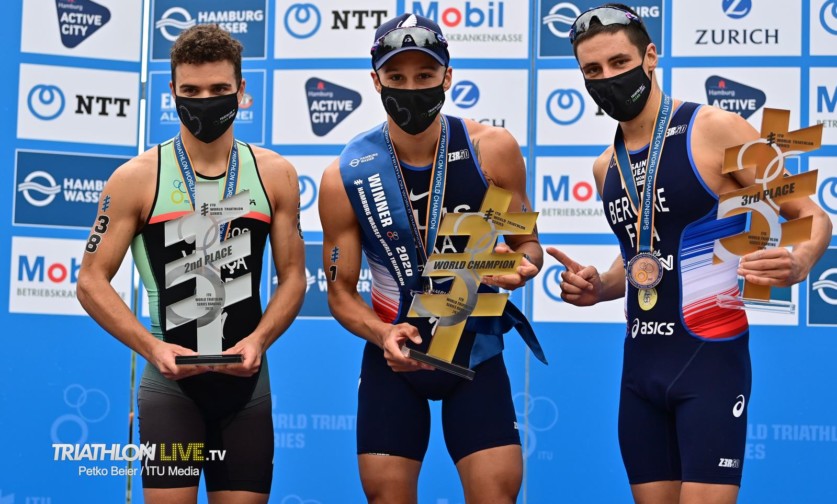 Hamburg Wasser World Triathlon Hamburg – Saturday 5th September 2020
750m / 20km / 5km – 2020 ITU Triathlon World Championship
ELITE MEN (Full Results)
1st – Vincent Luis (FRA) – 49:13
2nd – Vasco Vilaça (POR) – 49:15
3rd – Leo Bergere (FRA) – 49:18
4th – Jelle Geens (GBR) – 49:22
5th – Alex Yee (GBR) – 49:24
6th – Dorian Coninx (GBR) – 49:27
7th – Richard Murray (RSA) – 49:28
8th – Morgan Pearson (USA) – 49:32
9th – Alistair Brownlee (GBR) – 49:34
10th – Max Studer (SUI) – 49:42
19th – Barclay Izzard (GBR) – 50:04
31st – Jonathan Brownlee (GBR) – 50:35
58th – Grant Sheldon (GBR) – 55:38