Brownlee brothers finish off an incredible weekend in Leeds with Gold and Silver
Now that was a very good weekend!
Having been up in Leeds since Friday and working all weekend at the event as part of the on-site commentary and announcing team at the Columbia Threadneedle World Triathlon Leeds, I hope you'll forgive the absence of the usual "report appearing seconds after the race finishes" yesterday! I'm sure many of you will have followed the action live on the BBC if you weren't in Leeds yourself – but what a brilliant finish to what, from my perspective at least, was a fabulous weekend from the moment the first swimmers from the Tristar 2 waves entered Waterloo Lake on Saturday morning, to another glorious Brownlee Gold/Silver double on Sunday evening. From complete first time novices in the GO Tri waves through to arguably the best triathlete in history, the weekend had it all. A true festival of triathlon.
For the Elite women, Flora Duffy was in a league of her own. There was not a single second of the race where she looked like doing anything other than winning in fine style. A victory margin of 90 seconds is huge – and she more than earned it. That's why she is the reigning ITU World Champion.
As for the Brownlee brothers… well, I don't think they could have made the race any tougher (especially for those chasing them), with a display of power riding which was both brilliant and brutal. Seriously, those guys can ride a bike! This was a true Yorkshire grit triathlon – and the crowds loved it. Great racing too from Bowden and Bishop – four British men in the top five. Incredible.
(Report below is courtesy of British Triathlon)
---
Alistair and Jonathan Brownlee delighted their hometown crowd with a repeat gold and silver performance at the Columbia Threadneedle World Triathlon Leeds. Adam Bowden and Tom Bishop added to the celebrations with fourth and fifth, and Jess Learmonth was sixth in the women's race in front of over 50,000 fans.
Jonathan Brownlee was second after the 1500m swim in Waterloo Lake, with Alistair just behind him. Precision and speed during the transition to the bike section saw the brothers establish a small group with two Frenchmen, Pierre Le Corre and Aurelien Raphael. With the chase pack closing in on them, they made a break on their own on the approach into the city centre.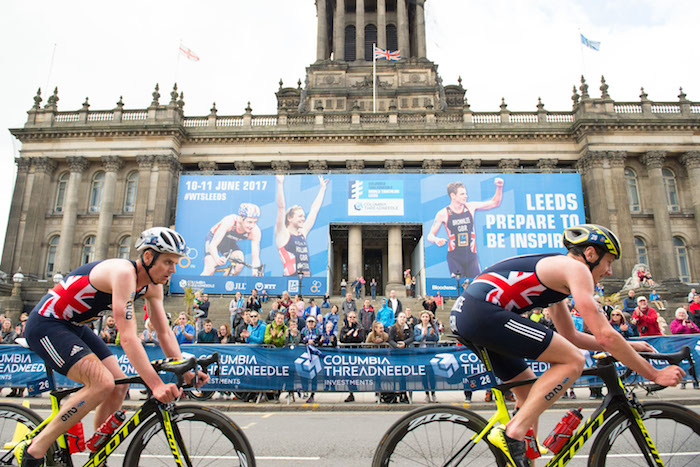 Initially with just a seven second gap, they stretched their lead to ninety seconds by the start of the run. They ran together for 5km before Alistair edged away towards a repeat win in Leeds.
Alistair said: "It's kind of dream scenario when there's only two of you there on the bike. It would nice if we didn't have to ride quite so hard to get a gap but once the gaps started going up you know you are getting round the course really smoothly and nicely together. To race in my home city, it's very very special. To win, it's brilliant."
Jonathan added: "I'm pleased but I'm little disappointed. I wanted to win, and if Alistair was going to beat me, that was the way to do it."
Adam Bowden achieved his best ever result, commenting: "I'm absolutely over the moon. There's nothing better than hearing that crowd roar. You literally feel like you're floating. To do something like that has shocked me, but I knew I was capable of it and that one day everything would come together."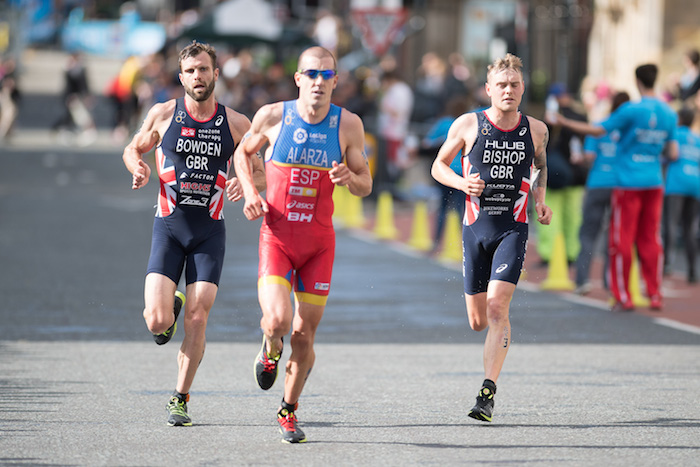 Tom Bishop boosted his Series ranking to fourth following three good results so far this year. "It was so enjoyable, getting into Leeds and hitting a wall of noise was amazing. I am really happy for Alistair and Jonny as well. They're the pinnacle of the sport and one day if I can perform like they do and get to the Olympic Games it would be amazing."
1. Alistair Brownlee (GBR) 01:46:51
2. Jonathan Brownlee (GBR) 01:47:03
3. Fernando Alarza (ESP) 01:47:28
4. Adam Bowden (GBR) 01:47:41
5. Thomas Bishop (GBR) 01:47:50
6. Kristian Blummenfelt (NOR) 01:48:06
7. Joao Silva (POR) 01:48:58
8. Pierre Le Corre (FRA) 01:48:58
9. Vicente Hernandez (ESP) 01:49:04
10. Vincent Luis (FRA) 01:49:12
13. Marc Austin (GBR) 01:49:39
28. Gordon Benson (GBR) 01:52:52
DNF (LAP). Grant Sheldon (GBR)
Duffy wins again
Jess Learmonth was supreme leading the swim and up the hill out of the first transition. However, she made the call to wait for her team mate, Non Stanford, leaving ITU World Champion, Flora Duffy to disappear towards the city centre with Taylor Spivey (USA), Alice Betto (ITA), and Maya Kingma (NED).
The tactics didn't pay off today, with Stanford having been unwell since the previous round in Yokohama and unable to capitalize on the support. Learmonth was still able to get her best Series result after a sprint finish with Gillian Backhouse of Australia.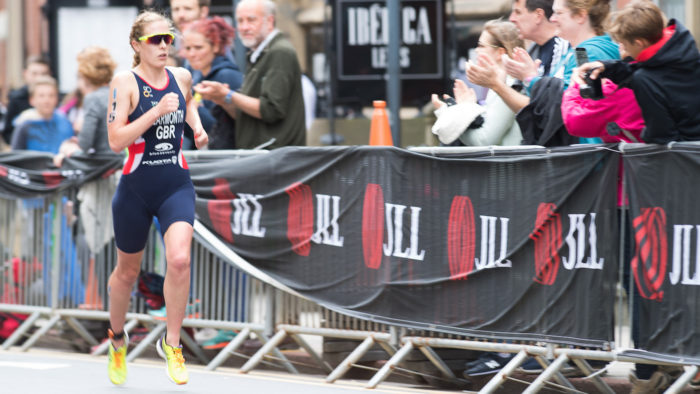 Learmonth said: "I had a few niggles going in, to be honest I can't believe I got round. Leeds was my best World Series result last year, and I did even better this year, so I think I'll just come back every year until I win!"
Given the opportunity, Stanford would have told Learmonth not to wait for her, she said: "It's difficult to communicate to the front of the field on this sort of course. I didn't give up, but two laps into the bike I had nothing and was hanging on to get myself round. I'm gutted that we weren't able to deliver a team performance, but that's racing."
Duffy was delighted to win in Leeds, commenting: "It's a special place to win. It's one of the hardest courses. But the crowd – what can I say. They were incredible and behind you the whole way."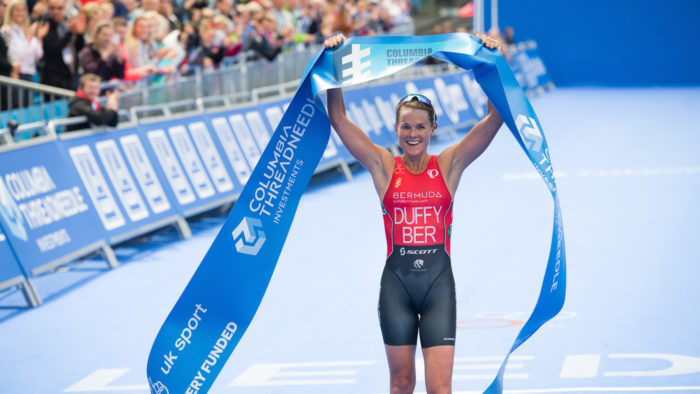 Just under 3000 people completed in amateur events during the weekend, from juniors and novices to leading athletes competing on the same course as the elites in the British Triathlon Age Group standard distance championships.
Rupert Pybus, Global Head of Brand and Marketing at Columbia Threadneedle Investments said: "Congratulations to all the athletes for an amazing weekend of triathlon. And my thanks to the volunteers and the people of Yorkshire whose support was incredible and inspiring."
Leader of Leeds City Council Councillor Judith Blake, said: "We have once again been blown away by the truly incredible support shown by the people of our city, Yorkshire and beyond to the second Columbia Threadneedle World Triathlon Leeds.
"To see some of the world's greatest triathletes competing in Leeds as part of the World Triathlon Series was fantastic and made us extremely proud. We have again shown that Leeds as a city has both the capability and expertise to host truly global sporting events
"On a final note, I would like to thank everyone who worked so hard, including of course the many volunteers who gave up their free time, to help make the weekend a tremendous success."
UK Sport Chief Operating Officer Simon Morton said: "It was fantastic to see the ITU World Triathlon Series successfully staged in Leeds.
"The crowds created an amazing atmosphere and the world's best triathletes would really have enjoyed competing at the event.
"As we build toward Tokyo 2020, we are proud this ITU World Triathlon Series is part of our package of international sporting events, backed by National Lottery funding, we are staging in the UK."
Jack Buckner, Chief Executive of British Triathlon: "This weekend has been a fabulous showcase for the sport of triathlon. The Columbia Threadneedle World Triathlon Leeds has hosted participants from all areas of the sport from first timers right through to the world's best. Congratulations to everyone who took part and thank you to all the volunteers, officials, spectators and sponsors who have helped ensure this year's event was a world-class experience for all."
1. Flora Duffy (BER) 01:57:02
2. Taylor Spivey (USA) 01:58:32
3. Alice Betto (ITA) 01:59:36
4. Kirsten Kasper (USA) 02:00:33
5. Ai Ueda (JPN) 02:00:59
6. Jessica Learmonth (GBR) 02:01:06
7. Gillian Backhouse (AUS) 02:01:06
8. Ashleigh Gentle (AUS) 02:01:40
9. Charlotte McShane (AUS) 02:01:50
10. Juri Ide (JPN) 02:01:53
11. Non Stanford (GBR) 02:01:57
17. India Lee (GBR) 02:04:06