France's Clement Mignon overcame a spill on the bike heading into T2 to take the title in a dramatic men's race at the World Triathlon Long Distance Championships in Ibiza.
He was disputing the lead throughout the bike section but hit the ground virtually on the dismount line, costing him around half a minute.
And that looked like being costly on the run as Spain's Antonio Benito appeared to be heading for a narrow victory, despite cramping issues early on the 30km route.
But agonisingly for him, Mignon had timed his late effort to perfection and he swept into the lead with around a kilometre to go to claim the win by 32 seconds in a time of 5:17:17. Matt Trautman (RSA) rounded out the podium in third a further couple of minutes back.
Swim – Varga leads the way
The swim went very much to form with Richard Varga (SVK) and Josh Amberger (AUS) leading the way.
Varga was out of the water first after the 3km in 35:40, with four seconds back to Amberger and then a gap of 24 seconds to Rico Bogen (GER) who led a chase pack which contained both Benito and Mignon.
Joe Skipper (GBR), the pre-race favourite, appeared to get detached and distanced in the swim, giving up nearly six minutes and he would never be a factor.
Bike – Late drama for Mignon
At the end of the first of two bike laps there was virtually nothing between Bogen, Benito and Mignon – but big gaps were opening up elsewhere.
On the second lap, Benito dropped off the pace late on and it was Bogen who reached T2 with what was a narrow advantage from Mignon.
But that crash for the Frenchman just ahead of the dismount line meant he had suddenly had a 55 seconds deficit to overcome.
Run – Agony for Benito
And there was plenty of drama on the run too.
It was Benito who was moving fastest despite an early cramping scare and he led by a minute from Mignon after halfway, with Bogen having dropped out of contention.
But heading into the closing stages it was clear that Mignon was going much the better and the question was whether he would have enough road left to reel in the leader.
The answer to that was yes and he eased past soon after bridging the gap and readily pulled clear.
"It was a long day and a tough race – with not much between us at the end!" said the winner afterwards.
"I did that crash at T2 so the start of the run was very hard for me. Antonio had passed me early on and there was a big gap between us so I was super happy to catch him at the end in the last kilometre – a crazy day!"
And the day would later become even more memorable for Mignon as his partner Marjolaine Pierre claimed a dominant victory in the women's race.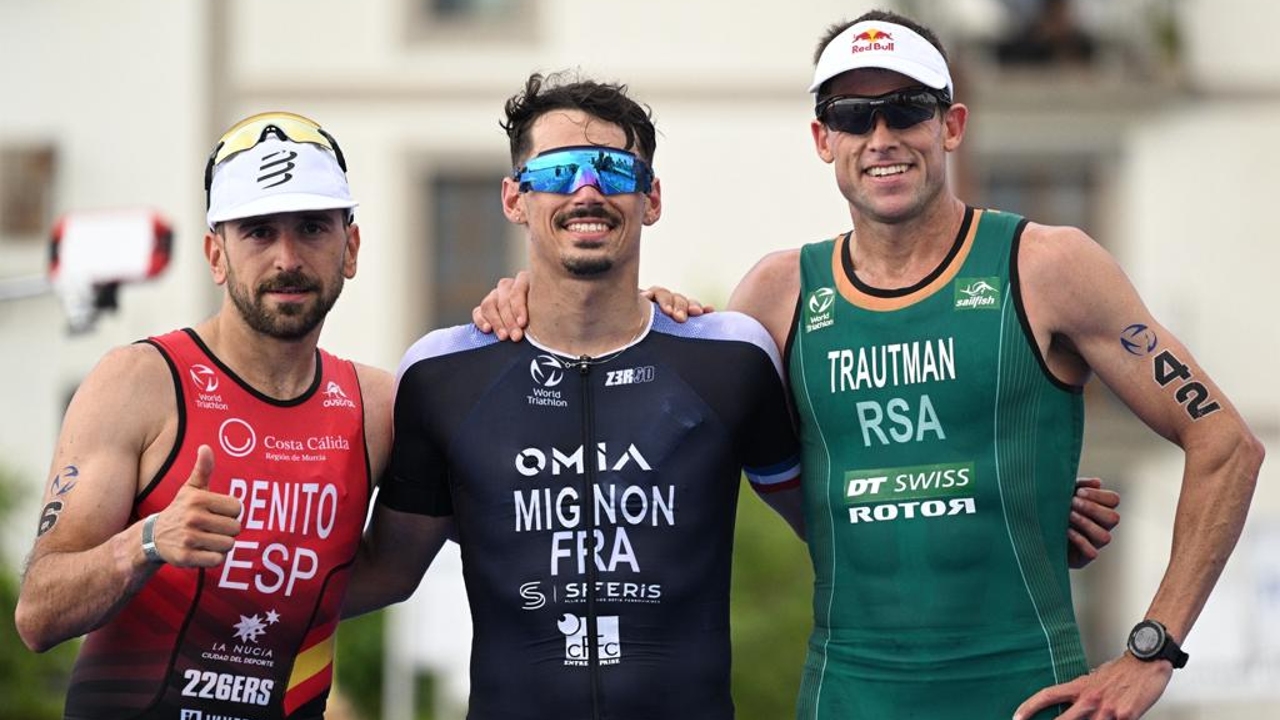 World Triathlon Long Distance Champs 2023 Results
Sunday 7 May 2023 – 3km / 116km / 30km
Ibiza, Spain
ELITE MEN
1. Clement Mignon (FRA) – 5:17:17
2. Antonio Benito (ESP) – 5:17:49
3. Matt Trautman (RSA) – 5:19:52
4. Tristan Olij (NED) – 5:20:20
5. Joshua Amberger (AUS) – 5:21:33
6. Ondrej Kubo (SVK) – 5:22:36
7. James Teagle (GBR) – 5:22:54
8. Kenneth Vandendriessche (BEL) – 5:23:12
9. Kacper Stepniak (POL) – 5:24:42
10. Samuel Huerzeler (SUI) – 5:25:20