France's Marjolaine Pierre was the impressive and emphatic winner of the women's race at the World Triathlon Long Distance Championships in Ibiza.
She asserted on the bike in what was the longest race of her career so far and then produced a flawless run to win by a massive eight-and-a-half minutes from Sara Svensk (SWE), with Gurutze Frades Larralde (ESP) in third.
And a memorable day was made even more special by the fact that Pierre's partner Clement Mignon was the winner of the men's race.
But it wasn't to be for British hopes Kat Matthews and Ruth Astle who both failed to finish.
Swim – In the mix early on
The only time Pierre didn't lead was in the swim as she exited the water in third, 27 seconds behind Spain's Helene Alberdi Sololuze.
Matthews, who crowned an incredible comeback with victory at IRONMAN Texas just a fortnight ago, was seventh at that point, with Astle in 12th.
Bike – Brits both ruled out
It was on the bike that Pierre really took control.
She surged into the lead early on and was over four minutes ahead of Matthews at the halfway point.
Matthews would pull out soon after – uninjured but potentially feeling the effects of those recent IRONMAN exertions.
That left fellow Brit Astle as Pierre's closest challenger, five minutes back.
She'd reduced that deficit to 3:29 by T2 thanks to the fastest bike split of the day but had said beforehand: "Taking a bit of a roll of the dice with the calf but let's see what happens.
"One thing is for sure – the swim and bike will be 👌"
Run – Dream double
The calf problem, which had prevented Astle doing much running in the build up, meant she would exit the race early on the run, saying afterwards on Instagram: "Gave the run a little go, calf not playing ball."
But even in prime form, Astle would have had a huge challenge trying to catch Pierre.
The Frenchwoman simply went further and further clear, looking super smooth in doing so and would cross the line in 5:53:35.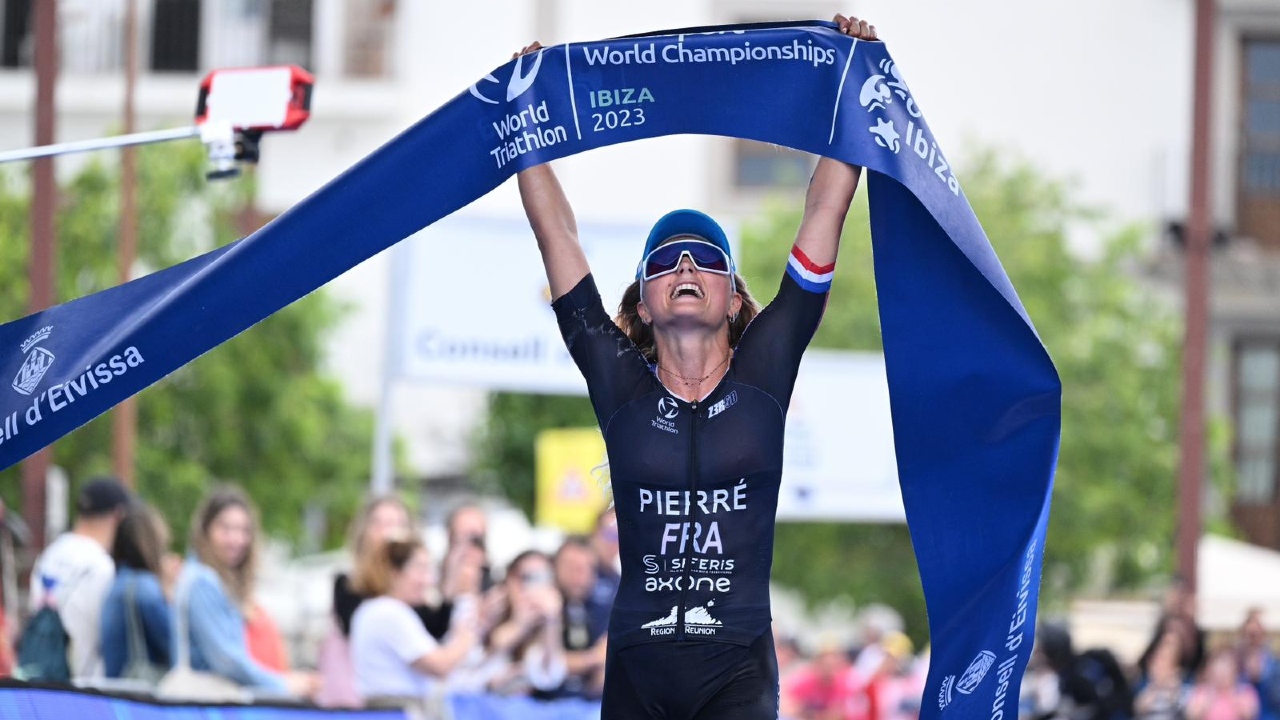 And afterwards she said: "I think it will take a long time to sink in. It's my first time at this distance and I had a terrible time last year with injuries."
Referencing Mignon's dramatic victory in the men's race, she added: "I'm so happy to win with him – what a crazy day!"
World Triathlon Long Distance Champs 2023 Results
Sunday 7 May 2023 – 3km / 116km / 30km
Ibiza, Spain
ELITE WOMEN
1. Marjolaine Pierre (FRA) – 5:53:35
2. Sara Svensk (SWE) – 6:02:10
3. Gurutze Frades Larralde (ESP) – 6:06:48
4. Camilla Pedersen (DEN) – 6:08:57
5. Svenja Thoes (GER) – 6:09:50
6. Helene Alberdi Sololuze (ESP) – 6:13:45
7. Giorgia Priarone (ITA) – 6:14:24
8. Anna Noguera (ESP) – 6:14:55
9. Ai Ueda (JPN) – 6:15:41
10. Natia Van Heerden (RSA) – 6:16:44